Remember when I promised you love letters from Bonnaroo? Well guess what! The Internet is a fickle beast, especially when you're on a farm in the middle of Tennessee. We tried, though! I even missed Local Natives because I was trying to get online! I KNOW I CAN'T EVEN TALK ABOUT IT PLEASE NEVER BRING IT UP AGAIN.
It's with this in mind that we humbly offer you a post-'Roo recap for your vicarious living pleasure. But first, to get the full effect, roll around in some dirt and grab yourself a cheap canned beer and a wet bandana.
---
+
Day One:
+
4:08 a.m. Thursday: "Wake up! It's time for Bonnaroo!" – Ally
LANEIA: I got this text on Thursday morning, approximately 1 hour after Sarah & I woke up and 3 hours after we went to bed. Who needs sleep when you're young and full of promises? (Me.)
So at 5 a.m., we rolled out and drove to Manchester, Tenn. After an hour in line to get wristbands and another hour in line to get a camping spot, we were in. We were with a group of hilarious little bedbugs (my cousin, Ally, and six others) who gave us the low-down on how to 'Roo like a pro. Charles and The Quiet Guy Who Rarely Speaks (I'm terrible with names) even made a flag for the camp — Camp Good Camp — and it was really splendid.
By 7 p.m. it was high time for music, even though we were exhausted, overheated and just generally dazed. You wouldn't believe 1) the ridic heat 2) the crazy amount of junk food & smoking apparati for sale and 3) how little clothing all of these people were wearing. Never have I been so jealous of guys — they get to be topless and pee wherever they want!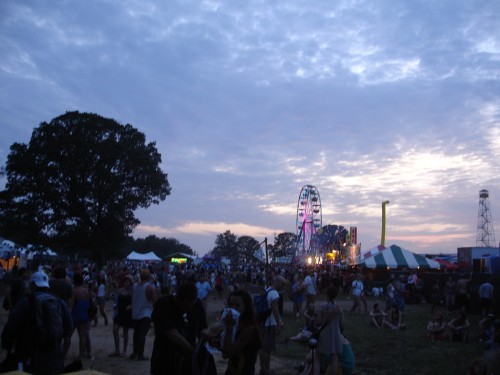 The lineup at That Stage was so good, we just parked ourselves there for the night: Local Natives, Neon Indian, The Temper Trap, and The xx. Stages at Bonnaroo are named This, That, The Other, What & Which. It's super cute until you actually need to tell someone where you are.
The Temper Trap was amazing — there's really no other way to put it. I mean, you guys, I was actually amazed. Everyone was crazy energetic and obviously having so much fun. There was even a water drum moment! And "Sweet Disposition" is even better live.
I thought The xx was enchanting and sexy. Romy Madley Croft was gracious and subdued, which is probably her usual demeanor, and I f*cking loved it. If I told you that I blew her a kiss after the encore, would you want to barf? DEAL WITH IT.

Sarah Sidenote: I thought The xx was SUPER boring. I almost fell asleep standing up. Maybe that was because I got 2 hours of sleep in two days and also didn't know any of their songs. But whatever. I don't think I was the only one yawning.
The lovely Margaret Cho contributed a survival guide to the 2010 Bonnaroo book. Her third tip was Hook up with as many people as possible, especially if they are in bands. I did not follow M. Cho's advice. When a slightly intox Alan Palomo from Neon Indian asked several times if I'd like to make out with him sidestage, because I was "too cute" and my breath smelled like bananas (thanks for the gum, Sarah!), I declined. Even though he's a boy and I'm a lesbian, this is still something I'm like, weirdly mad at myself for not doing.
Despite the persistent makeout requests and the horrible display of appropriation via topless girls in fake Native American headdresses dancing to "Deadbeat Summer," I still can't hate Neon Indian. Keyboardist Leanne Macomber was too adorable in her ripped fishnets for me to hold a grudge.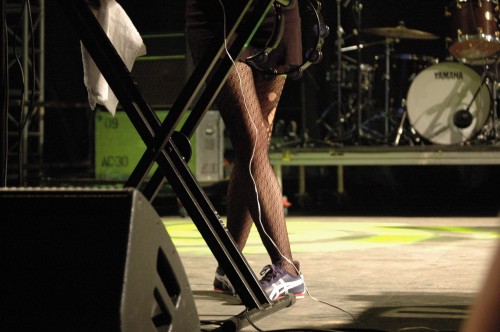 Day Two:
+
LANEIA: I learned a lot on this day, which I will share with you now:
+ It's f*cking hot out there! There's no sleeping past 7:30 a.m., regardless of when you went to bed.
+ No really, it's seriously hot. Sweat plus solid colored shirts = big mistake. If you plan on spending any time in the blistering hot summer sun, I suggest packing prints! Sarah had the right idea with swim trunks, too. Also, dresses worn with little biker shorts seemed to be pretty popular. You know, if you're not into rocking a bikini all day.
+ Make a plan, but be flexible. There are too many good bands to see, and you will fail to see them all. Get over it. Running from the Other Tent to This Tent then to That Tent in the midday sun will only make you want to punch every hippie in your path — even the cute girls in braids. Chill the hell out.
+ Eating an entire apple takes like 40 minutes. Did you know that apples take so long to eat? It's crazy! I was eating that apple for nearly an hour, I swear.
Friday had what felt like the busiest daytime lineup of the whole weekend. Ours looked like this: Edward Sharpe & the Magnetic Zeros, The Gossip, She & Him, OK Go, Tori Amos, and Steve Martin & the Steep Canyon Rangers. I can't bring myself to tell you who we didn't see because I don't want you to be disappointed in us. (AHEM Margaret Cho COUGH)
Edward Sharpe & the Magnetic Zeros did not disappoint. I think if Alex Lebert could've gently held the face of every person in that audience, he would've. He sang from the tops of speakers and barricades and crowd surfed for a while. It was obvious that the crowd loved him and the feeling was mutual. Jade Castrinos swayed and spun around like a woodland nymph. Don't you hate me for saying that? I can't help it!
Steve Martin, in addition to being a super talented banjo player, was unsurprisingly hilarious. He joked between songs about things like his iPad and using Charles Humphrey's upright bass as a refrigerator. Definitely check out "Atheists Don't Have No Songs," regardless of your religious affiliation. Also Jack Black showed up, which was cool but also made Sarah feel like a starfucker.
We had some time between Steve and Kings of Leon, so we made the trek out to the press tent to cool off and drink over-priced cups of Magic Hat (mmm!). There were two entrances into the press area, and we'd only been using the most noticeable one. Finding the second entrance was imperative, though, as it was super close to the Which Stage, where Kings of Leon would be playing. But it was getting dark, and the staff left a lot to be desired when it came to knowing what the heck was going on.
I decided to implement the Two Boy Rule. Simply stated, this is when you find two boys together and ask for their help. Two boys are less dangerous than a pack of boys and less likely than a single boy to misinterpret your need for assistance as flirting. Nothing is absolutely foolproof, and it does require a minimal amount of eyelash-batting, but it's pretty reliable in a pinch. In fact, the Two Boy Rule is so successful, it even works when the men are gay, as turned out to be the case on Friday night.
After our gay boyfriends helped us snake out of the backstage maze, it was time for Kings of Leon. Oh, Kings of Leon, how do I put this delicately… You were a disappointment! When a bearded southern man sings songs about sex on fire, you don't expect him to chase his on-stage liquor shots with vitamin water. I don't know, am I being a bitch? YOU ARE IN A ROCK BAND, AND YOU ARE CHASING LIQUOR WITH VITAMIN WATER IN FRONT OF 80,000 PEOPLE. Christ, man. They played a new song, the name of which I do not know, that was considerably more country than anything else in the KOL library, and I kinda liked it. But seriously, does Caleb Followill need me to teach him how to drink whiskey with dignity?
Sarah and I split up after Kings of Boring, me making my way to The Black Keys and she to The Flaming Lips. This was the set I was most excited to see and every hot, sweaty second leading up to it was completely worth the wait. Patrick Carney killed it on drums and Dan Auerbach was perfectly face-melting on guitar / vocals. If I didn't have to pee so badly that I was almost in tears, I think I would've died of happiness.
SARAH: I'll be honest with you guys, I'm not that into The Flaming Lips. Obvs, I love "Do You Realize," but I'm by no means a fan. However, everyone knows that their live show is crazypants and is not to be missed. So when I heard they were playing Bonnaroo — with a special Pink Floyd tribute set, no less — I knew I had to go.
I ended up near the front, thank god, because their live show is much better up close. I was super duper sober for this concert. Luckily, all the crazy confetti and balloons, plus all the people around me (it's possible I was the only person who was not tripping), made up for it.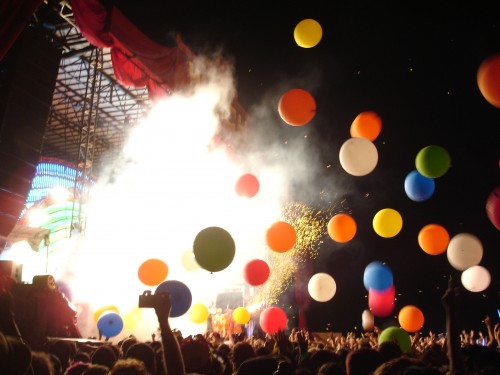 The music itself was pretty good, I guess, but I was just in it for the theatrics. They def delivered.
Next Page: DAY THREE, a photo gallery and so on…

Day Three:
+
LANEIA: After trying really hard to be health-conscious and preemptively hydrated during Friday's morning routine, I decided that Saturday morning called for something different. Sarah and I were sleeping in our respective SUV's, so I was unaware that she'd awaken to the same plan. And that plan, dear readers, was breakfast beer. Getting up at 7:30 is hard enough, but doing so in the back of a 4-Runner is even harder. I immediately knew that idling the engine, cranking the a/c and downing a couple of breakfast beers was for sure the way to go. I KNOW — IDLING A CAR ENGINE IS THE SAME AS DROPPING AN ATOM BOMB ON A WHALE, BUT OMG IT WAS SO HOT. I just wanted to feel happy! That's all! Don't you dare judge me.
Before we could make our way to see Brandi Carlile, Sarah locked her keys in her car (something we were both surprised that I hadn't done first). While we were at the information booth, waiting for a locksmith, we inquired about those nifty Bonnaroo 2010 Guides we'd seen floating around the farm. Info Booth Stephen said he had some guides, but we'd have to sing for them. Sure, we'd love to! Sing what? Lady Gaga. Ok Autostraddle, guess who doesn't know any lines from any Lady Gaga songs… THAT'S RIGHT, ME. He offered to let us sing a showtune instead. Again, I failed. We finally got the books by accurately choosing Meryl Streep over Celine Dion in a fast-paced game of Would You Rather.
SARAH: Let's talk about Brandi Carlile for a hot minute. Brandi saved my Saturday not once, but TWICE. So the day started out wonderfully because I found a woman selling delicious breakfast biscuits. But then, as you now know, I locked my keys in my car. Newsflash world, I am a Brilliant Person. So I had to wait an hour and pay a man $50 to open my car, which btw is apparently something I could do myself with just a door stop and a clothes hanger. Luckily, before I knew it,  it was time for Brandi Carlile concert #1, which made everything much better.
Honestly, this concert is slightly fuzzy for me. You can blame Laneia. She kept handing me Miller Lites all morning while exclaiming "breakfast beer!" It's her new fave thing, but it makes remembering the entirety of Brandi's set list a small challenge. I can tell you she rocked. That much I know.
Here's Brandi singing "What Can I Say." The audio sucks, but you can quite clearly see her cute face and her hot shoulder tattoo. Trade offs, you know.
+
Then Brandi played a second show at a tiny, tiny stage. There were maybe 50 people there, so I threw some elbows and got up to the railing. She covered "Folsom Prison Blues", you guys! Let me tell you, it was awesome.
Both she and Ingrid Michaelson really impressed me with their voices this weekend. I think Brandi's voice might sound better in person than it does on her records, which is saying something. Especially on songs like "The Story". It's so good as a recording (I got hoarse on the drive back from singing it), but so much better live. Brandi is touring with Sheryl Crow this summer, so you should probs go buy your ticket for that now.
LANEIA: While Sarah was drooling over Brandi Carlile, I was listening to The Avett Brothers (aka The Most Depressing Band to Hear Alone) from the press yard. It started raining and I had a sad little moment, wishing all of you were there with me. Then a guy offered me a joint and I passed because I'm incapable of having fun or something. Jk, I was afraid it was laced with arsenic.
From there, we scurried over to see Weezer. They brought Julia Nunes up to sing along to one song, which was cute, even though she couldn't get her ukulele in the right key. After "Say It Ain't So" (my very favorite Weezer song), it was time for Stevie Wonder and Jay-Z!
By the grace of sheer luck, we managed to secure two seats in the media bleachers – a space we were unaware even existed until two seconds before we were escorted up the stairs to them. The view of the crowd and the stage was EPIC, especially during Jay-Z's "Forever Young," when he had them dim the spotlights and the entire audience held up glow sticks and cell phones.
+
I'm pretty sure the entire population of Bonnaroo was at the What Stage on Saturday night. Stevie Wonder put on a great show that ended up being kinda preachy, but the man's a legend so I'm gonna let it slide. Jay-Z was PERFECTAMAZINGSPECTACULAR, bringing a mile of people together for something we'll never forget.
Day Four:
+
LANEIA: On the way back to camp after Jay-Z, which was technically Sunday morning, Sarah and I started reminiscing about the finer things in life: flushing toilets, standing up to get dressed, walls full of electricity. The romance of the festival had faded and we were exhausted. I'd originally planned on staying for John Fogerty, but I just couldn't do it. I think my brain, along with my shoulders and forehead, was completely fried. Nothing made sense anymore! I just wanted a shower and a mattress. I mean, damn, we couldn't even enjoy a breakfast beer. Frown!
SARAH: Because I had quite a drive ahead of me, I planned to see Ingrid Michaelson at noon and then get the hell out of Dodge. Ingrid was, not surprisingly, adorable and sounded great. Did you know she's also kind of dirty? I'm a sucker for that combination.
Here's Ingrid singing "Soldier" and mixing in a little "Poker Face" (go to 2:23 if you wanna skip to the Gaga):
She closed out the show with a cover of Britney Spears' "Toxic," which happens to be my favorite Britney song. Like I said before, her voice is SUPER impressive live. I recommend seeing her 1) for the priceless banter with the audience and 2) to get an idea of just how damn powerful her voice is.
LANEIA: We'd already said goodbye to our fellow Camp Good Campers, so there wasn't much left to do besides rip the garbage bags from the windows and drive off. As soon as I made it past the last barricade on Bushy Branch Road, I wanted to turn around and beg them to let me back in.
I get it now: why people promise to go back every year; why, on Thursday, when someone yelled "Bonnaroo!" into a crowd, it was met with enthusiastic echoes of "Bonnarooooo!"; why everyone wears their entrance bracelets from past festivals. Bonnaroo's like summer camp for weirdos. It's bragging rights. I didn't just see this gaggle of amazing bands that will probably never be in the same place again – I put up a tent, stayed awake until dawn, walked over 20 miles, lost 3lbs, washed my hair using a five-gallon jug of water, shaved my legs in the front seat with a beer for breakfast, ruined a pair of shoes in the mud, ate stale tofu, witnessed humanity and saw some amazing bands.
To see performances by Neon Indian, The Dead Weather, Kings of Leon, Mayer Hawthorne and the County, Mumford & Sons, The Gaslight Anthem and more, head on over to Bonnaroo Music Fest's YouTube channel.
+
+
Pages: 1 2See entire article on one page