This week on Bomb Girls, Betty McActuallyGerman wants to know if you are ready to rumble, and almost everyone needs to take a serious look at their lives and choices. Except Vera Burr. Vera continues to be a flawless human being.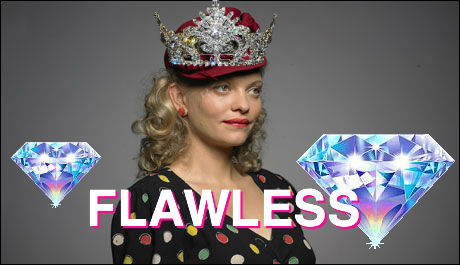 There's a whole bunch of new girls at VicMu, and given the current ratio of lesbians to "mostly straight" chicks at this factory, we can only assume that about three quarters of this crop are gay as a Christmas tree. The Holy Trinity rolls up in Gladys' car and makes what one would describe as a truly gangster entrance. Unfortunately, waiting for them and all other eligible vaginas is Bumhole McSkeezy, aka Gene Corbett.
Unfortunately, Lieutenant Poopdick has his eye on the prize, and that prize is our angel-faced Gladys. Lorna is all up on this situation like white on bread because she will be damned if anyone touches her little goober. Dearest Lorna, your little goober has grown into a giant nutsack and you need to rein his ass in stat. Prime example: Gene does not know the meaning of multiple no's.
Betty and Kate are sizing up the freshmeat, who are recent deportees of a washing machine factory, where I guess they made washing machines? It's unclear. I really wish this scenario would end with a freshman paddling scene a la Dazed and Confused, but oh well.
Outside, Gene is using car euphemisms to try to woo Gladys. Barf. Yeah buddy, she'll never guess what you're onto when you use the line "let me check under your hood." Did you even know that there is such a thing as a clitoral hood, Gene? Or a clitoris? This paltry level of innuendo is wasted on this doofus.
Betty takes over registration and checks in Regina, who goes by Reggie. Oh, sweet baby dyke and Mini!Betty and awesome WOC character, you are one of the many reasons I love this show and all the things it gets right. Needless to say, Reggie and Betty do not hit it off.
Lorna confronts Gladys and basically tells her that Gladys is a skeevy homewrecker who is going to destroy her baby boy's reputation. Lorna, what planet are you living on and how do I get there so I can blow it up and return you to Marco's arms? No, but really, Lorna seemed much happier and more rational in Marco's arms.
Reggie cuts Betty in the clearance line and basically says that she is hot shit. Betty is like hot shit in your diapers, you mean. It's cute because they're the same person, give or take ten years.
Gladys is quick to point out to her bro that the two of them are butting heads because their heads are more or less identical.
Betty: The only thing bigger than that girl's mouth is the chip on her shoulder.

Gladys: Gee, reminds me of my friend.
Up in the office, Mr. Akins needs a new office manager, which means it's time for some hilarious hijinks when Vera faces off with that bitch Carol! This is like that time my friend and I fell for the same girl and baked her endless amounts of cookies and kept inviting her over for burgers. Plot Twist: It turned out she was vegan and hated both of us.
On the floor, not to be confused with that J.Lo song, Reggie and Betty continue to face off.
Betty continues to be appalled that anyone could not be fed up with her mini-me. Gladys has decided to Switzerland this situation and stay the fudge out of it until Betty realizes she is in a wrestling match with herself.
Vera and Carol are giving Mr. Akins a laundry list of things they've been doing around the office, but Mr. Akins really doesn't care. Mr. Akins just wants to go home and shine his bald spot, okay? I didn't even mean that in a dirty way, but now I'm rereading that sentence and there's no other way to interpret it.
Vera says that she is definitely the lady for the job because she's been both on the floor and in the office. I didn't mean that sentence in a dirty way either, but there you go.
Reggie and Betty continue to butt heads in Ye Olde Dining Hall, where Reggie equates Betty with Hitler. Come on, Reggie! Didn't you see last week's episode? German stuff is a tender spot with Betty McActuallyGerman!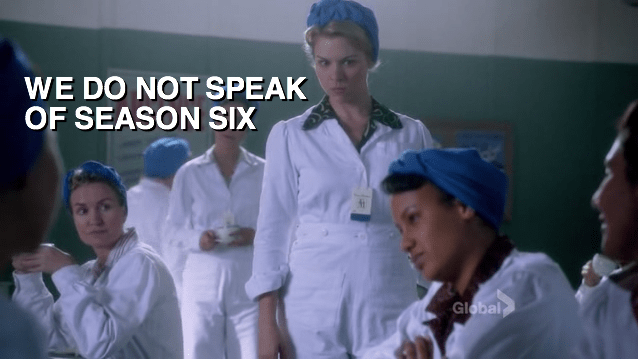 Pages: 1 2 3See entire article on one page