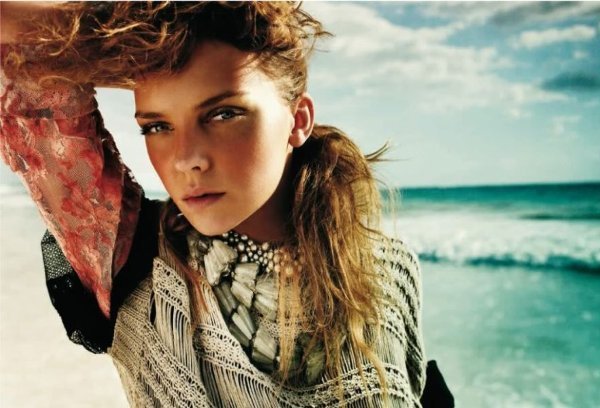 Writing about style is hard. Not only does everyone have their own body shape and personal taste and budget, but I don't even know if it's summer where you are. You know? Like where are you? What's the weather like?
Momentarily, currently, I'm in the state of Connecticut, where this early June has most recently been rocking everything from a heat wave to cold rain and back again. Like holler if you've seen some crazy lightning recently or have had to deal with tornado sirens that are all like BLEEHHHH.
My point is, "what to wear" becomes infinitely more complicated when you're basically gonna be hot and then cold and then swept up in a hurricane.
So, in my quest of where to start talking about, you know, clothes, I decided to share with you all a smattering of what the Big Guys had to say this summer–that is, Vogue, Harper's Bazaar, and Marie Claire. They all kind of unanimously agreed that stripes are 'in', much as they were back in 1948:
Vogue, 1948
Other things that are "in" include bold patterns, the color indigo, and high-heeled loafers. Things that are out include knee-high gladiator sandals and over-sized bags.
Blush is going to be REALLY BIG this fall in the spirit of summer's "romantic side."
Britney is back, Penelope had a baby, and Ginnifer Goodwin, sick of having stylists pair her pixie cut with overtly femme attire, posed for the cover of Marie Claire in a fancy pant suit because she liked it better than the dress they had initially picked out for her.
There is a 'must read' profile in Marie Claire on mtf bombshell Janet Mock entitled "The Secret I don't Want to Keep Anymore" and Harper's Bazaar was the only magazine to still utilize one of those lift n' sniff perfume sample pages. So that's what's going on in the world.
Here's what's going on in my head:
Shorts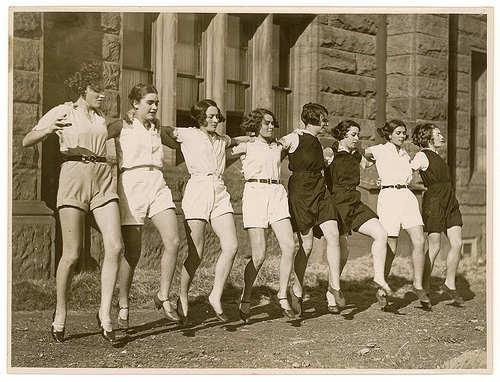 Cut-offs are always great. They're convenient because you can use what's lying around and there's something really satisfying to having that much control over the length of your shorts. Jean cut offs will be / are great, always, but if you're looking to expand what you can take your scissors to (because we all know how you love to scissor), try cutting an old pair of khakis or cords or dress pants if you have them.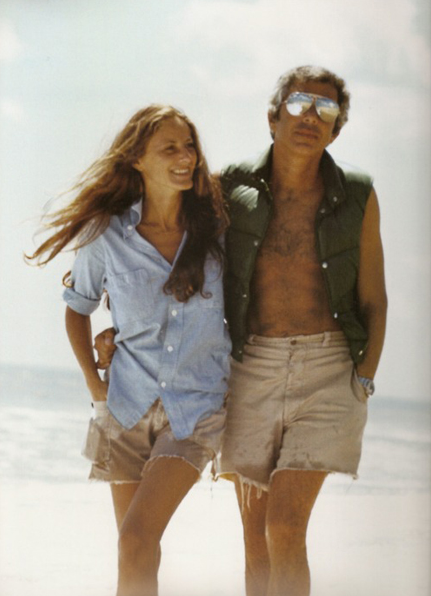 American Eagle has got the idea with these frayed khaki shorts ($29.95). Or go to The Goodwill, (which would be particularly good for finding some oldschool fancy slacks to mess around with) and see what's good. Feel free to cuff them at will. Pair with vest or oxford.
If you're tired of scissoring but are still looking to step up your game, Amazon has a nice selection of shorts from Mango some of which (such as those pictured below) are under $50:

Tank Tops
When it gets really hot, you start to wonder why shirts have sleeves on them at all. Like all they really do is restrict your arms, give you a farmer's tan, and proudly display your sweat stains. Fuck that sleeves I did not agree to those terms stop being such an IFC.
Last year I suggested you scissor some t-shirts into bra-displaying masterpieces. Did you make Effy proud? No? Well that's okay because there's still time.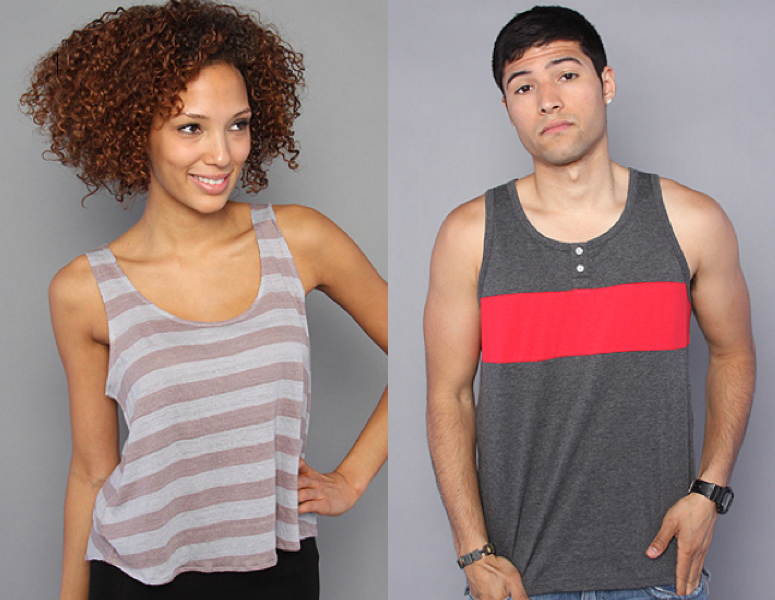 ($20 Karmaloop)
If you want to just buy something and not destroy something, tank tops are for you. Long, short, textured, two-toned, there is something out there for everybody, you just have to spend more time than anyone wants to looking.
The tank on the left is from I Don't Like Mondays and the one on the right is from Torrid.
Sneakers

Let's get real, the summer should be about bare feet. Like hopefully you're flying so many kites and hopping so many beaches that you will see this section and be like bitch this is IRRELEVANT to my lifestyle. Sooner or later, though, that lifestyle will be cramped; and when it is, girl, you're going to want to have a say in what exactly your feet are being cramped into. Flip flops were invented mostly to avoid this problem. I highly recommend flip flops but am 85% sure you all already have some. Also they're everywhere. Look, here are some now! They're called Cat Thong sandals. Idk.
What I really want to talk to you about though are your sneaker options.
One of my latest and greatest kick crushes can be found loitering over at Karmaloop for $60.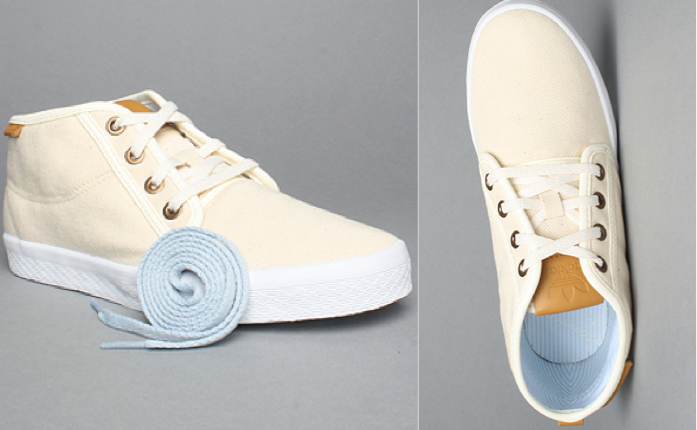 The blue and blush combo is just heart-warming, no ? Also check out these Vans ($29.95)and these Keds ($60) and these:
… which can be found over at Gravis.
If you dig sneakers and haven't already, frequent Kicks On Fire for info. on some of the latest and greatest sneakers.
Also, non-sneaker eye candy of the day.
Jackets

I know the word "jacket" doesn't scream summer, and after all that sleeve bashing it seems odd to rep. such heavy attire–but the rain does fall and the wind does blow and if you like pina coladas and getting caught in said rain then you might consider something with a hood. Also rain jackets are sexy and so in right now. Especially if you enjoy camping.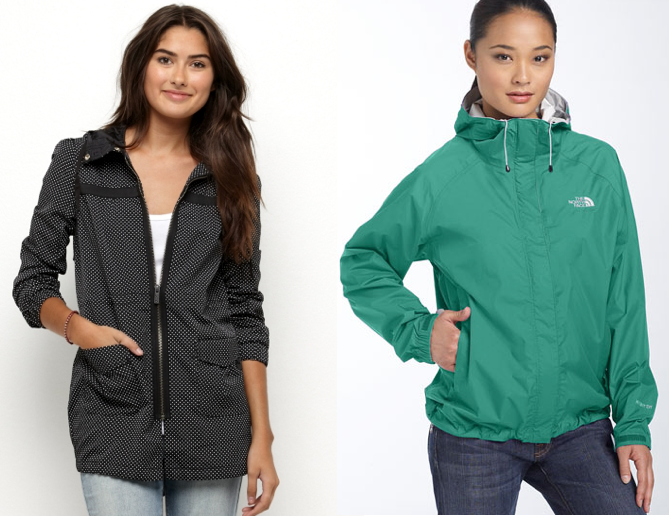 The one on the left is from Roxy ($79.95) ; the one on the right is from North Face and is $99 at Nordstroms.
This jacket is longer , this one has a sweet collar, and this one is vintage.
Speaking of vintage, have you looked into some bathing suits yet? Well you should go do that because I have no more words for you. Get dressed! The bright summer morning awaits you!