March's Queer IRL gallery was all about being queer on a Friday night, and clearly we are a busy, varied people! Are you ready for your next assignment?
April's Gallery Theme: Queer on the Outside
The out-of-doors! There's so much of it! So many places, so many activities, so many opportunities to take a picture.
Instructions
1. Take a high quality picture of you outside. This is doable with most smartphones, so don't worry if you don't have a fancy camera. You know what else works and is super fun? Disposable cameras. I keep mentioning this because I just don't want you to forget it.
Photos should be between 1024-3024 pixels wide so they'll look nice on a full screen. Please don't send anything smaller than 1024 pixels wide.
2. Send your picture and info to me at laneia@autostraddle.com with the subject QUEER OUTSIDE. Please include the following (technically optional but highly desired) details!
Name
Age
Occupation
Location of photo
A sentence or two describing where you are, why you're there, and what you're doing.
I reserve the right to edit your sentence/s for length or spelling errors. (I'm a pretty good editor though, so.) Your photo will appear in a full screen gallery on Autostraddle.com — the main site, not A+ — and might be used on social media (Facebook, Instagram, Tumblr) to promote the gallery. If you don't want your photo to appear on social media, please make a note of that with your submission. You reserve full rights to your photo. Photos will not be used to promote anything other than this exact gallery, and will not be used in any other future post.
Deadline: Monday, April 24
Laneia, Riese, Sarah, Yvonne, Heather, Rachel / All ages / Autostraddle 4ever / Being so good at posing on and around trucks in Ypsilanti, MI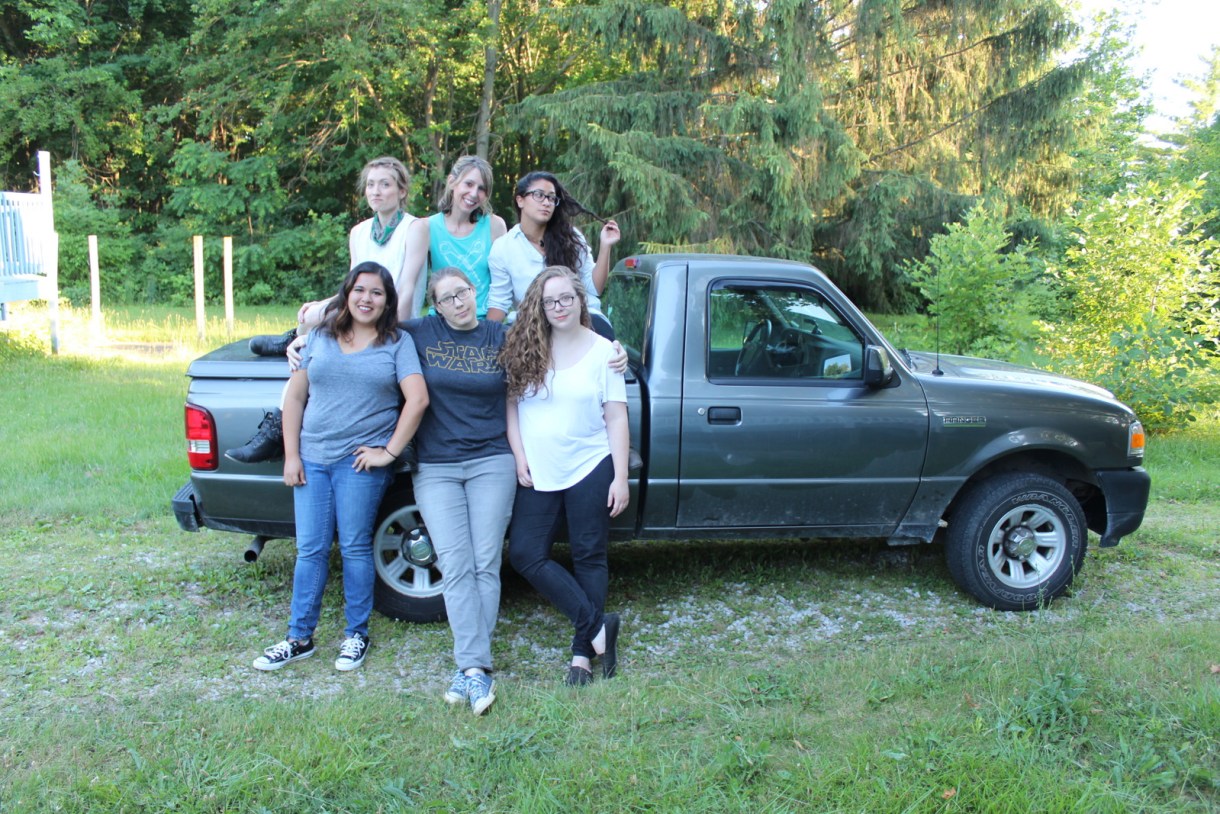 FAQ
1. What is outside?
Outside is any place that's not inside.
2. What is a queer person?
Queer people are lesbians, bisexuals, queer and otherwise-identified women, trans and non-binary folks.
3. Do you want us to be in the photo?
I do, yes! Yes please! I'd love that. You don't necessarily have to be in it, but I think all your other queer person-reader friends would appreciate seeing another queer person staring back at them from their electronic screen situation. I know I do. Please be in your photo!!
4. What about my friends or my pets? Should they be in the photo?
I'd be mad if they weren't.
5. What about if you're inside a tent? Is that still being outside?
It sure is.
6. How sexy can we get here? Also tell me about your nudity policy.
We shan't show nipples, genitalia, or simulated or actual sex. Sex toys or nude art are totally permitted.
Deadline: Monday, April 24
Leave your questions in the comments and if you have an idea for a future theme, let me know! laneia@autostraddle.com