So, music! Bands and the songs they sing. Sarah Palmface and I went to Bonnaroo 2011, just like we said we would! Let's talk about it! Lots of pictures! C'mon!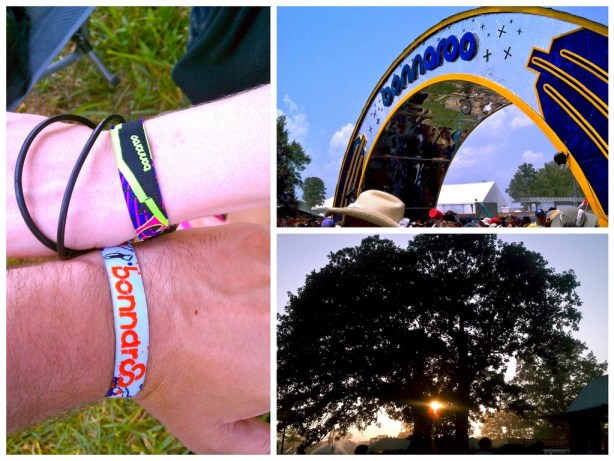 Groups of popular people you respect and know in abstract ways got up in front of other people you don't know and did the things they're best known for doing. It was just what you thought it would be. Sounded great! Looked even better because damn, there they were.
Here's a picture of Mumford & Sons performing on the Which Stage as seen from the safety of the media compound. [NOTE: It was way crowded on the other side of that fence — like wall to wall human bodies. More crowded than usual. And I was still really into preserving my life / feet after nearly being trampled at Sleigh Bells Thursday night, so.]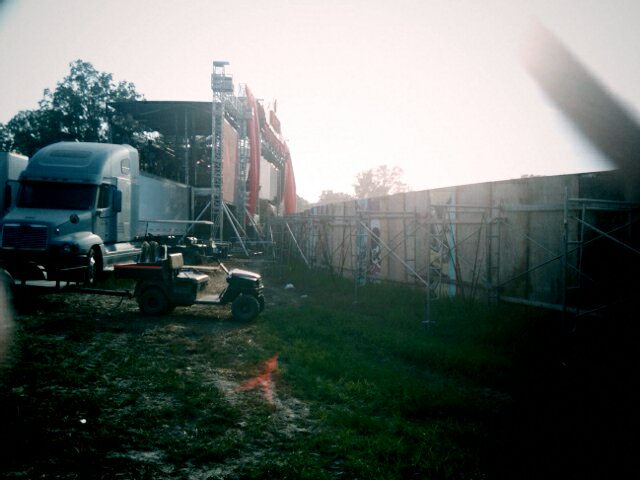 Anyone can tell you about the sets, I guess. And this makes talking to you about going to Bonnaroo very, very much like dancing about architecture. You already know that.
But see, I want you to go. I genuinely think you'd love it. Because while a festival is a festival is a festival, you're not camping for four days at Lolla and Electric Picnic isn't booking Ben Sollee and Loretta Lynn. (Related: I still wanna go to Electric Picnic) Bonnaroo is special! Everything is special but Bonnaroo is special.
You have to promise you'll go next year.
I'm probably biased, given that I grew up swimming in this humidity under those trees, but let's pretend my affinity is about something else. The lineup, for example. That's a familiar place to start. The variety at Bonnaroo is just silly: Lil Wayne, Mumford & Sons, Buffalo Springfield, Primus and Grace Potter? They have literally thought of a band for every member of your family, right up to your grandparents.
Not only does this draw fans from all over the genre spectrum, but it also serves to blow your freakin' mind when you stop to think about ALL THE MUSIC IN THE WORLD. Tinariwen was there! What the fuck. The world is full of SO MUCH music. Music is weird, right? It's everywhere and it's inextricably tied to cultures and has such a rich history and an uncharted future and JUST WHOA. This world of music is crazy, you guys! And there it was – four days' worth of it.
When you're hunting down the Samosa Man booth under the blazing midday sun, it's easy to forget that you're on a farm with 80,000 other people because good grief where is the samosa booth seriously are we even going the right way? But then it occurs to you out of nowhere: THERE ARE SO MANY PEOPLE HERE. You can't even wrap your head around 80,000 people. That's like, a whole city. Then you think about how all 80,000 of them made the conscious decision to leave behind their families, friends and fully-functioning air-conditioners to spend five days hiking around a 700 acre farm covered in their own filth.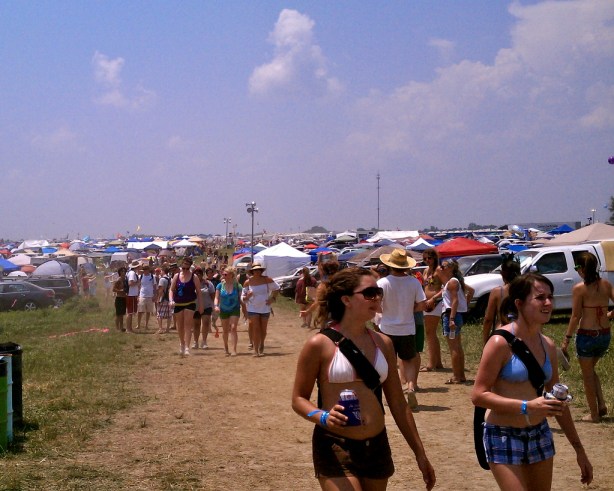 I mean, humans have been constructing ways to stay cooler, cleaner, dryer and more comfortable for thousands of years, and here we are purposely giving all of that up in the name of — what? Music? I don't think so. We could see those bands anywhere. The novelty of lineup diversity? Tofu tacos? Nature? Drugs?
No, no, no and no (ok maybe).
No of course not! It's the shared experience! It's the fact that I can say 'Bushy Branch' and your heart swells a little because you've been there. It's borrowing your neighbor's mallet, being chased down for a quarter mile because you dropped your shirt, walking back to your truck to get tampons for a girl you'll never see again. It's sleeping in the dirt because you're tired, not pitiful; wearing next to nothing because of the weather, not fashion; giving some guy your leftover fries because you can't eat them, not because he can't afford them.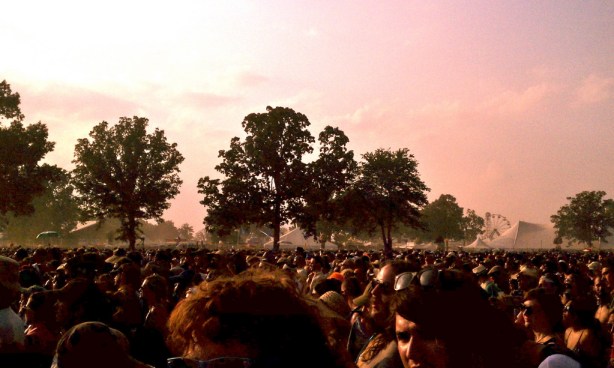 We need this reminder that we're still here — under all these hair products and hoodies and bachelor's degrees and disappointments and victories, we can still find ourselves in each other. Like, we still have it in us, and they still have it in them — the ability to really appreciate and respect the living hell out of each other, in case you'd forgotten. And it's easy to forget, truthfully.
So that's what Bonnaroo is to me. It's maybe something different for you. You should go next year and find out.

Next: More Photos, Favorites and Feelings
Including "Things We Did Right"
THINGS WE DID RIGHT
1. Packing light. Just the essentials, really.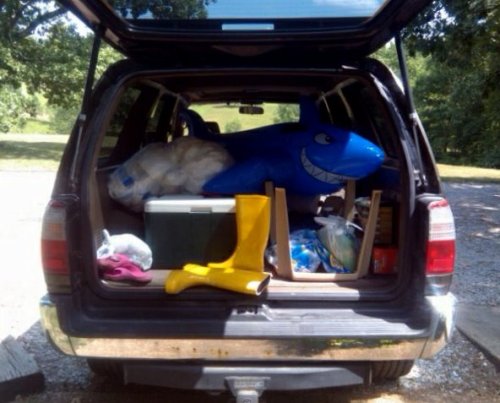 2. Getting to know the neighbors.
3. Making sure the campsite was recognizable from a distance.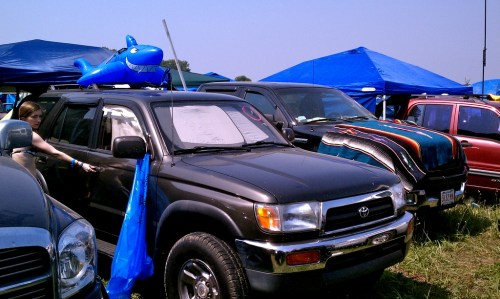 4. Respecting the morning routine.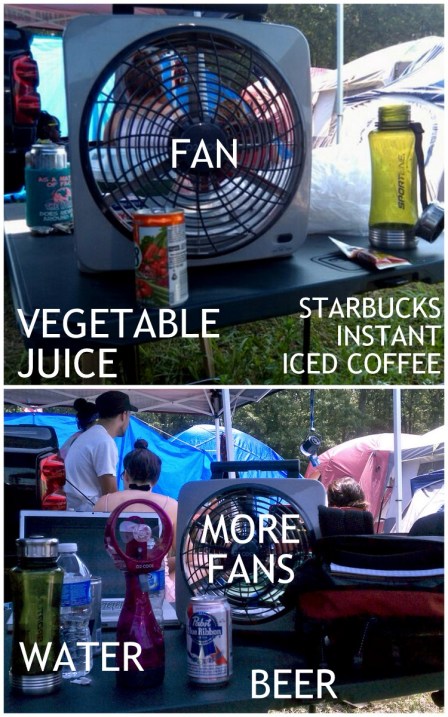 5. Washing our hair at camp! <— best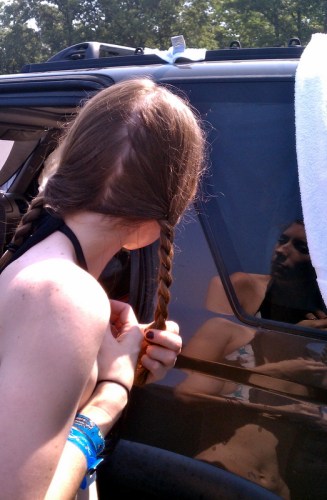 6. Planning the day, but staying flexible. Also more drinks + snacks.
7. Taking a taxi. We were 'lucky' enough to have a campsite at the outer edge of the farm ("I can't believe the treeline is like, right there!"), which meant we could take a taxi to Centeroo. The taxi goes wayyy out of the way, so we only did this once. But it was nice.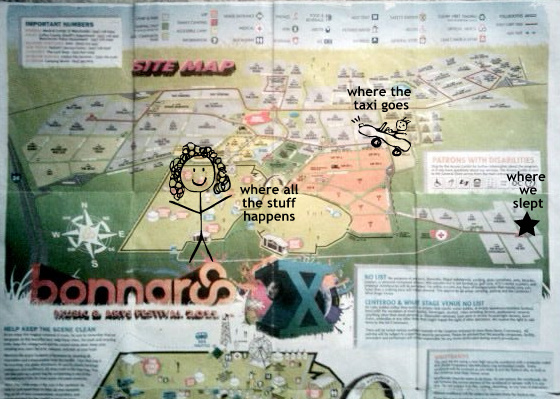 8. Being prepared to stand in line. There was a fan and water involved. We were smart.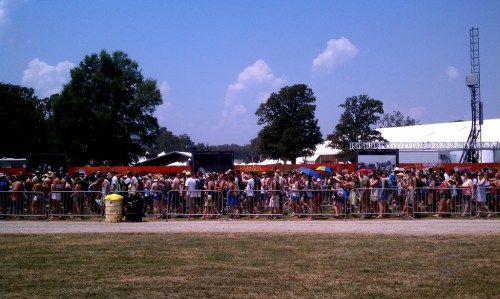 9. Bringing money for food. Wood-fired pizza, fries, aforementioned samosas, food trucks, etc. Totally not effing around.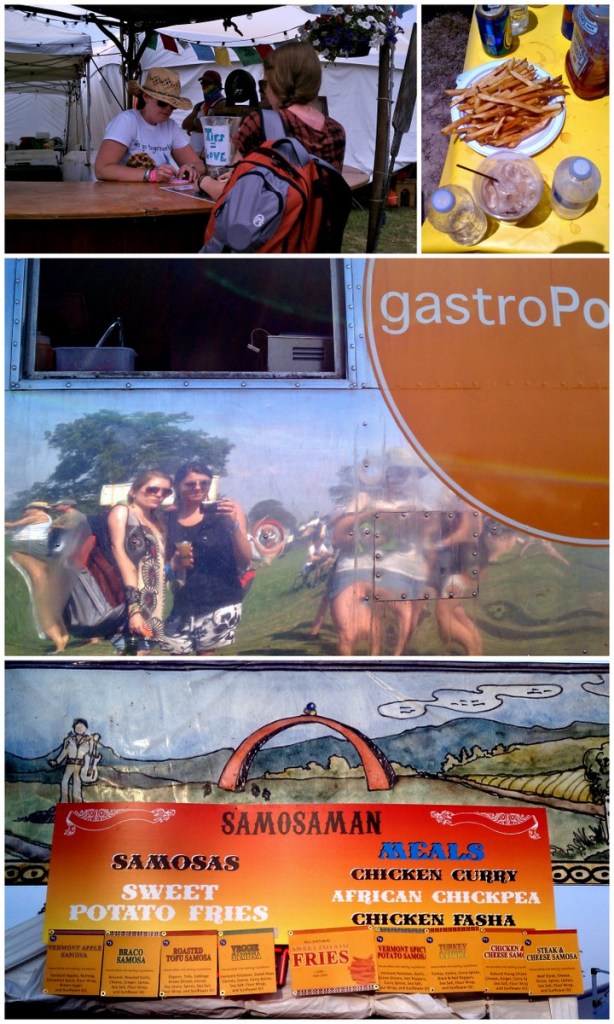 THINGS WE REALLY LIKED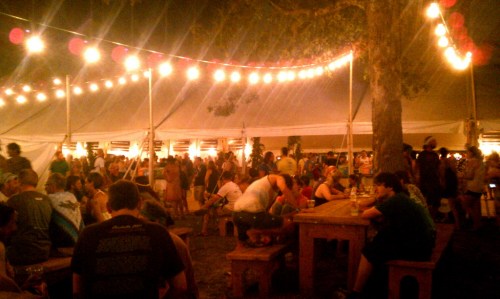 BROO'ERS FESTIVAL
A selection of microbrews (mostly from the region), outdoor picnic tables and cute lights. This is not only up our alley, it is the alley.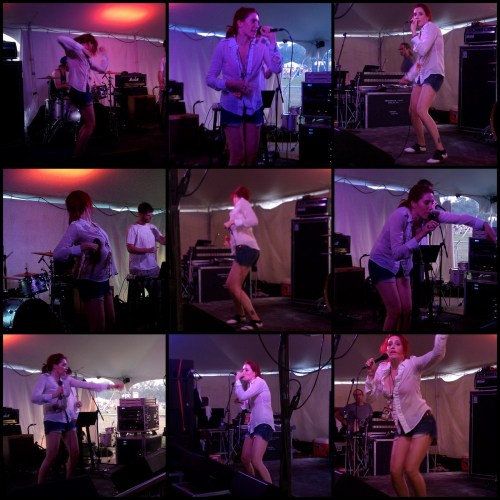 HESTA PRYNN
Sarah and I were sort of casual fans of Hesta Prynn before Bonnaroo, in that Sarah had never listened to her music and I had just downloaded her latest album, Can We Go Wrong, three days before leaving Phoenix, so I'm embarrassed to say that we almost didn't make it to her set. You guys, wow. Hesta Prynn. This woman sings her ass off and whatever's left over, she dances off. And of course her musical talent comes first YES OBVIOUSLY but would you please, please take a sec to appreciate her killer thighs?
Sarah: In the Venn Diagram of people that Laneia and I are attracted to, it turns out that Hesta Prynn and Samantha Ronson are pretty much the only occupants of that middle ground.
ARCADE FIRE
Sarah: These guys always manage to seem to be so excited and so humble, which is crazy because they are SO famous right now. The set list was a good mix of their three albums and had enough variation to give everyone a break from time to time. I forget just how many fantastic songs they have until they play a show and I'm unable to sit down for the whole damn time. Actually, I can't pick out a particular song that was the best of the set, though the encore (Wake Up and Sprawl II) was absolutely perfect.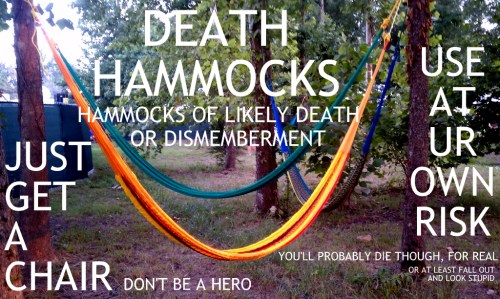 MEDIA HAMMOCKS
Sarah really loved these hammocks and probably had the best nap of her entire life in that blue one in the back. I feel differently.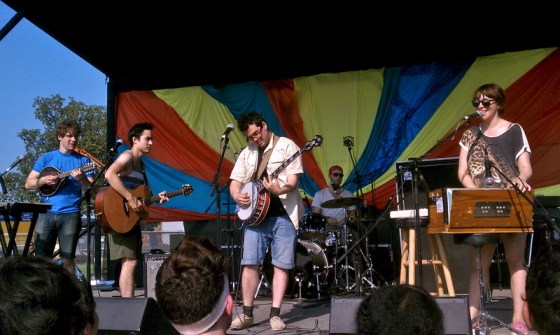 FREELANCE WHALES
Sarah: The Sonic Stage, where the Freelance Whales did their second show, is one of my favorite parts about Bonnaroo. The point of the Sonic Stage is to bring in acts who have already played a large tent and give them a chance to do a smaller performance. Both shows were really great, for different reasons. After doing a traditional set on Thursday, Friday's was acoustic, which, for a band like Freelance, is always a treat. They have such an array of instruments, including a xylophone and a glockenspiel, that sound more interesting without all the electric shit in the way. They ended up having to pick the last two songs on the fly because they were over time, and it was supes cute to watch them have a band conference. The obvious crowd favorite at both concerts was "Hannah," and both of their "Generator" songs sound excellent in concert. Sidenote: Doris Cellar is totally crushworthy, check that out.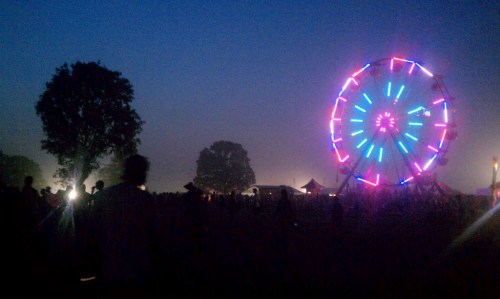 CHANGING CLOTHES AFTER SUNSET
Nighttime on the farm is so much better in clean, dry clothes. This year I just brought a new outfit with me to Centeroo (no way I'm walking back to Camp M) and changed in the porta-loos. This is for sure a thing I recommend.
MEETING AUTOSTRADDLE READERS!
No one had the presence of mind to photograph these events. I'm still pretty sad about that.

So tell me, are you ready to come with us to Bonnaroo 2012? You can preorder your tickets at a discounted price on June 17 starting at 12pm Eastern! Those will sell out in about four hot seconds, but it's worth a shot.
Pages: 1 2See entire article on one page