THINGS WE DID RIGHT
1. Packing light. Just the essentials, really.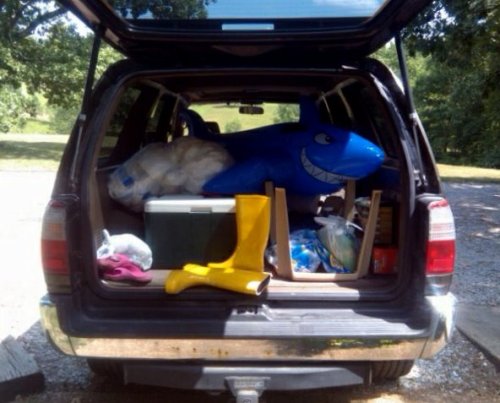 2. Getting to know the neighbors.
3. Making sure the campsite was recognizable from a distance.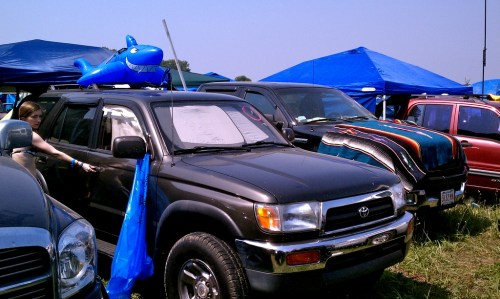 4. Respecting the morning routine.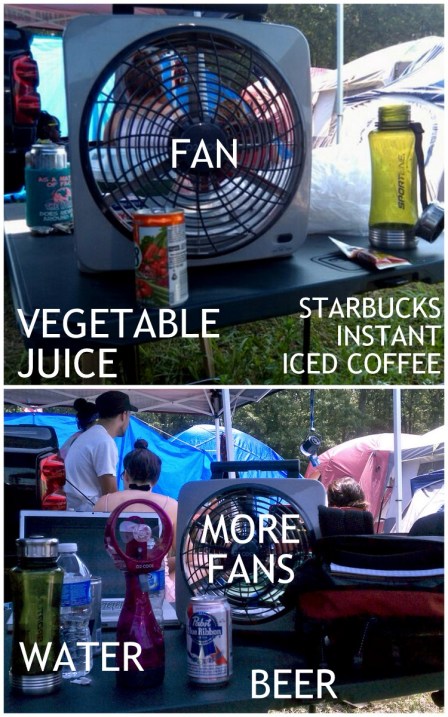 5. Washing our hair at camp! <— best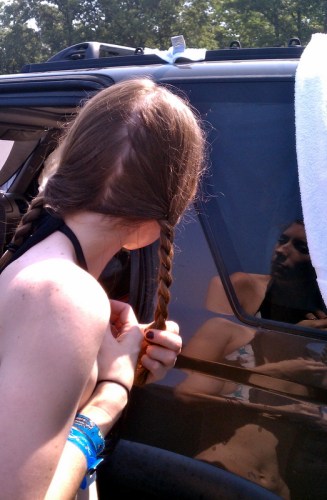 6. Planning the day, but staying flexible. Also more drinks + snacks.
7. Taking a taxi. We were 'lucky' enough to have a campsite at the outer edge of the farm ("I can't believe the treeline is like, right there!"), which meant we could take a taxi to Centeroo. The taxi goes wayyy out of the way, so we only did this once. But it was nice.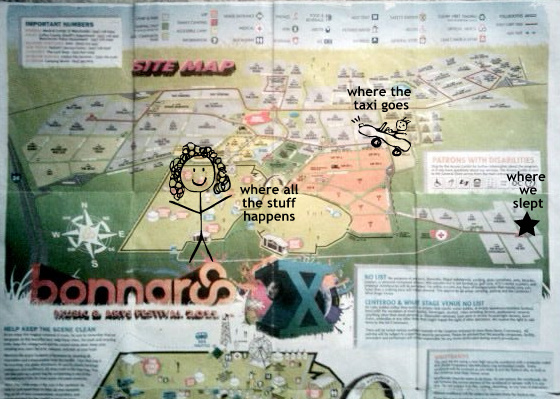 8. Being prepared to stand in line. There was a fan and water involved. We were smart.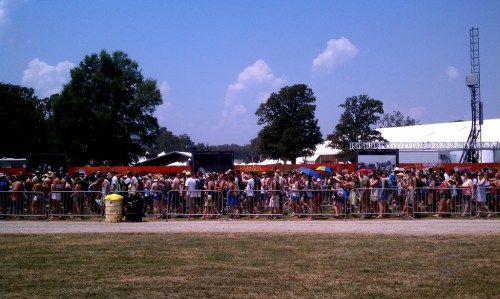 9. Bringing money for food. Wood-fired pizza, fries, aforementioned samosas, food trucks, etc. Totally not effing around.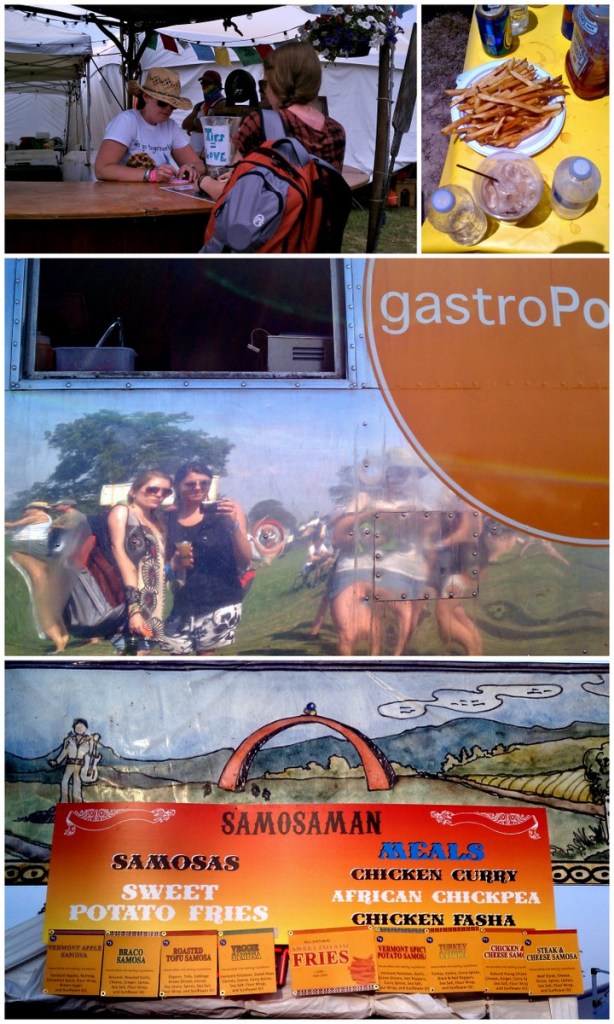 THINGS WE REALLY LIKED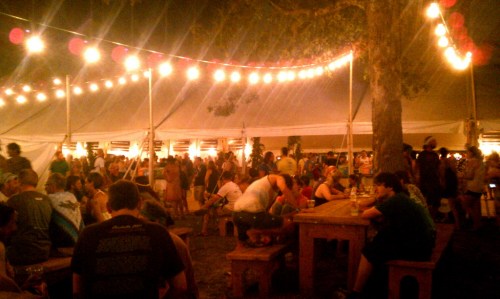 BROO'ERS FESTIVAL
A selection of microbrews (mostly from the region), outdoor picnic tables and cute lights. This is not only up our alley, it is the alley.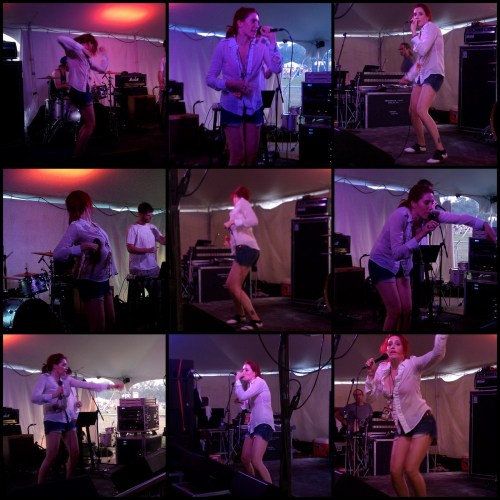 HESTA PRYNN
Sarah and I were sort of casual fans of Hesta Prynn before Bonnaroo, in that Sarah had never listened to her music and I had just downloaded her latest album, Can We Go Wrong, three days before leaving Phoenix, so I'm embarrassed to say that we almost didn't make it to her set. You guys, wow. Hesta Prynn. This woman sings her ass off and whatever's left over, she dances off. And of course her musical talent comes first YES OBVIOUSLY but would you please, please take a sec to appreciate her killer thighs?
Sarah: In the Venn Diagram of people that Laneia and I are attracted to, it turns out that Hesta Prynn and Samantha Ronson are pretty much the only occupants of that middle ground.
ARCADE FIRE
Sarah: These guys always manage to seem to be so excited and so humble, which is crazy because they are SO famous right now. The set list was a good mix of their three albums and had enough variation to give everyone a break from time to time. I forget just how many fantastic songs they have until they play a show and I'm unable to sit down for the whole damn time. Actually, I can't pick out a particular song that was the best of the set, though the encore (Wake Up and Sprawl II) was absolutely perfect.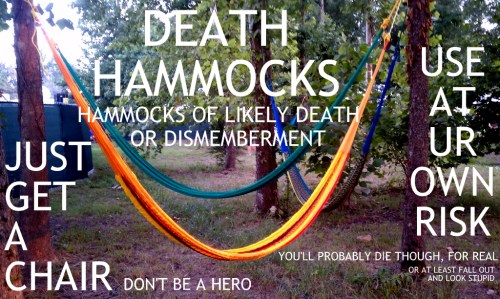 MEDIA HAMMOCKS
Sarah really loved these hammocks and probably had the best nap of her entire life in that blue one in the back. I feel differently.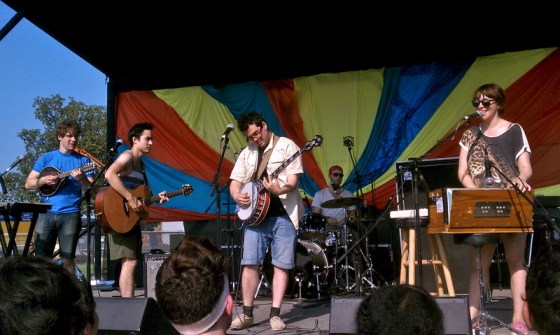 FREELANCE WHALES
Sarah: The Sonic Stage, where the Freelance Whales did their second show, is one of my favorite parts about Bonnaroo. The point of the Sonic Stage is to bring in acts who have already played a large tent and give them a chance to do a smaller performance. Both shows were really great, for different reasons. After doing a traditional set on Thursday, Friday's was acoustic, which, for a band like Freelance, is always a treat. They have such an array of instruments, including a xylophone and a glockenspiel, that sound more interesting without all the electric shit in the way. They ended up having to pick the last two songs on the fly because they were over time, and it was supes cute to watch them have a band conference. The obvious crowd favorite at both concerts was "Hannah," and both of their "Generator" songs sound excellent in concert. Sidenote: Doris Cellar is totally crushworthy, check that out.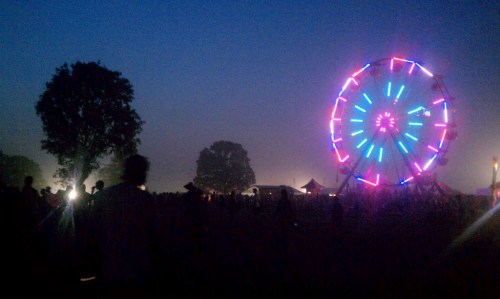 CHANGING CLOTHES AFTER SUNSET
Nighttime on the farm is so much better in clean, dry clothes. This year I just brought a new outfit with me to Centeroo (no way I'm walking back to Camp M) and changed in the porta-loos. This is for sure a thing I recommend.
MEETING AUTOSTRADDLE READERS!
No one had the presence of mind to photograph these events. I'm still pretty sad about that.

So tell me, are you ready to come with us to Bonnaroo 2012? You can preorder your tickets at a discounted price on June 17 starting at 12pm Eastern! Those will sell out in about four hot seconds, but it's worth a shot.
Pages: 1 2See entire article on one page