Hey ladieeeees! It's time for More to L With Natalie, the fancy cherry on top of the cheap sundae known as The Real L Word, a show about Real Lesbians with Real Lesbian Feelings and Real Lesbian Tequila and Real Lesbian Breasts that we haven't seen yet.
Do you want to see Nat look for a house with / for her girlfriend? Sure you do! It's really honest and normal and no one cries or has sex with Romi at The Abbey, so your soul is fairly safe.
Do you think 'home' is a woman cooking dinner for you? Because I really relate to this feeling, in that sometimes all I want is for a woman to cook dinner for me. Like, we don't even have to have sex (because who in the WORLD even knows how to DO lesbian sex?? Certainly not me. I hope they cover this in Episode 104 of The Real L Word).
So so many thanks to Showtime for all they do in producing Autonatic! Just – I mean – just – wow. Thank you. So much!! We're 65% sure that's Autostraddle's Flip Cam though, so we practically executive produced this episode, more or less.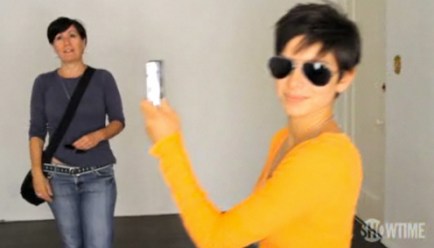 Last night Mikey & Raquel visited the Live Lounge to chat with Nat, discussing topics like "why does Mikey have sunglasses on all the time?" Mikey also addresses some of the constructed scenarios, why the show would be better if it was just the two of 'em, and how the wedding chapel thing happened.