Anyone But Me Season 2 premieres today! The show is the brainchild of Executive Producer/Writer Susan Miller and Executive Producer/Writer/Director Tina Cesa-Ward. If you missed Season 1, you can catch up on it here, here and here. Also, check out our Autofocus interview with Rachel Hip-Flores and (queer) Nicole Pacent, two seriously cute, funny and adorably geeky stars of the series.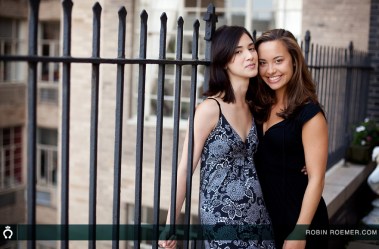 Here's Riese's Season 1-in-a-flash recap from our recent Season 2 premiere party post:
Though Miller once wrote for the unstoppable Showtime lesbosexy vehicle The L Word, expect more South of Nowhere than TLW.

At Season One's start, Vivian and her father are leaving Manhattan for Westchester, which is apparently 30 human minutes but 300 teenage lesbian lovebird minutes away, which means Vivian is leaving her smokin' hot girlfriend Aster behind unsupervised to go swap spit at Cubbyhole. Will Vivian & Aster's gaaaaay relationship survive the distance? Will they send each other cute sexts?
As the season journeys on, the relationship hits its ups and downs as Vivian settles in to a new school and runs into Sophie, a blast from the past currently caught up in the Angela Chase-Jordan Catalano Problem — her boyf wants to bang, and Sophie does.not.want. Why not? I dunno, but when Season One ends and Vivian finally consents to making out publicly with her girlfriend in the middle of the street, Sophie seems SUPER INTERESTED IN THE SCENE. You know what I mean. That straight-girl-best-friend in school fantasy might come true. But then what about Aster, she's so hot! See, these are the kinds of dilemmas you will be pondering in three short days TODAY! [xoxo Riese]
And now, here's the Season 2 premiere, The Real Thing. Vivian's gotta go back to school knowing that now everyone knows she's a big ol' gaymo and she starts seeing things (like that "ghosts" episode of My So-Called Life!) Check it:
What do you think?
+