Welcome to AM/PM, where Autostraddle team members share our morning and evening rituals.
Ugh. Mornings. I'm not a morning person. I use a sleep mask because if the room isn't coffin dark I can't catch a single wink. I've been told I channel Sesame Street's Oscar before 10 am (unless I'm awakened with sex) and it hasn't gotten any better since I decided to quit caffeine for a few months because I've built up an unhealthy tolerance to it.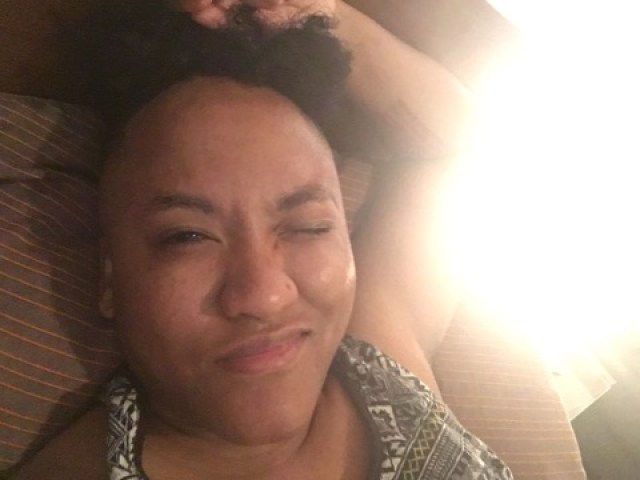 I don't officially ever have to start my day earlier than 9 am but I wake up earlier than I want to on days that end in "y" because both of these furry little jerks start screaming for kibble between 6 and 7 am. They look so peaceful when they're sleeping. I swear it's the greatest trick the devil ever pulled. They eat quarantined in separate rooms because of course they each prefer to eat the special food that's NOT their own and makes them projectile vomit wherever it's most difficult to clean up.
I have a low-maintenance, no-frills face. I keep adult acne and an uneven complexion at bay by moisturizing the bejeezus out of my already oily skin. Turns out fighting fire with fire works like magic. I start out with a cleansing oil from good ol' Trader Joes and follow it up with a blend of vegetable glycerin and Moroccan rose water. If I'm feeling super lazy I'll keep it one-step by subbing in some Vitamin E oil.
My love affair with caffeine products was torrid and intense. So much so that I turned my vanity into a coffee bar. Yep, that's a Nespresso, courtesy of my way better half. Not pictured: a very serious tea collection. But what's that in the background?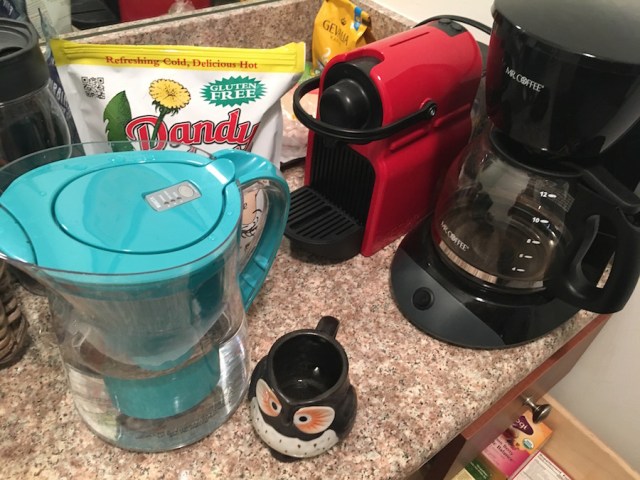 Dandy Blend has changed my life. It's basically my O'Douls. After my withdrawal headaches subsided and I patched up the holes in my walls, I realized I didn't miss the taste as much as the ceremony of a daily hot mug (or five, if we're being honest) of brown bittersweet water. By the way, none of that sugar or half-and-half bullshit for me. I've always liked my coffee the way I like my Jesus and my Santa Claus.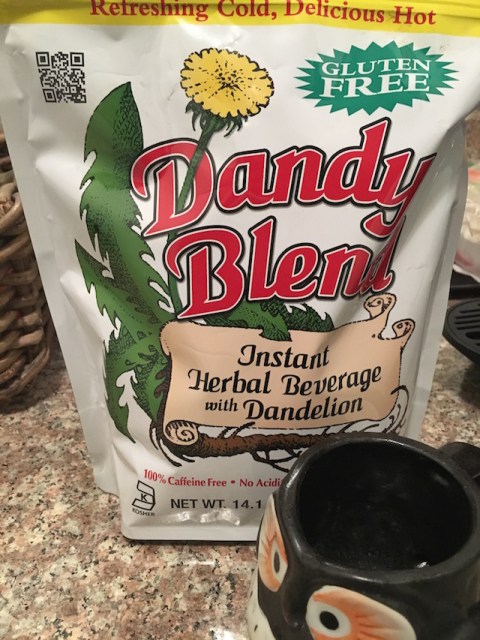 This is a little milder than joe but gets the job done. And it's water soluble so you can just mix it with hot water and you're good to go, no brewing necessary. After 3 cups I'm ready to check my email, obsessively refresh my Twitter and Facebook feeds for 20 minutes, then hit the showers and mayyyyybe put some pants on.
---
Before you go!
It takes funding to keep this publication by and for queer women and trans people of all genders running every day. And A+ members keep the majority of our site free for everyone.
Still, 99.9% of our readers are not members.
A+ membership starts at just $4/month.
If you're able to, will you join A+ and keep Autostraddle here and working for everyone?
Join A+