Amos Mac, one of our favorite creators (Original Plumbing Magazine), has a new photography / publishing gig that I think you'll sort of love: Translady Fanzine. Together with model / performance artist / filmmaker Zackary Drucker, Amos Mac has created "visual proof of contemporary trans existence" in the form of a collaborative fine art photography periodical that is really, really gorgeous.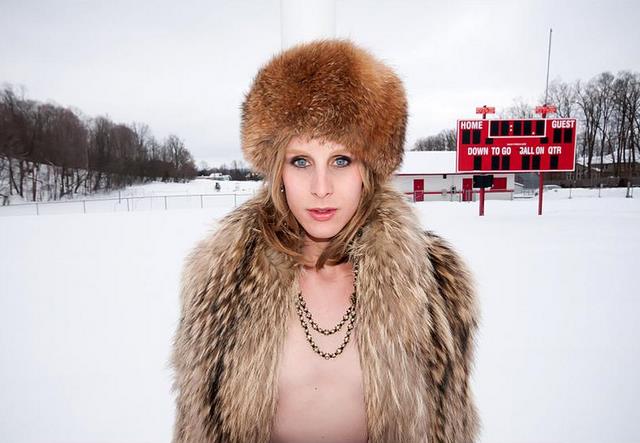 "This is a thick-paged periodical and very large in dimension — I don't see it as a magazine AT ALL. The aim is to make it annual, with a completely different presentation each time. To us, this is an art object."
– Amos Mac
To me, the most interesting aspect of Translady Fanzine is that it seeks to present the artistic connection between the photographer and the model (trans man and trans woman), and the unique, yet shared experience of being transgender. Translady Fanzine will be premiering at the NY Art Book Fair at New York's Museum of Modern Art September 29th to October 2nd.
I asked Amos to share some feelings about this project and the upcoming book fair. You can read those feelings now and then have feelings of your own!
LANEIA: How long has Translady Fanzine taken you to create — from conception to MoMA?
AMOS: I first thought of this project over a year ago. I knew that I wanted to create a photo-based periodical about trans women, and I was super inspired by the concept behind Christopher Schulz's magazine, PINUPS, where he features one fabulous bear per issue in "an exaggeration of the classic centerfold."  By focusing on one model per issue, I felt that I'd be able to really concentrate on the images and connect with the model on a deeper level, especially since I'm a photographer at heart, and after starting Original Plumbing magazine where I photographed so many models for each issue it could get rushed, and I felt like I was really missing that connection between myself, the model and the collaboration of art we were creating together.
L: That's really beautiful. What was the collaboration with Zackary like? Can you tell us about the process of deciding how you were going to put this all together?
A: Zackary and I  shot this over four days during Christmas of 2010 and then we immediately started going through the hundreds of images together, deciding on what we'd include in the periodical. After Christmas I went back to San Francisco and sat on the images for a month or two so while I decompressed, because honestly, every day photo shoots exhaust me because I feel that it's an energy exchange between myself and who ever I am photographing… so you can just imagine how a four-day-and-night photo shoot depleted me emotionally and otherwise.
As for the writing… Originally I had no intention on including a letter I wrote to Zackary.  One morning I was looking through the images we created together and that letter just came out of me. I sent her the email, and she responded back, and we felt that our true words from those letters would be a perfect introduction to what Translady Fanzine is all about.
L: Are you so excited for this book fair and signing?
A: I'm honored that the NY ART BOOK FAIR is showcasing Translady Fanzine this year!  The signing should be intimate, even though it's in the midst of a chaotic book fair at MoMA PS1! I see it as a gathering of friends and the truest NY fans. My mom will be there, and Zackary is coming in for the day before heading back to LA.
The signing with both Zackary and Amos takes place on October 2nd from 2-3pm in the MoMA PS1 lobby.
You can learn more about Translady Fanzine, order a copy for yourself, follow Amos Mac on tumblr and while you're at it, you should probably get reacquainted with Original Plumbing Magazine. There are lots of books and such for you to purchase now and I'm very excited for you! Definitely get out to the book fair this weekend if you can!
Supplemental Reading:
Translady Fanzine: A Conversation with Amos Mac and Zackary Drucker