feature image via Jonny Armstrong
Hello Friday beans! I keep watching all the Ken Burns documentaries on Netflix, but not really watching them? I think I just like Peter Coyote's voice. I wish he would narrate my vacation videos. I don't make vacation videos, but if Peter Coyote agreed to narrate them, I'd start.
You Should Go or Do or Give
+ Learn about What's Your Issue and take their national youth survey! Then share it with your weirdo friends!
+ You know what you should give? These amazing valentines! Girls Invented Punk Rock Hand Drawn Valentines!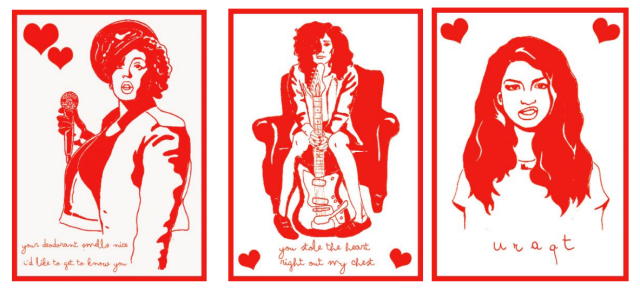 + Fill out this short survey for the LGBTQ Safe Spaces App!
Hellcat Studio is developing a mobile app to find, rate, and review safe spaces by and for the LGBTQIA communities. Our goal is to make it easy to find friendly establishments and LGBTQIA-competent services, such as healthcare providers, home maintenance, therapists, etc.
---
Queer as in F*ck You
+ Dannielle Owens-Reid has some news for you and your outward appearance!
+ Emily Brooks, whom you'll remember from AS pieces like "Body as a Second Language: Navigating Queer Girl Culture on the Autism Spectrum", has some advice on the Parents Project: My Autistic Child Came Out to Me.
+ You should check out #AMPLIFY, a storytelling, community art, and historical archive project sharing the lived experiences of LGBTQ neighbors in Western Pennsylvania from 2015-2017. Are you involved in a local project similar to this one? Tell me about it!
+ Did you see Mey Rude on The Toast??! Transmisogyny and Disc Golfing: A Roundtable Chat With Mey Rude, Brook Shelley, Frances Lee and Gabby Bellot. UGH SO GOOD.
+ All in the (Non Nuclear, Totally Unorthodox) Family.
"You can choose your friends but you can't choose your relatives," the saying goes. And yet throughout the United States, clusters of people who consider themselves families are determined to prove otherwise. "You can't choose" is one of those things that used to be true — like the fact that a child can only have two biological or legal parents, that a woman can't give birth after menopause, that a marriage is between a man and a woman — but are now being challenged by law, custom and technology.
+ Kristen Rogers has this piece on BGD: Being Queer and "Dating Straight".
+ My Wife and I Are (Both) Pregnant.
---
Doll Parts
+ Investigation Into Alleged Police Abuse of Indigenous Women in Quebec Under Way.
+ The Promising Case of a Non-White Nancy Drew by Lenika Cruz. "A new CBS series will have an actress of color play a grown-up version of the beloved teenage sleuth." !!!
+ Body Hair Politics: A Brown Girl's Point of View by Nish Israni.
+ PERIOD SEX.
+ And speaking of: The Incredible World of Period Underwear Patents!
+ How a 90 Year-Old Missing Person Became a Hit on Spotify. Oh wow.
+ Women in Combat, in Their Own Words.
---
Saw This, Thought of You
+ For Jaden, Willow, Quvenzhané, and Other Carefree Black Kids by Cairo Amani.
+ In case you need a primer: Here's How the Flint, Michigan, Water Crisis Has Escalated to a State of Emergency.
+ Growing Up With White Paranoia: Persecution vs. Privilege by Lyz Lenz.
+ Do you want to have nice things? Here is something nice for you that Rachel found: The Collages of Helen Adam is on pre-sale!
+ Time Of Your Life: "Selling Millennials their own childhood at a 90s festival." by Nicole Boyce.
+ Jacqui Shine brings you Inside the Police Industrial Complex.
+ How The Oxford English Dictionary Went From Murderer's Pet Project to Internet Lexicon by Natalie Zarrelli.
+ Inside the Lab Where Invisibility Cloaks Are Made.
---
And Finally
This Photographer Captures the Secret Lives of Wild Animals.