I had a pain au chocolat over the weekend from Proof Bread that almost made me cry, so I'm feeling very blessed upon. I sure as heck hope you have a damn fine Monday, you gorgeous, gnarly wad of stardust and intentions!
---
Queer as in F*ck You
+ Button and Bly went to Stockholm Pride!
+ I'm SO SORRY but the pre-order of Cameron Esposito and Rhea Butcher's Butch-Ups Calendar has sold out! I can hear your cries from here. We must believe in our hearts that there will be another chance soon. WE MUST BELIEVE.
UPDATE: Butch-Ups Calendars are back in stock! I think we did this with our heart powers, you guys.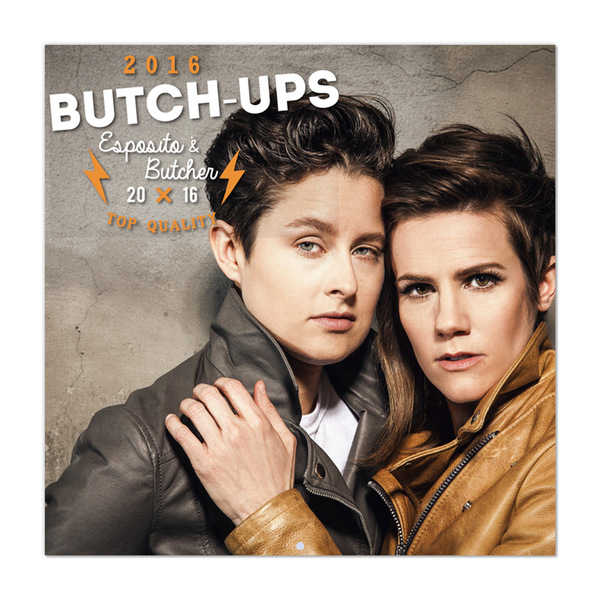 + My Kids Will Remember Me Crying Over a Cake. How Will Yours Remember You? by Vikki Reich.
+ Where Are All The Queer Girls in Fashion? by Biju Belinky.
+ Hope Solo Will Face Domestic Violence Charges.
+ Palestinian-Jewish lesbian couple makes comedy out of love story.
---
Doll Parts
+ Does Courtney Demone have boobs yet? What about now. What about now. Come on, Facebook, what about now?
+ Haim Wants to Bring Back Lilith Fair. :looks at cuticles; stares out window:
+ Sleater-Kinney on Riot Grrrl, Reuniting, and Portlandia.
+ Samantha Irby has Fall Beauty Tips for the Bored and Occasionally Greasy..
---
Saw This, Thought of You
+ Bracing for Gentrification in the South Bronx.
+ South Dakota Slated to Cut Native American History.
+ Flavorwire decided to take what is probably a fun little list of teen goth books and split it into a fucking 12-page slideshow (??????!), so instead of linking you to it, I'm telling you how fucking annoying it is and wondering if you have any teen goth book recommendations! Lord have mercy.
+ 27 Alternatives to Asking "Is This OK?" by Marcia Baczynski.
+ The Muppets Best Musical Moments!