Hi there! Flint, Michigan has been without clean water for 1,021 days! Pass it on.
Direct Action
I'm reconfiguring this section (formerly You Should Go or Do or Give) to focus on actionable things you can do right now to make a difference in the world, micro and macro. Send tips to tips@autostraddle.com
+ Taking a Stand Against DeVos: 5 Action Steps to Mobilize and Stay Informed.
---
Queer as in F*ck You
+ My Life as a Trans Woman Teaching High School in a Bathroom Bill State.
+ Armpit Hair and Crop Tops: 31 Photos of Queer People How They Want to be Seen.
+ The Watermelon Woman or Whatever Happened to New Queer Cinema.
+ Vermont Leads States in LGBTQ Identification.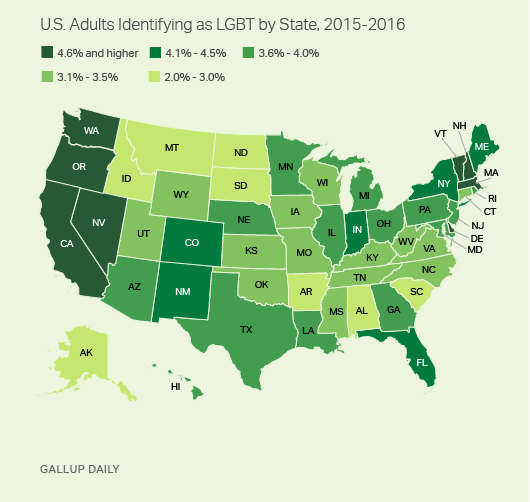 + Watch the Gender Revolution documentary tomorrow night on NatGeo.
+ Trans Teen Takes Her Own Life Weeks After Giving Moving Speech on Acceptance.
+ Watch Carrie Brownstein Review Songs for Vice News.
---
Welcome to the Hellmouth
+ What Would It Look Like, Hypothetically, If A Public Figure Were Suffering The Symptoms Of Dementia?
+ Terrific Things You Need to Buy From Nordstrom Today! "Celebrities love Timberlands and why not? They're great for taking long walks with thousands of strangers." ??
+ Wait this is amazing. Pennsylvania Senator to Trump: "Come After Me You Shit-Gibbon!"
Hey @realDonaldTrump I oppose civil asset forfeiture too! Why don't you try to destroy my career you fascist, loofa-faced, shit-gibbon!

— Daylin Leach (@daylinleach) February 7, 2017
+ Against Normalization: The Lesson of the "Munich Post".
+ Donald Trump and the Uses of the Past.
+ Trump Administration Prepares to Execute Vicious Executive Order on Deportations.
+ She Showed Up Yearly to Meet Immigration Agents. Now They're Deporting Her. The story of Guadalupe García de Rayos.
UPDATE: Guadalupe has been deported to Nogales. Her attorney was never contacted by ICE. She missed DACA eligibility by four months. Her attorney: "My advice to future clients is to go find a sanctuary church don't check-in to ICE."
+ Trump Aide Derided Islam, Immigration And Diversity, Embraced An Anti-Semitic Past. Just a cool guy being cool, you know.
+ Ted Cruz: "The Democrats are the Party of the Ku Klux Klan." Sounds like Ted needs a refresher on the Southern strategy, bless his dumb fucking heart.
+ Neil Gorsuch sure as shit did criticize Trump and his tantrums, even if Trump doesn't want to admit it. "Even if Trump doesn't want to admit it" could be appended to pretty much every true thing you say for the next thirty years!
+ John Kelly, Homeland Security Secretary: Travel Vetting Could Include Passwords, Tweets. If you're super up-to-date on this subject, you'll know it's already happening, even to American-born citizens.
---
Doll Parts
+ How Ana Nicole Smith Became America's Punchline. Related: read Sady Doyle's Trainwreck!
+ The Casualties of Women's War on Body Hair.
+ Learn about Elouise Cobell, American Indian Activist Who Battled for 15 Years to Win a Landmark Suit for Oil and Gas Royalties.
---
Keep Up
+ Cellphone Spy Tools Have Flooded Local Police Departments.
+ White People: I Don't Want You to Understand Me Better, I Want You to Understand Yourselves.
+ U.S. Animal Abuse Records Deleted—What We Stand to Lose.
+ Earth and Bone is a public radio-produced podcast that digs into the pervasive issue of the U.S. government desecrating sacred Native American lands for profit. You can also read the transcripts here.
+ Navajo Nation Seeks Special Recognition Status From UN.
---
Saw This, Thought of You
+ Lumberjanes Will Be Adapted Into Novels !!!