feature image by Hallie Bateman
This is a secret right now so I can't tell you EVERYTHING but I will say that next week, the AAAs will be handled just slightly differently, and we're bringing in a new thing that we think you're going to super fucking love, so just get ready for thattttt! Here are some stories we missed while I was making up my own lyrics to "Pinot Noir" in the shower.
You Should Go or Do or Give
+ THIS IS A SPECIAL REPORT from Beth Maiden, your fave tarot card slingin' columnist:
Hey tarot-loving people!
Just a quickie. As you may have heard, The Collective – as in, the awesome folks behind The Collective Tarot – are considering a fourth printing, but they need to know that it's wanted and needed.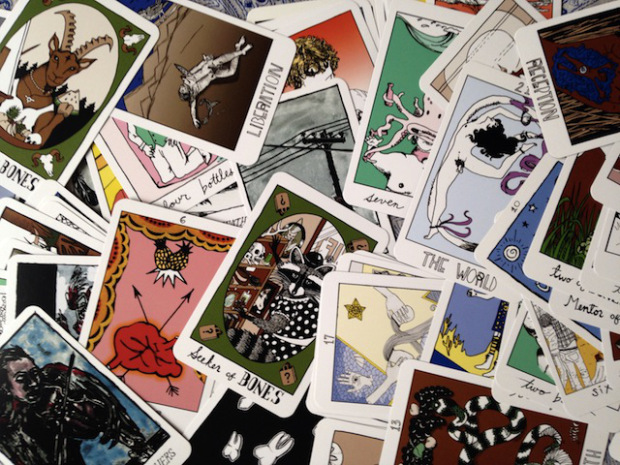 If you'd love to see this amazing, radical, super-inclusive and totally queered-up tarot deck re-printed and available to buy once again (hint: YOU DO) you can show your support either by visiting the Facebook page here, or if you're not on Facebook, email me at beth@littleredtarot.com I'll collect your responses and send them on!
There's a short timescale, so get back to me by the end of the week so I can send your responses over!
PS If you're curious about The Collective Tarot or just want to ogle some pics, you'll find a bunch posts about this deck on Little Red Tarot.
+ Support Nik Kacy's Gender-free Shoes!
+ Attend Why Butch Still Matters: Identity, Gender and the Media with Lea DeLaria on Wednesday March 25 at 7pm at the Nourse Theater in San Francisco! Tickets are available at the city box office.
---
Queer as in F*ck You
+ Well this is super weird! Oklahoma House OK's Bill Shifting Issuance of Marriage Licenses From State to Clergy.
+ Creating Emotional Support and Visibility: Why I Started Bisexual Women of Color – BIWOC by Gwendolyn Fougy Henry.
---
Doll Parts
+ Trina Young has The Afro-Feminist Coloring Book You Didn't Know You Wanted.
+ Criminal Injustice: 5 Disturbing Facts About Women of Color and the Prison Industrial Complex by Carmen Rios.
+ Jos Truit has put together a list of organizations that need your support: Take Action Against Anti-Trans Violence by Supporting Vital Services and Organizing.
+ Here's some New Feminist Music of March as favorited and listed by Katie Presley.
+ The Surprising Way That Networking Fails Women by Vivian Giang. This is super surprising actually!
Most of us have heard the old adage, "it's not what you know; it's who you know," but for women, it might just be what you know.

A new study suggests that career advancement for women isn't dependent on social connections in the way it is for men. Instead, professional success for women is dependent on "documentable and measureable competence" or basically, a proven track record.
+ Relatedly! This is very interesting: Twelve Women on Twitter and Self-Promotion put together by Emily Schwiegershausen and featuring Feminista Jones, Anna Holmes, Jazmine Hughes and others!
+ Emily Henry has some Approved Catcalls.
+ A New Webseries Upsets Pop Culture Portrayals of Disabilities, which Sabine Rear interviews Cheryl Green and Caitlin Wood on their series, Very Special Episodes.
+ Did you want to see The Women of the Supreme Court in LEGO Form? Of course you do.
+ Loretta Ross brings you A Much-Needed History Lesson on the Origins of the Term "Woman of Color".
---
Saw This, Thought of You
+ How to Raise Kids Who Aren't Narcissists extrapolated by Francie Diep.
+ At SXSW Interactive, Making Diversity in Tech the Next Civil Rights Fight by Julie Walker.
+ At 18, Buffy the Vampire Slayer is Still Revolutionary by Sophie Gilbert.
+ Here's your first look at Grace Helbig and Hannah Hart as Electra Woman and Dyna Girl!
Here they are. #EWDG @gracehelbig @harto pic.twitter.com/wjzBW8tJb1

— ElectraWomanDynaGirl (@ElectraDyna) March 10, 2015
---
Local Autostraddle Meet-Ups
+ 3/12 Manchester, NH: Manchester Slam Poetry Feelings Fest
+ 3/14 Philadelphia PA: Philadelphia Daytime Staycation Spectacular Slumber Party
+ 3/14 Brisbane, Australia: Brisbane Barefoot Lawn Bowls Staycation Spectacular
+ 3/14 Washington, D.C.: D.C Staycation Spectacular Pi[e] Day Indoor Picnic
+ 3/14 Sydney, Australia: Blue Mountains Camping Trip
---
And Finally