DID YOU SEE THE BLOOD MOON?? I didn't because I was sound asleep, probably having that dream where all the spiders I've ever killed come back to life and are 30 times larger than normal and I can't scream out loud and my feet are tied up with string! Love that one. Here's what we missed while I was searching DreamMoods.com and putting this wreath on my door.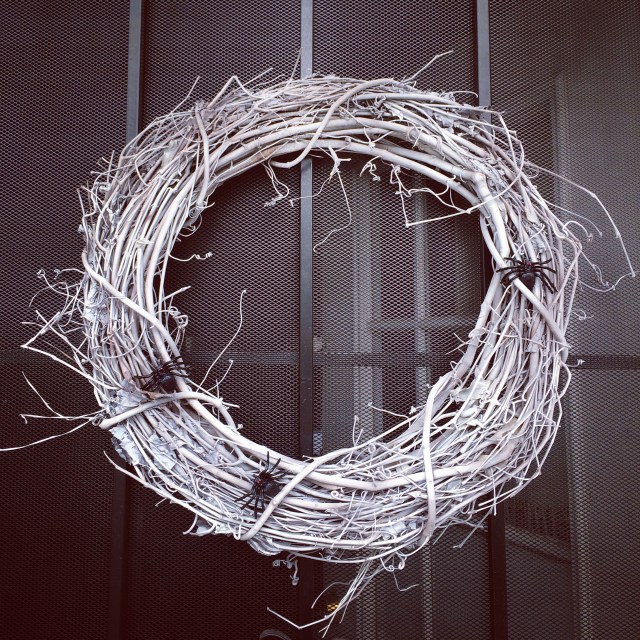 ---
Get Yer Gay-Ass News Already Jeez
+ Louisiana State University Introduces New LGBT Minor so congratudamnlations LSU!
+ Why Fun Home Cartoonist Alison Bechdel Says Not Identifying as a 'Queer Artist' Has Made Her More Ambitious on Huffpo. This video autoplays because Satan is probably real and maybe has a hand in everything idk.
Bechdel, 54, says choosing not to always identify as a "queer cartoonist" was a "seismic, psychic" shift, because "I'd gotten so used to thinking of myself as this marginal, subcultural animal who couldn't be part of a bigger world."
+ Virginia Tech Adds Gender ID Protections hooray!
+ LGBT Kids of Color More Likely to be Disciplined in School, Study Shows.
+ The National Gay and Lesbian Task Force is changing its name to The LGBTQ Task Force, so.
---
Put Your Money/Time/Energy/Signal Boost Where Your Mouth Is
+ Help Hood Feminism Prosper! Donate to their fundraiser!
+ Our friends over at Everyone Is Gay need a hotel ok:
We are looking for hotel sponsors for our 21-city book tour in Nov/Dec!! Can anyone help us out?! City list here: http://t.co/5ApSYnLRzO

— Everyone Is Gay (@everyoneisgay) October 8, 2014
+ Work with Black Girl Dangerous on a new video project:
BGD is seeking the following creative and technical talent for an upcoming video project by and for queer and trans people of color. All positions are for a 3-day video shoot in Oakland, CA (out-of-towners are welcome, must cover own travel) in late October 2014. All are paid, short-term gigs. All positions require experience working and living within QTPoC communities.
+ Get involved with We Are The South!
The #WeAreTheSouth | #SomosElSur photo campaign intends to amplify the robust lives, intersectional organizing, and leadership of LGBTQ people, people of color, and immigrant communities and organizations who are living and loving at the intersection of racial justice and LGBTQ liberation in the South.
+ Help CeCe McDonald gain some financial stability.
+ Ari Fitz is taking Tomboyish to Europe so get on board.
---
Doll Parts
+ It's Impossible to Prevent Someone From Eyefucking You on Medium, in case you were in too good a mood today.
We asked 10 women in eight countries to record every instance of street harassment—every catcall, every ass-ogle, every creepy look—for an entire week. The results? A strong argument for just becoming a shut-in.
+ On Deciding What Counts: Elizabeth Allen and What Makes a Victim. Just damn.
I do not believe that most women — that most victims of sexual assault — freeze or shut down when faced with the prospect of coercive sex because they don't really care what happens next, or because they're excited to push through the moment for the sheer joy of accusing the aggressor of rape after the fact. I believe that these women, these people, have a finely tuned sense for their safety, that when a woman reports having "a feeling that it would turn into an ordeal if I rejected him," she is not crazy and she knows what she is talking about.
+ Hey girl, Is This a Golden Age for Women Essayists? Cheryl Strayed has some thoughts.
+ Fortune has 55 Most Influential Women on Twitter.
---
You'll Like This Or Else
+ TWIN PEAKS SEASON THREE OK but what can we expect?
+ All the Brand New Horror Movies You Can Watch Before Halloween SO GET EXCITED, WEIRDOS. See also: Stef's brilliant Women That Go Bump In The Night: Lady Monsters of Cinema
+ Femslash Friday: The Craft, because if you don't care about this, you don't care about THIS. ::grabs heart and crotch simultaneously::
+ Idk Mallory just fucking knocked it out of the park for you this week: Thematically Appropriate Books to Read in October
---
And Finally
And the whole gang! pic.twitter.com/N11wggbMkE

— Abraham Perez (@ookiethefrog) October 8, 2014