Happy Monday, Garfields! When was the last time you made lasagna? Maybe we should make one this week.
---
Queer as in F*ck You
+ Bless this little dove. LBGT Art Piece Stirs Hate, Support at Mercer High.
"Today is the first time I've felt accepted," [Meagan Brown] said. Some people were watching over the art piece when she wasn't around, making sure no one else attempted to tear it down. People walked up and hugged her. It had been an amazing day, despite the problems, she said.
+ Oh, hm: Johns Hopkins Bans Chick-fil-A from Campus Claiming Restaurant a "Microaggression".
---
Doll Parts
+ An Article About Black Women Shouldn't Have to Come With a Warning Label by Bim Adewunmi.
For a brief moment, I was the default, not required to adapt the look to fit (as we've been urged to do, if we were acknowledged at all, by women's magazines for years). I have been required to see myself in others – to relate – all my life. And in reading the comments beneath my post (and countless similar comments across the internet over the years), I was forced to ask: Is anyone asking any of these people – these self-identified white people – to do the same?
+ Tracing Female Hysteria on Film by Rena Niamh Smith. Oh god I love this.
Carol Morley's new film The Falling hits screens this week, a dark portrayal of an outbreak of mass hysteria at a girls' boarding school in the 60s. It is the story of a best friendship turned sour, sexual awakening and the twilight of childhood, which channels the kind of eerie energy seen in Picnic at Hanging Rock. Morley once again addresses the otherness to the charisma normally associated with young women. From the very public fainting of the pupils to a mother's private agoraphobia, the narrative of madness at the heart of the film is portrayed as distinctly feminine. Here, we pitch it against other portrayals of mental instability on celluloid.
+ The World's Most Famous Trans Model Sits Down with Vogue.
+ Loretta Lynch and the Political Power of the Black Sorority.
Outside of black communities, the sorority's political influence, social action initiatives, and economic development often go unnoticed. Likewise on college campuses—particularly those that lie outside of the network of Historically Black Colleges and Universities—the general student body is largely unaware of the extent of black sororities' work in communities and their contributions to expansive national programs in areas like education, health, and promotion of strong families.
---
Saw This, Thought of You
+ Stef saw this and thought of you: Unbelievable Skeletons Unearthed From the Catacombs of Rome.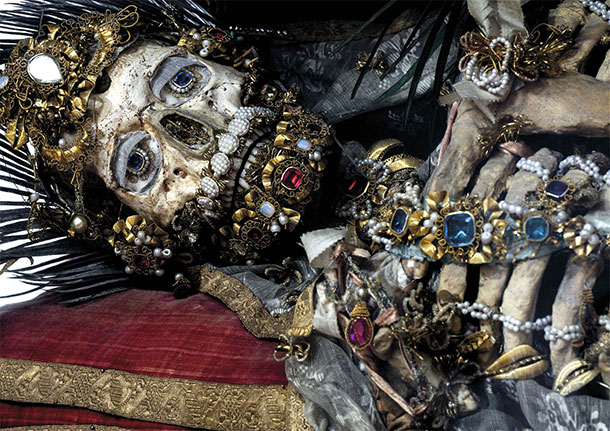 + In which Anna Garvey is correct. The Oregon Trail Generation: Life Before and After Mainstream Tech.
+ Writing, Trans Identity, Race, and All the Poetry: An Interview With Meredith Talusan by Morgan Jerkins.
+ An Introvert's Guide to Greeting Strangers, Vague Acquaintances and Friends.
I am not a misanthrope. I am never mean to the people I meet. But experience tells me that, in most cases, I prefer my own thoughts to yours. Sorry. It's nothing personal.

The introvert's problem is that there are an enormous number of people out in the world, and unless you are a complete shut-in, you are forced to pass through the crowd from time to time. Brushes with other people are unavoidable, but if you are careful, you can get away with the least interaction possible. For the introvert, the most desirable kinds of encounters are The Escape and The Smile. Failing these, you are doomed to The Conversation.
+ Laura said this was interesting and she was right: Speeding in Finland Can Cost You a Fortune, If You Already Have One.
The Nordic countries have long had a strong egalitarian streak, embracing progressive taxation and high levels of social spending. Perhaps less well known is that they also practice progressive punishment, when it comes to certain fines. A rich person, many citizens here believe, should pay more for the same offense if justice is to be served. The question is: How much more?
+ Janet Burns brings you The Anti-Surveillance State: Clothes and Gadgets Block Face Recognition Technology, Confuse Drones and Make You (Digitally) Invisible.
---
Local Autostraddle Meet-Ups
+ 4/28 Madison, WI: An Evening of Queer and Feminist Media with Autostraddle!
So many Autostraddle writers will be at this event! Rachel Kincaid, Gabby Rivera, Whitney Pow and Carmen Rios all together at the same time. YOU ARE NOT READY FOR THIS MUCH GREATNESS.
---
And Finally
Oh I love this so much! Maria Popova would like to introduce you to this book, Lost in Translation: An Illustrated Catalog of Beautiful Untranslatable Words from Around the World.