I tripped over an elaborate cat toy this morning and I won't try to explain it to you in detail because I imagine it would be like hearing about my dreams from last night, but I need you to know that I nearly lost a toe in the ordeal, which is something you don't necessarily see on the horizon on a very basic Thursday. I'm sharing this as a cautionary tale about over-confidence, specifically in leaving cat toys scattered throughout your home. You think they won't betray you, that there's no way your one stupid toe could ever possibly find its way into the only hole available to it on the path from the kitchen to the sofa while you walk with a fresh cup of coffee. You think! But you might be wrong! So put those cat toys away. Thank you for coming to my TED talk and three-day wellness retreat. xo.
Queer as in F*ck You
For info on the trans military ban:
– The Supreme Court Is Allowing Trump To Implement His Transgender Military Ban
– Department of Defense Uses 'Categories' of Transgender People to Defend Ban
– A Transgender Veteran's Response to President Trump's Military Ban
The Lavender Scare: When the U.S. Government Persecuted Employees for Being Gay
New Research Reveals How the Marriage Equality Debate Damaged LGBT Australians' Mental Health
Hello more Mary Oliver, this time from AS contributor, Jeanna Kadlec: On the Overlooked Eroticism of Mary Oliver
Golden Mermaids: Lesbian Creativity Through the Ages
How the Word 'Queer' Was Adopted by the LGBTQ Community
Online Challenges Hit a Sour Note for Queer and Trans Communities
We Are Obsessed With Kristen Stewart's New Hair
'Broad City' Stars on Discovering New Aspects of Their Characters
Oh here's some good advice that hopefully you'll never need: She's Thinking About Divorce But Plan A and Plan B Both Suck. Is There a Plan C?
How Influencers Nicolette Mason and Gabi Gregg Are Building a Fashion Brand Driven by Their Followers
Irene Tu Dazzles in All-Queer Comedy Series
Vita Ayala Brings Xena Back to the Action in Dynamite's New Ongoing Series
Here's What Older Trans And Nonbinary People Want You To Know
Wow wow wow this is a very cool project that you should support! Pur·suit: "A deck of playing cards featuring queer womxn, trans, non-binary, and gender nonconforming people."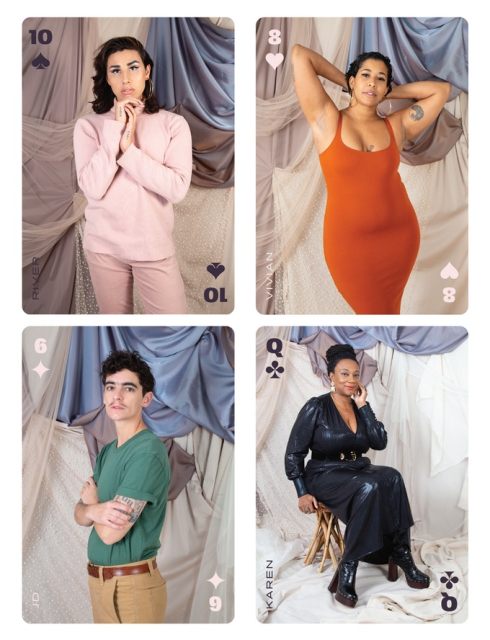 Sundance 2019: The Most Anticipated LGBTQ Films and Projects Heading to Park City
---
Saw This, Thought of You
Why Do the Oscars Keep Falling for Racial Reconciliation Fantasies?
All 5 of the Sebring Shooter's Victims Were Women, Police Chief Says
It's Time to Make It Impossible for Racists to Live Public Lives
Are We Making Headlines or Headway?
'It Felt Like I Had Been Violated': How Obstetric Violence Can Traumatize Patients
Here's Your Abortion Survivalist Guide for an Impending Emergency: Q&A With Author and Activist Robin Marty
Jayme Closs Will Receive Reward Money After Freeing Herself
No One Is Prepared for Hagfish Slime. You need this.
Love Is Dead Because Sweethearts Candy Hearts Are Gone
"When in Doubt, Play Insane": An Interview With Catherine O'Hara
The Real Story Behind the Most Iconic Teen Bedrooms in Pop Culture History
Thieves of Experience: How Google and Facebook Corrupted Capitalism
Hey did you want to watch HAIM and Emma Stone lip-sync the Spice Girls' "Stop"? Because you can.
Bold, Glittery Makeup Helps Me Embrace My Blackness. Here's Why.
BuzzFeed, HuffPost Latest to Suffer Layoffs in Faltering Digital-News Economy
---
Political Snacks
Get In, Millennials, We're Going To Congress
ADL Report: Right-Wingers Committed Every 2018 Extremist Murder In US
The Deep Ties Between the Catholic Anti-Abortion Movement and Racial Segregation