Here we go
Again
on our own. Going down
The only road
we've
ever known. Like
A drift
er
We were born
to walk
Alone.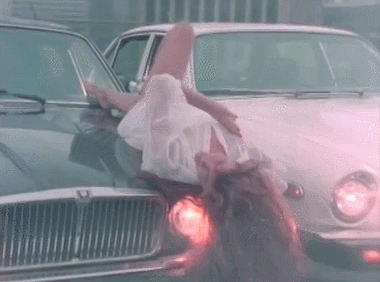 You Should Go or Do or Give
+ Hiiiii The Last OK Place is a webseries that I think you should get behind, get excited about, look forward to, etc. Here's the deal: it was created, written and directed by a gay lady gal, Cassidy Blues; the lead is an androgynous (seems to be leaning butchy in this teaser, and I'm here for that) lesbian, played by a bisexual woman (Winnie Lohof); her romantic interest is a femme lesbian, played by a bisexual woman (Isabel Quintero); ALSO includes Native American actors playing Native American characters, which shouldn't be earth shattering, but it is; AND is set in a post-zombie apocalypse Montana, which I'm pretty fucking sure is exactly where you'd want to be post-apocalypse. Maybe I'm wrong — I've never been to Montana but it seems like there are lots of places to hide from the living dead and then one day grow potatoes. What I'm not wrong about is that this is something we should be seeing more of re: zombie storylines:
Support The Last OK Place, why don't you!
+ Give to the LGBTQ Home for Hope in Philadelphia! They're the first and only homeless shelter in Pennsylvania specifically for LGBTQ individuals, and right now every dollar you donate will be matched.
---
Queer as in F*ck You
+ Queer South Dakota Takes a Stand.
+ Cherokee Nation's Attorney General Ends Ban on Same-Sex Marriage!
+ Deputy Minister Maggie Sotyu Steps in to Protect Murdered Lesbian's Partner, Nqabisa Mkatali.
+ Arkansas' Top Court Says Married Lesbian Moms Still Not Equal On Birth Certificates. Cool cool.
+ Will Gay and Lesbian Neighborhoods Resurge?
+ Six Ways to Meet the Needs of Trans and Gender-Nonconforming Patients.
+ 20 of the Most Amazing Trans Moments of 2016.
+ What Counts as Trans Literature?
+ Oh praise be. I am 100% prepared in my soul for a Dyke and Fats movie. Rough as guts!
---
Welcome to the Hellmouth
Listen, what the entire fuck.
+ In case you've been gleefully living under a rock, Russian Hackers Acted to Aid Trump in Election, U.S. Says.
+ Donald Trump is Gaslighting America. Could not have chosen a better header image, truly.
+ McCain Wants Select Committee to Investigate Russian Hacking. We have an uncomfortable amount in common with John McCain right now.
+ Russian Interference Could Give Courts Legal Authority to Install Clinton.
+ This came across my feed and now it's coming across your face: Caring for Yourself is a Radical Act, a 53-page pdf to help you not fall to little pieces.
+ I'm Not Your Racial Confessor. "The black person's burden of managing white emotions in the age of Trump."
+ Trump Team Uninterested in Undoing LGBTQ Military Service.
+ Senators from Both Parties are Trying to Protect Young Immigrants from Donald Trump.
+ Donald Trump's Harrassment of a Teenage Girl on Twitter Led to Death and Rape Threats.
+ A Finder's Guide to Facts. Can never have too many of these posts, I don't think.
+ What I Saw at the Michigan Recount.
+ This is from late summer, but it's a satisfying, if HORRIFIC, read. Trump: A True Story. I don't recommend it before you've eaten lunch.
---
Doll Parts
+ Co-Creator of The Safety Pin Box Explains Why You Should Pay Black Women.
+ France Bans Anti-Abortion Websites that Spread False Health Information.
+ ? ? ? Ohio Politician Who Lobbied for 'Heartbeat Bill' Has 'Never Thought About' Why a Woman Would Want an Abortion. ? ? ?
+ The Order of the Good Death has broken down this Texas bullshit from the perspective of funeral industry professionals who do not fuck around: New Fetal Regulations in Texas — the Good (and Very Bad) News. Also if you haven't read Smoke Gets in Your Eyes: And Other Lessons from the Crematory, that's how I suggest you spend your upcoming free time this holiday season.
+ The Feminist Legacy of The Baby-Sitter's Club.
---
Saw This, Thought of You
+ I can't talk about this because it's sad, but I also can't not talk about it, so.
+ Romantic Love is Killing Us: Who Takes Care of Us When We're Single?
+ Let's Relocate a Bunch of Government Agencies to the Midwest. Feels like a solid plan.
---
And Finally
Watch Dyke and Fats one more time.