Hey why shouldn't you write with a broken pencil? Mhm you guessed it BECAUSE IT'S POINTLESS. Here are some stories we missed while I was deciding between that joke and the one about wombats that no one likes but me.
Damn It This Is Depressing
+ Ways the Media and Police Justify the Killing of Unarmed Black People
There is a prevailing notion in this country that when an unarmed black person is shot by the police, there must have been a valid reason.
+ What Happens to Police Officers Who Shoot Unarmed Black Men
It remains to be seen whether Wilson will face criminal charges, but a limited review of similar killings by police suggests that the officers more often than not walk away without an indictment, and are very rarely convicted. Delores Jones-Brown, a law professor and director of the Center on Race, Crime, and Justice at John Jay College of Criminal Justice, looked at 21 publicized cases from 1994 through 2009 in which a police officer killed an unarmed black person. Of those, only seven cases resulted in an indictment—for criminally negligent homicide, obstruction of justice, conspiracy, or violation of civil rights—and only three officers were found guilty.
+ A horrifying piece on the FDA's lack of regulation when it comes to food additives. Quorn eaters, you might want to take a seat.
When the manufacturer of a vegetarian line of foods called Quorn first approached the FDA in 1986, the company asked that the agency give formal additive approval for a protein-rich fungus the company makes in large fermentation vats.

Marlow Foods dubbed its new fungal ingredient "mycoprotein."

Fifteen years passed without the FDA moving on the petition. Internal FDA documents, obtained through a Freedom of Information Act request, show no sign of the agency evaluating the safety claims made in the petition. Because the FDA declined interview requests about Quorn products, it is unclear why the petition sat for so long.
 A study that was not mentioned was an unpublished "large scale volunteer trial" from the late 1970s. During the trial, nearly 5 percent of the 200 participants reported feeling ill after eating several "test meals," according to the study, which was obtained by The Washington Post. Four had "more severe reactions," including two who started to "vomit violently," another who became "violently sick" and another who "experienced nausea and vomiting" after eating Quorn products that contain mycoprotein. The study says that the "reactions" could have been caused by a response to mycoprotein.
---
Useful Advice
+  Jenée Desmond-Howard at The Root has some helpful tips on how to deal with racist reactions to Ferguson from people within your social/familial circle.
Michael Brown's death didn't cause a divide between you and the people in your social networks. It simply revealed one. Use the information you're getting to decide which relationships you value.
+ Here, some useful advice is provided by Justin King to Sunil Dutta: "By this point in the piece I became convinced that you lost a bet and had to write this as a joke."
---
Happy Things
+ The Advocate's 40 Under 40: Emerging Voices is full of relevant people you love/will learn to love! Ellen Page, Carmen Carrera, Megan Ellison, Cameron Esposito, Brittney Griner!
+ A photo project started by two moms on the east coast, Love Your Lines is helping us feel better about our stretch marks. My inner thighs and hips are covered in deep, 1/2″ wide stripes that do their best to show how much work went into making room for two other people to grow and develop inside me, so I officially endorse this project as The Best Thing:
So far, Love Your Lines has united women from a variety of experiences — not just women who experienced stretch marks before and after pregnancy but also those who played sports, fought off diseases or simply went through puberty.

"If you could name any place on my body, I have stretch marks there. I'm only 22, no kids, no nothing," @alyciaa_khalifa wrote. "I've had my stretch marks since I was 12, and I used to get teased throughout middle and high school. I used to be so self-conscious. I wouldn't buy shirts unless they had sleeves and covered my entire body. I even battled with bulimia for a few years because I wanted to be skinny and beautiful. As I've gotten older, I've accepted that my stretch marks aren't going anywhere, so there's no point in trying to hide them."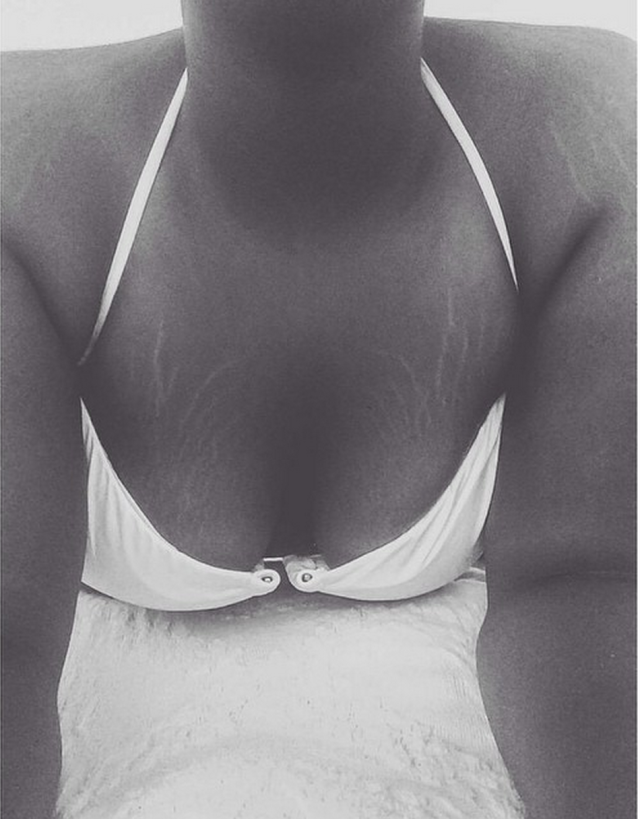 + Did you need a quick read while you're waiting in line at the post office? Vulture's recapping Broad City now! Neat.
+ Thirteen year-old Mo'ne Davis — the first girl to throw a shutout in Little League World Series history — is now the first little league player on the cover of Sports Illustrated! I didn't realize SI still existed beyond its swimsuit issue, so I'm processing a lot of positive feelings right now.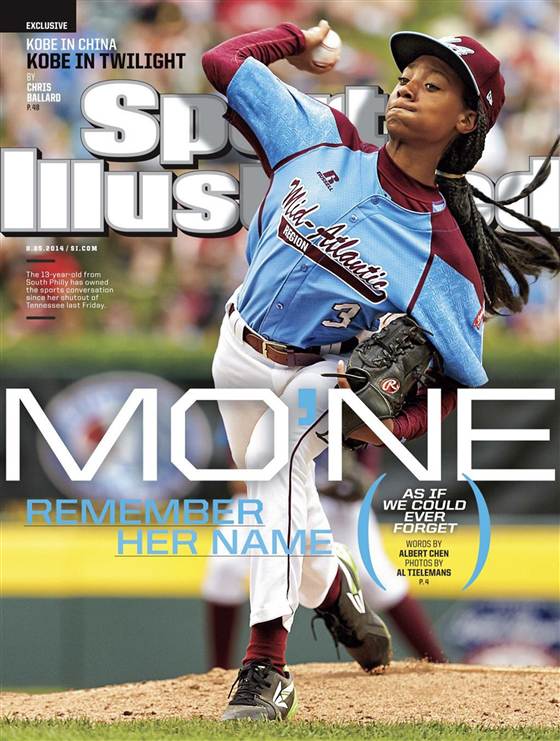 + Filed under Things We All Knew But Still Love to Talk About: Harriet the Spy Was One Great Young Lesbian
I now learn that Fitzhugh was a lesbian. It's difficult to imagine how hard it must have been in her era — in some places it is still that era — when women dutifully got their Mrs. degree, didn't work and were basically told to be the same powerless dolts they had been throughout human history. Lesbians lived in the shadows, unpublished, underfed, taking notes.

But that doesn't interest me as much as the idea that, I assume, Harriet was a little 11-year-old lesbian. Looking back at her tomboy youthful self, Fitzhugh was sending out a message so coded that I didn't get it till 2014.
---
 Stars: They're Just Like Us
Sometimes I research people obsessively on the internet and feel I could be friends w/ them but then erase my browser history like a creep.

— Tegan and Sara (@teganandsara) August 19, 2014