Happy Friday, Inca doves! Today I woke up at 4:50 (alarm song: "Forever" by Haim) so I could take a sunrise power walk because that's literally the only time you can be outside in southern Arizona now without hallucinating and passing out, and anyway it was GORGEOUS. I also got to practice my favorite outdoor activity, which is refusing to cross the street when people in cars tell me to cross the street. You know who tells me when to cross the street? You know who makes that decision? ME, KID. I do. Only I decide when I cross the street! I RUN MY OWN LIFE. GOOD MORNING.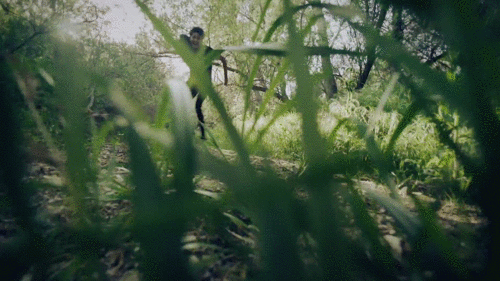 You Should Go or Do or Give
+ Support Black Girl Dangerous via Give Out Day and continue to support them throughout the year!
+ Support Witch: The Feature Film.
The story follows X, a young transgender person floating through zis days along with zis good friends Erica and Aima; the young girl ze babysits. ("Zis"- versus "his" or "hers")
Aima likes to play a dangerous game of make believe called 'Witch'. When the game becomes reality, X discovers new layers to reality every passing moment. An endless lake, a very friendly Alien named Arnold, a treasure trove of fairies and a barking cat are just a few of the things you'll encounter when watching 'Witch'.
---
Queer as in F*ck You
+ Kristin Russo is killing it with this First Person series! The latest is with Ryann Holmes, activist and co-founder of Bklyn Boihood, about race, visibility & safe spaces.
+ Nebraska Woman Files Federal Case Against Homosexuals. :hatching chicken: :ice cream cone:
+ Gender Non-Specific Pronoun Mx. Now Accepted in the UK and in the Oxford English Dictionary. Well holy shit.
+ Meanwhile, back at the ranch: LGBTQ Undocumented Immigrants Denied Access to White House LGBTQ POC Summit.
+ Being Part of a Lesbian Family in the Deep South Still Means Living in Limbo. I REALLY LOVE THIS A LOT.
When Carolyn L. Sherer started photographing lesbians and their families in Birmingham, Alabama, in 2011, many chose not to show their faces. They were scared, they said, of losing their jobs or being discriminated against in other ways. Other people she asked to participate in her series, "Living in Limbo," refused to be photographed at all. But Sherer, who is a lesbian, was determined to make members of her community in Birmingham seem less invisible, in part because she hoped that letting others see them would help them become fully recognized and protected citizens.
+ Janelle Monae Honors Blues Legend Bessie Smith with Surprise NYC Performance.
+ Folk-Pop Duo Anna/Kate Get Dapper for LP Release. This is a sexy moody photoshoot on dapperQ and you will LOVE IT.
+ Miley Cyrus's Campaign to End LGBTQ Youth Homelessness involves lots of Joan Jett and Laura Jane Grace and is a good thing. Watch them all three cover the Replacements' "Androgynous" because that is fun stuff to do.
---
Doll Parts
+ My Feminism Is Black, Intersectional, and Womanist – And I Refuse to Be Left Out of the Movement by Jenika McCrayer. Get in there.
+ Here's Hannah Hart and Whoopi Goldberg playing a nice game of Newly Friends!
+ Women people! Inventing important things! Canadian Inventor Eden Full's Low-Tech Fix Solves Solar Power's Biggest Problem.
+ The Price of Nice Nails by Sarah Maslin Nir — everyone is talking about this piece, and for good reason.
Once an indulgence reserved for special occasions, manicures have become a grooming staple for women across the economic spectrum. There are now more than 17,000 nail salons in the United States, according to census data. The number of salons in New York City alone has more than tripled over a decade and a half to nearly 2,000 in 2012.

But largely overlooked is the rampant exploitation of those who toil in the industry. The New York Times interviewed more than 150 nail salon workers and owners, in four languages, and found that a vast majority of workers are paid below minimum wage; sometimes they are not even paid. Workers endure all manner of humiliation, including having their tips docked as punishment for minor transgressions, constant video monitoring by owners, even physical abuse. Employers are rarely punished for labor and other violations.
And here's today's follow-up, Perfect Nails, Poisoned Workers. Wow wow so much.
+ Boko Haram Rescue: Pregnant Women, Girls Among Those Found In Sambisa Forest By Nigerian Army.
+ Beautiful lovely story! The female Kenyan brewer, Tabitha Karanja, taking on a global drinks giant.
+ What Trina Taught Me by Hannah Giorgis:
Her debut album, Da Baddest Bitch, 15 years ago, creating a high water mark for the irreverent sexual freedom black women can exercise in their music.

Black women have been discussing—and demanding—pleasure for ages, on record and on stages of packed venues. The stakes of these odes to black women's pleasure are high. Sex is both personal and political, the battleground where racist, sexist stereotypes most often create either disappointing neglect or explicit violence against us. In a world where we are imagined only as bodies to be acted upon and not active agents in our own sexual fulfillment, every syllable spent celebrating our own eroticism, our right to not just safety but also pleasure, is its own revolution.
+ Mamas Day 2015: "Mamahood is not one size fits all. All mamas deserve to be seen and honored in cards that reflect all the ways our families look." Get these brilliant ecards for free, and spread the good word.
---
Saw This, Thought of You
+ Hillary Clinton Makes Transgender Immigrants a Campaign Issue.
+ These Emily McDowell cards for friends with serious illness are the best, because sometimes it's so hard to say what you mean, but you still want to say something.
+ Do you follow Caitlin Doughty, author of Smoke Gets In Your Eyes? You damn well should. I was introduced to her through an interview she did with Terry Gross and I just sobbed in my kitchen like a super normal person facing the mortality of herself and the people she loves. NORMAL. Anyway she posted a link to this little gem this week and I saw it and 100% thought of you/my mom: Forgotten Boneyard dot com.
+ This new Willow Smith song.
https://www.youtube.com/watch?v=mcvjHpDMNoI
+ Spiders.
+ Whole Foods launching slightly less expensive line of grocery stores, but will Ellen Page shop there? That's all I care about.
+ Need a break? Perhaps this Japanese Hotel's new "Crying Rooms" would help.
+ Oh. Norway's 'We're Sorry' Monument to 91 Dead Witches. "The town of Vardø, known as 'the witch capital of Norway,' has built a monument dedicated to the memory of the men and women who were burnt or tortured to death, accused of sorcery."
---
And Finally
LOOK HOW ADORABLE LYDIA AND HER GAL PAL ARE.