Eli would just like to remind you that there's a new episode of Doctor Who premiering every Saturday night, which he feels is a good reason to get all of your chores done on Friday. Here's everything we missed while I was nodding in agreement.
Your News is Showing
+ A Pennsylvania mother is facing prison time for helping her 16 year-old daughter induce a miscarriage and pretty much nothing about this isn't the worst.
Jennifer Ann Whalen, 39, of Washingtonville, a single mother who works as a nursing home aide, pleaded guilty in August to obtaining the miscarriage-inducing pills from an online site in Europe for her daughter, 16, who did not want to have the child.

Whalen told authorities there was no local clinic available to perform an abortion and her daughter did not have health insurance to cover a hospital abortion, the Press Enterprise newspaper of Bloomsburg reported.
+ Tinder has settled a sexual harassment lawsuit filed by one of their co-founders, Whitney Wolfe.
+ A pregnant lesbian teacher has been both fired and rallied behind.
Hundreds of supporters for Barb Webb, a teacher at Marian High School in suburban Bloomfield Hills, rallied on Sunday at the school after she posted on Facebook that she had been forced from her job after she become pregnant "outside the Catholic way."

Webb said she was asked late last month to choose between resigning or being fired, but decided against leaving voluntarily although she said the school had offered healthcare for the remainder of the school year had she chosen to resign. She was 14 weeks pregnant at the time.
HEY sign the petition! Look at you, changing the world.
+ The Top 10% of White Families Own Almost Everything. Lord have mercy this is some depressing-ass shit.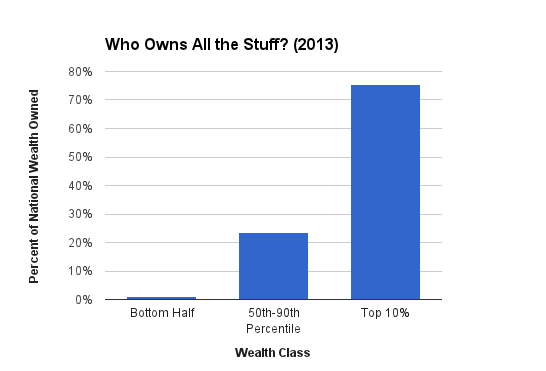 + Attorney Victor Velasquez filed a lawsuit demanding to remove a lesbian couple, Senator Claudia Lopez and congresswoman Angelica Lozano, from their seats in Colombia's Congress.
Velasquez said that the sexual orientation of the women is not being questioned, but Article 79 of the constitution does not permit two lawmakers who are in a romantic relationship to work in the same place.

Lozano, however, said that this rule does not apply in the case in question because the pair are pursuing a relationship that does not fall into either of the two categories – marriage or permanent union – given that they do not live together.
OH HA HA, KIND SIR, PLEASE NOTE THE MURKY WATERS.
+ Five Facts About How The White House Talks About LGBT Issues. Just something to read while you're waiting in line at Winn-Dixie.
+ Well hot damn there's some new affordable housing for LGBT seniors in the Midwest! I like the flooring.
+ Too many LGBT kids are still homeless. And we still throw money at marriage? by Zach Stafford
Currently, same-sex marriage is legal in 19 states, the District of Columbia and 10 Native American tribal jurisdictions, meaning 44% of the American population has access to same sex marriage – an amazing feat given that, just 10 years ago, the state of Massachusetts was the first state to make it legal.

But at the same time, around 40% of all homeless young people identify as LGBT. Predominantly these young people are African American or Latino. Transgender youth face disproportionately higher rates than even lesbian, gay or bisexual people.

While the inability for same-sex couples to marry has pushed many to label themselves "second-class citizens", I find it difficult to completely sympathize with their plight – and the money they've spent to end it – when so many LGBT youth are living and dying in the streets everyday with no end in sight.
Preach.
+ Nice damn work, Mississippi!
Starkville, Mississippi mayor Parker Wiseman has announced that his city will begin offering domestic partner benefits for its LGBT city employees – a first for the state.
---
Things to Gander At and/or Ponder Upon For Varying Amounts Of Time
+ Serena Williams is America's Greatest Athlete, ok?
+ Salon has the science of beer so go read that.
+ Has the Internet killed thoughtful, prolonged engagement with a text—or are we nostalgic for a reading Eden that never existed? by Katy Waldman
As a curative we have the unplugging movement. Books and articles probe the Way We Read Now: Teachers deplore it, kids seem unfazed by it, and millennials/late Gen Y-ers wonder whether to embrace or resist it. It is that last group—the ambivalent ones, who came of age just as the Internet was beginning to envelop society and can faintly remember glimmers of a prelapsarian past—that seems most susceptible to reading insecurity. Our nostalgia for print shades into nostalgia for childhood itself. We've landed in a different world from the one we started out in, but unlike our parents, we can't retreat from it; we have to inherit it. We worry we're not up to the task.
+ TAMPON RUN. IT'S A COMPUTER GAME DESIGNED BY TWO TEENAGE GIRLS. YOU SHOOT TAMPONS AT PEOPLE.
"Most women menstruate for a large portion of their lives. It is, by all means, normal," the game creators, Andrea Gonzales and Sophie Houser, write. "The taboo that surrounds it teaches women that a normal and natural bodily function is embarrassing and crude."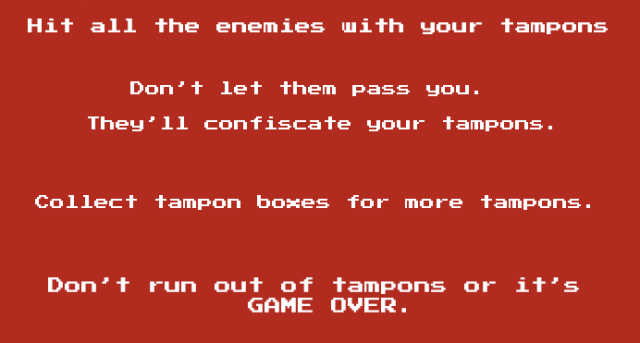 + Eh, just gonna leave this right here: Brooke Hemphill spends 12 months as a lesbian for new book, Lesbian For A Year. Precious.
+ Why Everyone Should Read Harry Potter  (hint: it makes people be less of an asshole to other people).
The research group, led by professor Loris Vezzali of the University of Modena and Reggio Emilia in Italy, conducted three related studies. In the first, 34 elementary school children were given a questionnaire assessing their attitudes towards immigrants, a group frequently stigmatized in Italy. The children were then divided into two groups that met once a week for six weeks to read Harry Potter passages and discuss it with a research assistant. One group read passages relating to prejudice, like the scene where Draco Malfoy, a shockingly blond pure-blood wizard, calls Harry's friend Hermione a "filthy little Mud-blood." The control group read excerpts unrelated to prejudice, including the scene where Harry buys his first magic wand. A week after the last session, the children's attitudes towards out-groups were assessed again. Among those who identified with the Harry Potter character, attitudes toward immigrants were found to be significantly improved in children who'd read passages dealing with prejudice. The attitudes of those who'd read neutral passages hadn't changed.

Vezzali and colleagues conducted two follow-up studies with similar results. One found that reading Harry Potter improved attitudes towards homosexuals in Italian high school students.
+ I just never know what you might find useful for the weekends: 30 Old Slang Names for Your Body Parts
+ SOCIAL MEDIA AND THE INTERNET ARE dRAsTiCALlY alTErInG yOUr bRAiN. Science!
---
LADIES, LADIES, LADIES
+ Flavorwire has The Most Radical Films About Young Women's Lives.
+ Is female representation in film improving? The NY Times thinks so! Makes me wanna watch Hanna again.
+ Feministing has 10 Feminist Revolutionaries They Didn't Teach You In History Class because Feministing loves you.
+ Your favorite imaginary uncle Bill Murray had some casting suggestions re: an all-womynz Ghostbusters reboot. He forgot Brittani Nichols.
---
Autostraddle News, Upcoming Events, and Places to Send Your Money
+ Hey, weirdos! If you went to #AutostraddleBrunch in your city and have some cute photos of it, send 'em over to carmen [at] autostraddle [dot] com and they'll probably end up in a gallery right here on AS! Include the hashtag in the email title to make Carmen's life a lot easier.
+ Get your very own Bad Feminist t-shirt by Roxane Gay so everyone knows not to fuck with you.
+ Support the Me&MyBois project, BOI STORIES with a loan. You'll even be paid back! Neat.
This loan will give me the financial boost I need to produce a poetry album, chap book, website, and market a tour. If you'd like to support my funding, please give as little as $5
+ Are you in Bushwick? Maybe you'd like to go to The Outsiders: A Marathon Drag King Reading.
+ Multicultural LGBT Literary Foundation to host "Native Lesbian Writers" in San Diego!
The event, titled A Regathering of Spirit: Native Lesbian Writers is scheduled for Saturday, Sept. 13 from 6-8 pm and will feature a resource and book fair, a reading and performance by the authors in the library's auditorium, and a book signing afterward.
+ LA area straddlers should RSVP to the SoCal Potluck! You can bring your dog.
+ Andreja Pejić has a feature-length documentary in the works and will be hosting a Reddit AMA on Monday, Sept 15th at 11AM.
The film gives viewers a look at her journey from childhood in a Serbian refugee camp to high fashion success to living proudly as a transgender woman.
---
And Finally
+ Two deer stopped traffic on the Golden Gate Bridge over the weekend la la laaaaa.