So far this week I've convinced myself that I'm both perimenopausal and possibly pregnant, as well potentially allergic to the inside of my own nose. Here are the stories we missed while I was googling symptoms!
News
+ Your fucking bougie almonds are killing salmon and honeybees and contributing to the drought in California. Nice job asshole.
California's almonds constitute a lucrative multibillion dollar industry in a fiscally tenuous state that is also, as you know, in the middle of the worst drought in recent history. The drought is so dire that experts are considering adding a fifth level to the four-tiered drought scale. That's right: D5. But each almond requires 1.1 gallons of water to produce, as Alex Park and Julia Lurie at Mother Jones reported earlier this year, and 44 percent more land in California is being used to farm almonds than was 10 years ago.
+ NYC's St. Patrick's Day Parade will now allow an LGBT group to march for the first time in forever.
+ German historian Ingeborg Boxhammer gave a talk in Chicago about "lesbian-like" German suffragists and it was pretty interesting.
+ Tomorrow, fast-food workers seeking $15 minimum wage are planning civil disobedience.
The organizers say fast-food workers — who are seeking a $15 hourly wage — will go on strike at restaurants in more than 100 cities and engage in sit-ins in more than a dozen cities.

But by having home-care workers join, workers and union leaders hope to expand their campaign into a broader movement.
+ In her upcoming memoir, Off the Sidelines, NY Senator Kirsten Gillibrand tells tales of sexual harassment in the halls of Congress, including being called porky, chubby and "still pretty" in spite of both the aforementioned porkyness and chubbiness. God I hate all men. SIDENOTE no, she doesn't have to name names! It doesn't work that way, patriarchy.
Do these guys sincerely think that naming names will silence the skepticism that follows any woman who claims workplace harassment? Have they forgotten the Clarence Thomas hearings, or do they just think we've all grown up since then?
+ Woman Lives By Hormones For a Month, Achieves Perfection by Tracy Moore
In a piece over at the Telegraph called "Sex, Spots and Career Satisfaction: A month living by my hormones changed everything," we learn that reporter Beverly Turner tried out something called the "Hormone Horoscope" for a month, which promises that, by following it, "you can predict what your day will be like based solely on where you are in your monthly menstrual cycle."
+ A study finds that one-fifth of LA's foster children are LGBTQ.
---
Stuff for Learning and Enjoying
+ Oh wow this is so relevant to your interests: Talking to Strangers Makes You Happy!
So despite being social animals and enjoying social engagement, we avoid chatting with strangers. Why? Well, according to a follow up study it's because we think, wrongly, that strangers don't want to talk with us. The one way to get over this is to practice reaching out – who knows, commuting could become more enjoyable.
+ Um but also: How To Be Alone by Sara Maitland
Solitude, the kind we elect ourselves, is met with judgement and enslaved by stigma. It is also a capacity absolutely essential for a full life.

That paradox is what British author Sara Maitland explores in How to Be Alone (public library) — the latest installment in The School of Life's thoughtful crusade to reclaim the traditional self-help genre in a series of intelligent, non-self-helpy yet immeasurably helpful guides to such aspects of modern living as finding fulfilling work, cultivating a healthier relationship with sex, worrying less about money, and staying sane.
+ Hyphen has a little profile of Miyuki Baker's International Queer Art/Activism Zine Project. You should read it!
+ The Advocate has Seven Brave Campuses for LGBT Students in the South
+ The Forsaken: A Rising Number of Homeless Gay Teens Are Being Cast Out by Religious Families at Rolling Stone:
As soon as the line went dead, Jackie began sobbing. Still, she convinced herself that her parents would come around and accept her, despite what they perceived to be her flaw. As planned, she drove to Canada to celebrate her birthday with friends. When her debit card didn't work on the second day of the trip, she figured it was because she was in another country. Once back in the States, however, she got a call from her older brother. "He said, 'Mom and Dad don't want to talk to you, but I'm supposed to tell you what's going to happen,'" Jackie recalls. "And he's like, 'All your cards are going to be shut off, and Mom and Dad want you to take the car and drop it off at this specific location. Your phone's going to last for this much longer. They don't want you coming to the house, and you're not to contact them. You're not going to get any money from them. Nothing. And if you don't return the car, they're going to report it stolen.' And I'm just bawling. I hung up on him because I couldn't handle it." Her brother was so firm, so matter-of-fact, it was as if they already weren't family.

From that moment, Jackie knew that she was entirely on her own, that she had no home, no money and no family who would help her – and that this was the terrible price she'd pay for being a lesbian.
+ A First of Its Kind LGBT Jewish Curriculum:
The title of the curriculum is "Koi B'mishpachat Elohim / All in God's Family: A Jewish Guide for Creating Allies for Our LGBT Families," and is a multimedia curriculum that provides tools to support Jewish congregations in their efforts to create inclusive institutions for LGBT people and their families.
+ Arabelle Sicardi has all kinds of back to school goodies for you over on Fashion Pirate!
+ What are scabs made of? I don't know, this just seemed like something you'd want to read.
+ Jon Lazar turned a bunch of Lego Friends "mini dolls" into comic book super heroines because he is a man with good ideas. I do not hate this man, so far.
Lego's Friends line has been met with plenty of success, but it came under a lot of fire when it launched for conforming to female stereotypes. Artist Jon Lazar decided to change that with his Lego Super Friends project, taking these shopping-loving, cute-animal-crazy dolls and turning them into comic book heroes.
+ Other Notable Man I Don't Hate LeVar Burton's children's book, The Rhino Who Swallowed a Storm, will be released on October 7! It's described as a "story designed for parents and kids to read together when facing stressful or difficult situations, and emphasizes the helpers and positives in a child's world and the value in having friends and family work together to get through tough times," and now I want to cry.
+ Link's Romantic Options in Ocarina of Time, Ranked at The Toast.
Zelda and Link really do make a lovely pair. So blonde! So virtuous! But it's a little too sweet, a little too precious to make it into the top three. It's the straight equivalent of twink-on-twink.

NOT THAT THERE'S ANYTHING WRONG WITH THAT. A better example: you know how the real crime of Little Women is not that Jo and Laurie don't hook up, but that Laurie and Amy make a kind of boring couple? Link and Zelda together are the same kind of boring. It's not objectionable, exactly, it's just not compelling. (COME AT ME, AMY DEFENDERS)
---
You Could Do This
+ Want to be part of an anthology edited by Ariel Gore? Well get on it, sugar!
We're seeking character-driven, first person queer narratives set in Oakland, California.
Stories may be fiction or memoir or hybrid, set in any decade, but should have a clear Oakland connection — neighborhood-centric stories especially appreciated – growing up in Oakland, adventures in queer Oakland, moving to Oakland, raising kids in Oakland, work, art, falling in and out of love, finding and losing home, punk houses, band shows, regular urban life. What is your Oakland queer story?
+ ARE YOU A QUEER ASIAN MOTHER? Nahee Kwak would like to talk with you!
I am conducting a study on how Queer Asian American women balance work and family responsibilities and would like to invite you to participate in an
interview. While there has been much attention to "tiger mother" parenting, very little data is currently available regarding how Queer Asian American women are actually mothering and balancing the responsibilities of work and family life.
See the full invite on Autostraddle's tumblr and get it touch with Kwak.
---
Media, You Gayz
+ Laverne Cox will appear on Season Two of Faking It as the director of Hester High's drama club. The season premiere is September 23 so read back through our Season One recaps and mark your damn calendars!
+ Park Chan-wook will adapt Fingersmith for his next film. OH NOW YOU'RE PAYING ATTENTION.
Park's version will transplant the plot––which involves a petty thief who takes part in a con to defraud an orphaned heiress, only to fall in love with her mark––from 19th-century London to early 20th-century Korea, during a period when the country was annexed by the Empire of Japan. Considering Park's penchant for Gothic atmosphere and erotic undertones, it seems like a perfect fit.
+ Watch the first trailer for True Trans With Laura Jane Grace, a 10 episode web series on AOL that premieres October 10.
+ Oh hey don't forget to set up your rotating Weeping Angel desktop background to scare the shit out of yourself/your friends!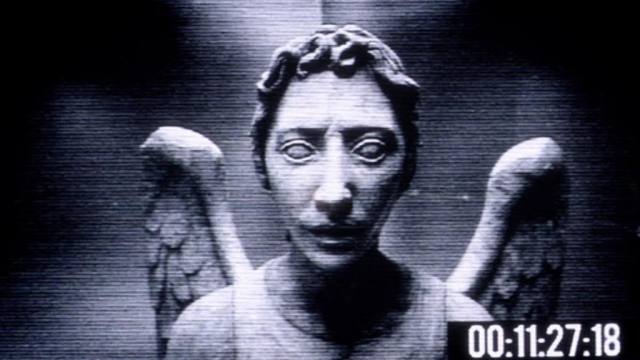 AAAAAAAAAAAAAAAAAAAAAAHHHHHHHHHHHHHHHHHHHH