Well hello little bears! Welcome to the day when I super spaced out and actually forgot I needed to write the AAA before 9am! Don't worry though, every other editor here is hella on top of their shit and will be serving you piping hot link roundups every day this week at 9am sharp, and I strive to emulate them in their punctuality and dedication. BLESS US ALL.
You Should Go or Do or Give
+ The Italian Dream – Slow Travel is "A different way of traveling for women, LGBTQ, and whoever else dares to be different." Might that be you?
+ OH MY GOD you could be an intern for Everyone Is Gay this summer!!
---
Queer as in F*ck You
+ Sexual Assault Awareness Month: What It Means for the LGBT Community
+ Homophobia Still Affects Every Single Athlete and Coach in Sports by Erin Donnelly.
"I think there's a huge fear of discrimination, and in some ways it's true," Carroll said. "A big part of my job at NCLR is working with athletes who have lost scholarships or been tossed off of teams because they're lesbians, or coaches who have been fired because of their sexual orientation. That certainly is out there. But what we are seeing is that there's more and more support for coaches and athletes to be out and be themselves, especially in institutions and communities that support the coach, they're well known, they're accepted for who they are. That group of coaches could be out visibly without repercussions. We'd certainly love to see that. Be don't even have one out Division I coach right now. In 2015, that's just archaic."
+ Finland's First Female President Discusses the Future of LGBT Advocacy.
---
Doll Parts
+ Hey you know this person! Creatrix Tiara talks with Suzanna Bobadilla for The Feministing Five.
+ Migrant Mothers and Kids Held in Solitary Confinement as Retaliation for Hunger Strike, by Maya Dusenbery.
+ Feminist Lisa Frank dot Tumblr dot com.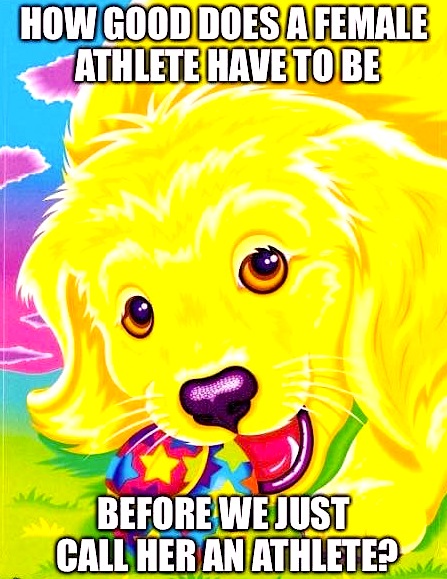 + Michelle Obama and Everything Else You Missed at BET's Black Girls Rock.
---
Saw This, Thought of You
+ Here's the trailer for the Amy Winehouse documentary premiering in the UK this summer.
+ Are you also obsessed with Gretchin Rubin? Secrets of Adulthood: Give Myself Limits to Give Myself Freedom.
+ Excuse me kind creature, but would you like to get started on a garden? Ok let's! Apartment Therapy has their best Tips, Advice and Projects to Get You Gardening and my body is so ready.
+ Molly Gilbert is a WIZARD and Jennifer Russell has this interview for you: Spend Less Time in the Kitchen by Cooking Your Next Meal on a Sheet Pan.
+ Memorable Passages From Teen Angels, A 1996 Series About Teens Who Were Also Angels. Thank you Mallory.
+ This is neat! The Fake Places That Only Exist to Catch Copycat Cartographers by Sarah Zhang.
If a competitor just so happens to have the same fake town on their map, then you've pretty much caught them red-handed.

That's what Otto G. Lindberg of General Drafting Co. thought when he saw Agloe on competitor Rand McNally's map. Agloe was the invention of Lindberg and his assistant, Ernest Alpers; its very name was a mix of their initials (OGL and EA). Agloe did not exist, Lindberg asserted with confidence.

Except it did. Rand McNally had sent cartographers up to upstate New York, and there, where Agloe was marked on a map, was a building called Agloe General Store. Huh?
+ Visit Ramona Quimby's Portland !!!!
+ Where are my smelling salts: Haim's Family Band, Rockinghaim, Reunited Last Night With Help From Laura Marling, Ed Droste, Jenny Lewis and More. There are so many videos! SO MANY!
https://www.youtube.com/watch?v=z5bvoO3jY4k
+ I'm sorry to tell you this, but David Lynch has left the Twin Peaks reboot. I still love you though. I'm right here.
---
Local Autostraddle Meet-Ups
Is it not spring? Are you not ready to leave your home and look at the faces of other queer human girls in your city? DO YOU NOT FEEL A NEED FOR INTERACTION AND POSSIBLY HUMMUS??! I'm just saying, you could put an Autotraddle Meet-up together super quick and have an awesome time with awesome people, then go home that night and be like, "Damn, Laneia was RIGHT. This day was the fucking raddest. The fucking RADDEST. I love my life! I'm so successful in both friendships and hummuses!" I'M JUST SAYING.
---
And Finally
HUMMINGBIRDS IN A WIND TUNNEL OK