Oh god everything everywhere is about the Grammys or 50 Shades of Grey and I want to throw myself down some stairs and into a basement filled with corn chowder please lord make it STOP. Here are some things that are not those things!
You Should Go or Do or Give
+ Join the Ms. Fembot Edit-a-Thon and Hack-a-Thon in March!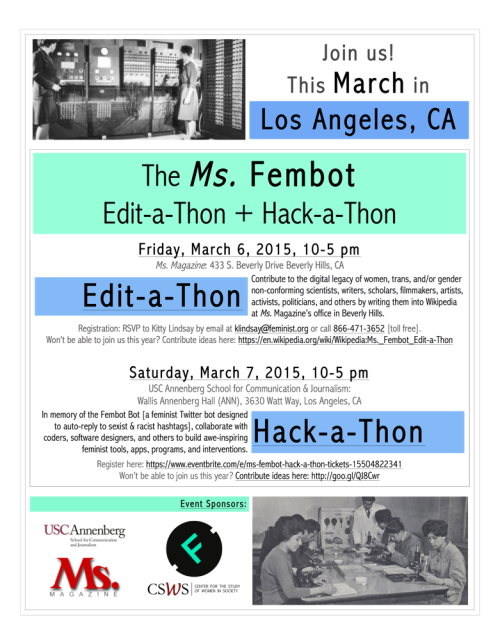 + Acts of Greatness is now accepting submissions! Be part of a new LGBTQ youth magazine!
---
Queer as in F*ck You
+ Niki Quasney, who fought for gay marriage in Indiana, has died. She was 38 and is survived by her wife, Amy Sandler.
+ Florida Bill Seeks to Ban Trans People for Using Public Restrooms.
+ Here's Uganda's LGBTQI magazine, Bombastic, for freebles.
+ Rosie O'Donnell is quitting The View.
---
Doll Parts
+ This is brilliantly done and you have to see it: "All the Time. Every Day." Surviving Street Harassment in Mexico City from Fusion and produced by Anna Holmes and Diana Oliva Cave with art by Tatyana Fazlalizadeh.
+ Episode 26 of the 92Y Talks podcast, Pass the Mic — Millennial Feminism, has your girl Janet Mock!
+ Every Breath a Black Trans Woman Takes Is an Act of Revolution by Lourdes Ashley Hunter.
+ Jess Mack has written a Love Letter to Sleater-Kinney and Reproductive Rights.
+ In Australia, a 17 year-old has been allowed gender treatment without parental consent.
+ Alexa Tsoulis-Reay interviews Renae M. Gylbert for What It's Like to be a Really Hairy Woman.
+ Tom Tom Magazine Celebrates Five Years and Founds a Drum School and does an interview with Emilly Prado.
---
Saw This, Thought of You
+ If you're going to the Eaux Claires music festival in July, please call me and tell me everything.
+ The worst/best idea you'll have all day: How to Make the Bottom Line: A Coffee Cocktail That Gets Shit Done.
+ Complaining, For Your Health by Barbara Neal Varma. Seems relevant.
+ A butterfly is living with a family in Park Slope and I know this is some bougie bullshit but seriously, imagine there's a butterfly living in your mossy, sheeted bathroom and you can go hang out with it whenever you want. Fuckin' A I would seriously love that. I went to a butterfly habitat once and those little angels will just land right on your shoulder and hang out there, WHILE YOU WALK AND EVERYTHING, as long as they please. It was like being a fairy princess. I should go back there.
+ Oh Sweden has adopted a national font, which sounds like a very Sweden thing to do.
+ Homemade Microwave Popcorn because I'm hungry.
+ Here's the difference between where tourists and locals take photos and it's really fascinating and pretty.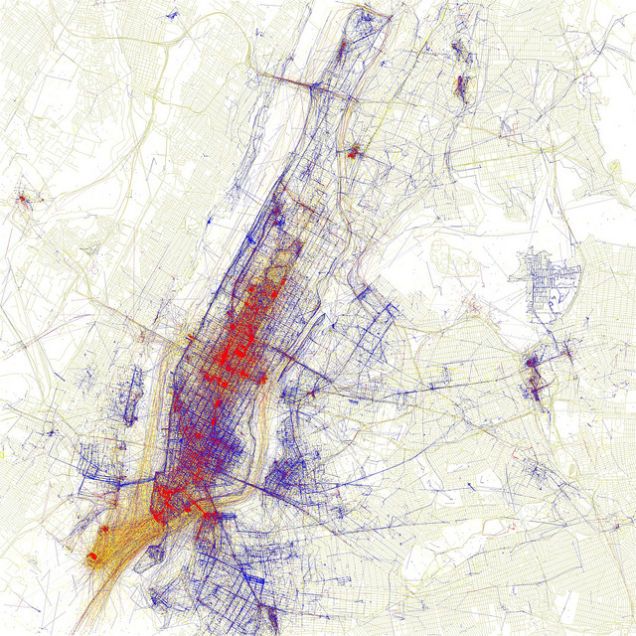 ---
Local Autostraddle Meet-Ups
+ 2/13 Long Beach, CA: Queer Speed Dating
---
And Finally
Here are 14 Awesome Candy-Free Valentine Ideas ("I mustache you ______" will never get old ever.) and AND! Sign up for the newsletter at A Beautiful Mess to get a free download of THIS AMAZING VALENTINE: