This week's roundup is weirdly short and maybe you'll forgive me for it! We'll back to normal on Monday. Here are some things we missed while I was cleaning out my refrigerator.
You Should Go or Do or Give
+ Give to Janet Mock's Trans Book Drive for trans people in prison!
---
Queer As In F*ck You
+ Sara Centry has a list of 10 Films Featuring Queer Women of Color that she loves and you'll probably love them, too.
+ Know and Tell: The literary renaissance of trans women writers.
+ Devi Lockwood has an Encounter with Queer Culture in Fiji.
---
Doll Parts
+ Born This Way? by Cathleen O'Grady: "Why an evidence-based stance on sex and gender is good for science and for feminism."
+ This is old but you don't care: Evan Rachel Wood Talks Befriending Ellen Page.
+ The votes are in and the new word for female masturbation in Sweden is…. KLITTRA! Here's how some Autostraddle staff members felt about the results: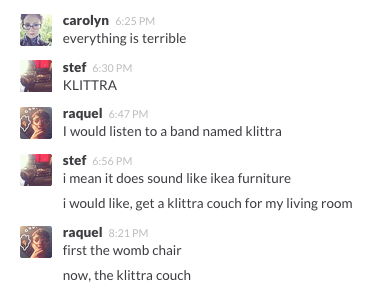 + Meet the 100 year-old doctor who saved America from thalidomide.
---
Saw This, Thought of You
+ Showing Up For Racial Justice put together an amazingly comprehensive resource for how white people can show up for Ferguson in a helpful way.
+ Who Really Burns? Quitting a Dean's Job in the Age of Mike Brown by Eve Dunbar.
Living in the wake of the deaths of so many black and brown, cis- and trans- men and women around this nation, I remember my grandparents' lessons in quality work and the willful neglect of black voices and knowledge. The national reckoning on display in the wake of the Ferguson grand-jury decision illustrates that decades-long racial problems can't be treated with Band-Aids. They, and we, require thoughtful structural overhauls.

We—from the highest ranking administrator to faculty, staff and students—have to be vigilant in bending ourselves toward equity and care for the most marginalized members of our communities. We cannot avoid implicating ourselves in the way we have contributed and benefited from race and gender inequity and inequality.
+ See an Uncut Broad City Scene and Listen to Ilana's Spotify Playlist you fucking stoner.
+ Did you know that only 133 of the US's 401 National Parks charge an entrance fee? Well on these dates in 2015, even those 133 parks will be free! So you can plan ahead and save $5 and breathe in the fierce beauty of NATURE HECK YES.
+ Hey Sci-Fi is for everyone, ok? And Emily Perper put together a Longreads list for you to prove it. And Autostraddle's on it because we're awesome. And you're here because you're even more awesome. Damn just look at us all being the fucking greatest. Nice work, everyone!
+ Let's talk about the babies real quick! The youth! The people who can't vote yet but are still paying attention to everything! Teach Your Child to be an Advocate for Change is great and if you have any interaction with kids at all, you should be living this truth. Students Are Watching Ferguson has a list of resources for people who want to help kids understand what's going on in Ferguson and all across the country right now. It's geared towards educators but I think it's useful for parents/caretakers, too.
+ Who Has the Privilege to Protest?
+ Google Launches a Santa Tracker to Teach Kids How to Code. When I was a kid, the Santa tracker was my grandfather pointing up to a starry sky, promising that if I didn't go home and get in bed soon I'd get worms in my stocking, so.
---
+ Check out this list of Autostraddle Holigay Parties happening all over the world!! It's updated daily, and if you don't see your city on the list, consider hosting your own meet-up this year! Basically nothing is more fulfilling than hanging out with smart new friends in cute sweaters.
---
And Finally
Look what Intern Raquel found for you! Aren't you glad she uses her powers for good and not evil?
https://www.youtube.com/watch?v=bRIVTEBaLkA&app=desktop