Hello this is the best thing I've ever created. Get ready for it. I was watching this first episode of Viceland's new Ellen Page show, Gaycation, which you can see here:
And I was like "Heyyyy what's so familiar about Ellen's look in this scene? What's … the .. deal … OMG BINGO."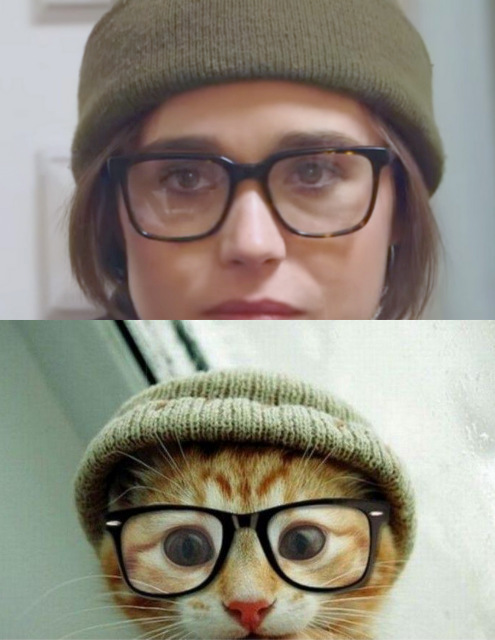 BOOM BEST THING I'VE EVER DONE. You are welcome.
You Should Go or Do or Give
+ Andrea Bowers Fights for Transgender Icons in New Chelsea Show and you can go see it! If you're in or around or near Chelsea!
---
Queer as in F*ck You
+ Arghghhhh you will love this: Learning to Love the Worst Case Scenario by Shauna Miller. Unfortunately filed under Things I Wish We'd Published, but ALAS.
I am supposed to be pregnant right now, not dancing. By society's clock, I was unconscionably late already. But my fiancée and I had plans, happy plans. We'd been engaged for half a year. A drag queen wearing a clerical collar and pasties blessed our union after my partner got down on one knee in front of all of our friends. My eggs were in order. We were looking at donors. We had picked out a name, something that honored her father and my brother, both gone.

Then, I don't know: A work party? Team-building exercise gone far too well? True love?
+ Oooh and also this: I'm Not a Stay-at-Home Mom, I'm a Queer Housewife, Thanks by Katherine Clover.
+ The Black, Queer, Feminist Legal Trailblazer You've Never Heard Of by Kenya Downs.
+ Germany Opens First Major LGBT Refugee Center.
+ This Pastor is Sleeping Outside Until His Church Opens Its Doors to LGBT People.
+ These Charts Show How the Criminal Justice System Targets Sexual Minorities.
+ Transgender Women of Color: When Being Yourself is a Dangerous Decision by Nancy Fowler.
+ Ohmygod Are You Going to Be Alright? An Interview on Passion Perseverance and Hope for the Future with Anna Anthropy by Veve Jaffa.
+ Heyoooo here's Colette Arrand with Samus is Trans and Ronda Rousey Probably Shouldn't Play Her.
+ Between Bodies: Trans Girls, Sex, and Dating by Sean Faye.
+ Workplace Discrimination and the Queer Black Woman by Lauren McEwen.
+ EVAN RACHEL WOOD BISEXUAL EDITOR.
---
Doll Parts
+ Roxane Gay and Rebecca Traister Talk Sex, Female Friendship, and What It Means to be Single Now and now I want to buy Traister's book, so jolly good show!
+ In Conversation with Perfect Pussy's Meredith Graves and CHVRCHES'Lauren Mayberry. Not sure what we've all done so right in the world to deserve these amazing conversation posts, but I hope this never ends.
+ How Black Women Like Me Reckon with America's Political Process by Jamilah King.
+ Meet the Incredible Woman Chosen to Lead Mother Emmanuel Church After Last Year's Shooting by Collier Meyerson.
+ Writing for That Teenage Girl
+ Hi I purposely didn't read this when I saw it last week because I'd already had my fill of other people's feelings about the sex David Bowie had with teenage girls, because there's a lot to unpack there, and I was tired. But then Riese told me I should read it because obviously Riese knows what I can handle and what might kill me. So! I'm elated to inform you that this is the best fucking thing you'll probably ever read about this situation, and all situations similar to it. What Should We Say About David Bowie and Lori Maddox by Jia Tolentino.
+ From January but I'll bet you still wanna read it: Beyond R&B: 7 Black Women Fronting Rock Bands That You Should Know by Inda Lauryn.
+ Ummmmm The History of Mideival Swords and the Women Who Wielded Them yes yes yes.
---
Saw This, Thought of You
+ Lynn Cyrin and The Rules of Engagement for Navigating Conflict Within Social Justice Communities.
+ Rachel Syme brings you Jodie Sweetin's Return to Predictability. I can't talk about this show yet. Stef just shared this gem with us and I also can't talk about that. I just cannot! I mean I'm gonna watch the fucking show, I'll just hate myself for it.
Have a wonderful weekend, you rowdy weirdos!