I have something really important that we have to settle today. This was briefly touched on in Riese's 22 Sandwich Cookies, Ranked, but we have to delve deeper. What the hell kind of food is an oatmeal creme pie? And a moon pie, for that matter. What is it?? It's not a sandwich cookie. It clearly calls itself a pie but what the fuck kind of pie do you know that's actually a sandwich?? None! You know no pies that are actually sandwiches because that's not real! WHY IS IT CALLED A PIE? If it's not a pie (it's not) or a sandwich cookie (it's not), then what. the grand heck. is it? A small layer cake? Why are we calling it a pie? What other sandwiched snacks are calling themselves pies like this? I'll tell you one thing: google isn't going to save us here.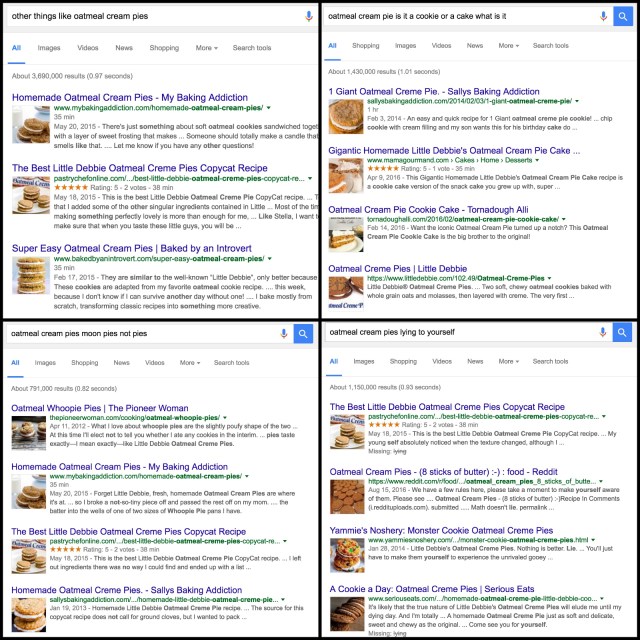 We are on our on.
You Should Go or Do or Give
+ Join Ingrid Michaelson and Kristin Russo on 11/11 in Charlotte, NC, for a concert for equality!
+ Want to participate in this Mixed Sex Bisexual Couples Study? Well ya can!
---
Queer as in F*ck You
+ Transgender Voters Prepare for Challenges at the Polls
+ The Simple Secret Weapon That Could Change Elections. Meet the woman behind the movement.
+ LGBTQ Immigrants Come to America for Refuge and End Up in Detention Centers.
+ The Feministing Five: Ericka Hart.
+ Gaby Dunn on Why We'd Rather Talk About Sex Than Money, and How I Plan to Change It.
+ Attention, Advertisers: Lesbian Buy Stuff Too. There's a Riese interview in there!
+ Why Queer Retellings of Classic Stories Are So Necessary.
+ Masculine Dress Shoes for All Genders.
+ Jill Soloway and Eileen Myles talk creativity, 'queer' art and the end of their relationship. Super chill.
+ Experiencing Hate as a Queer Woman.
+ How the Next Generation of Doctors is Learning to Treat Transgender People.
+ "This is Just What Success Looks Like": The Illuminating Work of Saeed Jones
+ Apple iOS 10.2 Emoji Update is Very Good News for Lesbian Astronauts. I do not write the headlines, nor would I change them.
+ HAHAHAHAHA.
---
Doll Parts
+ At Va-Jay-Jay Day, Angelenas Can Sneak a Peek at Their Cervix. Consumed with jealousy. Cannot go on.
+ Venus and Serena Williams Open Center for Victims of Violence in Compton.
+ Beyoncé's "Daddy Lessons" is a reminder of country music's black and West African roots.
+ The Importance of Facial Equality.
+ 5 African Webseries Created by Black Feminists.
+ Black Lives Matter activists sue Manhattan DA's office for letting NYPD prosecute their summons cases.
+ How Our Legal System Punishes Moms Who Smoke Pot.
+ Watch A Día De Los Muertos Tribute From Mariachi Flor De Toloache. Did you know that your very own Yvonne Marquez was also in a mariachi band? NOW YOU DO.
+ Gender in Fashion is Dead. Vice with some spicy hot takes this week.
+ How Hillary Clinton Met Satan, which I almost spelled as "Stan," which wouldn't be nearly as interesting I guess.
---
Saw This, Thought of You
+ This is massive and informative and everything. #NoDAPL: Updates, resources, and reflections is up on Native Appropriations.
+ Whose Homeland? "In the tribal bid for Bears Ears, deep questions and deep divisions arise."
+ Fashion is Finally Paying Attention to Differently Abled Bodies.
+ 300 Million Children Are Breathing 'Extremely Toxic' Air, UNICEF Says.
+ How to Become an Early Riser.
+ How Man Caves Took Over America's Basements. If you guessed "by way of misogyny and the patriarchy, aka the fear and loathing of women and the resulting shrunken egos of heterosexual cis men," you are correct.
+ Two-Headed Sharks Keep Popping Up, No One Knows Why. ¯\_(ツ)_/¯
+ BRITNEY.
---
And Finally
Wish I could project this onto my living room and bedroom walls in a loop.