When I hear the word "Emo" I think of scrawny boys in Jimmy Eat World t-shirts crowdsurfing at the Vans Warped Tour. This is not, apparently, the worldwide consensus.
When Iraqis use the word "emo" they refer to "an in-your-face style of Western dress that favors tight clothes, long hair and the color black" (according to CNN) or "a uniquely Iraqi collage of hipster, punk, emo and goth fashions…an emblem of greater social freedom as society has begun to bloom after years of warfare" (according to The New York Times) or kids with "long or spiky hair, tight jeans, T-shirts, silver chains, and items with skull logos" (according to Radio Free Europe) or, you know, "devil-worshippers" (according to Iraq's interior ministry).
It's the latter belief, along with the long-held belief that another group distinctive for its non-traditional take on masculinity — the gays — that has resulted in somewhere between 14 and 58 teenagers (or more) being stoned, beaten to death or shot over the last few weeks by Shiite miltant extremists. Most of the teenagers have been men, all of them have been targeted because they are "emo" or presumed to be gay. Buzzfeed reports that Hana al-Baytay of The Brussels Tribunal has put the death toll at 90-100.
In Sadr City, a conservative Shia neighborhood, leaflets have been distributed which name and identify 33 young people who they think should be killed or punished and listed their home addresses. The brutality is, obviously, brutal. It's also grotesque, and the images circulating around the internet show Before/After photos of targeted "emos" in graphic detail — "before" photos feature teenagers with carefully styled haircuts and sunglasses and "after" pictures show those same teenagers with their heads bashed in, bloody and dead on the ground.
The current rash of murders — which is not the first to target these groups — is thought to have been triggered by a February 13th statement from the Interior Ministry of Iraq which condemned "the phenomenon of emo" and labeled "rebellious teenage fashions of dark clothes, skull-print T-shirts and nose rings" as ambassadors of the devil under investigation by the "Social Police." They said Social Police had been given the go-ahead to search Baghdad's schools for these emos: "They have official approval to eliminate them as soon as possible, because the dimensions of the community began to take another course, and is now threatening danger."
It's difficult to obtain precise numbers or detailed information about what specifically happening in Iraq. The interior ministry claims they've not recorded any anti-gay or anti-emo killings and rather have said that the murders are probably due to "revenge, or social, criminal, political or cultural reasons." Some have attributed the deaths in Baghdad to "mysterious suicides." Shia cleric Moqtada al-Sadr acknowledged the fact that emo youths are "crazy" and "fools," but that these "plagues on Muslim society" should be eliminated through "legal means."
Gay men, as well as transgender women, have been persecuted in Iraq for quite a while now, even though once upon a time it was possible to be "quietly accepted" there. In 2005, the most powerful religious figure in Iraq at the time, Grand Ayatollah Ali al-Sistani, posted a fatwa against gays on his website saying homosexuals "should be killed in the worst, most severe way possible." Some gay men and transgender women literally would hide in dark contained rooms for years to avoid being killed or beaten if they were to show their faces in public. "Underground railroads" existed to get those at risk in Iraq out of their countries. Some human rights groups have called Iraq "perhaps the most dangerous place on the globe" for LGBT people.
According to Radio-Free Europe, the murder of homosexuals has been most rampant "since religious militias claimed control of the streets in the sectarian warfare that followed the U.S.-led invasion of 2003, which toppled Saddam Hussein" and quotes one Iraqi citizen who says that the actions of the last few months are the worst he's seen.
Another publicized rash of gay murders happened in 2009 (many of them "honor killings" in which someone is murdered by their own family for being a "disgrace" to the family), inspiring the U.S to finally speak out against violence towards gay people in Iraq:
In general, we absolutely condemn acts of violence and human rights violations committed against individuals in Iraq because of their sexual orientation or gender identity.
This is an issue that we've been following very closely since we have been made aware of these allegations, and we are aware of the allegations. Our training for Iraqi security forces includes instruction on the proper observance of human rights.
Human rights training is also a very important part of our and other international donors' civilian capacity-building efforts in Iraq. And the US embassy in Baghdad has raised, and will continue to raise, the issue with senior officials from the government of Iraq, and has urged them to respond appropriately to all credible reports of violence against gay and lesbian Iraqis.
In August 2011, Barack Obama issued a proclamation banning people who have participated in war crimes or other serious human rights abuses from entering the country. The Bilerico Project explained that "The proclamation specifically lists sexual orientation and gender identity as protected classes, meaning that people found to have violated the human rights of LGBT people… could be barred from entering the country."
Iraq isn't the first country to target "emos," either. In Saudi Arabia in May 2010, ten girls were arrested for sporting emo style considered un-Islamic.  In 2008, reports from Mexico indicted a "new wave of violence" over "emos." Time magazine noted that the emergence of a variety of U.S-inspired subcultures like "punks, goths, rockabillies, rastas, breakdancers, skaters and mellowers" has been met with "begrudging acceptance," whereas emos had inspired a violent backlash. Frightening videos show emos being beaten and killed by laughing cheering mobs of "anti-emos."
Time Magazine also pointed out that "most of all… the assailants target the emos for dressing effeminately, still a provocative act for many in a macho Mexico." They quoted a youth worker who said: "At the core of this is the homophobic issue. The other arguments are just window dressing for that. This is not a battle between music styles at all. It is the conservative side of Mexican society fighting against something different."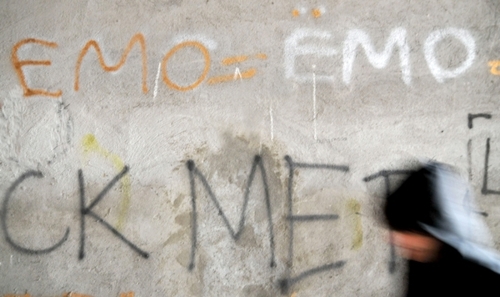 In Iraq the conflation of homosexuality and emos is much more direct, drawing even more attention to the overlap between the groups. In addition to both phenomenons being credited as resulting from American culture, they both challenge traditional ideas about gender and masculinity in particular and the prosecution of both reflects, really, a kind of emotional policing where men are being killed for feeling the wrong feelings. In Mexico, it was noted that the emo kids getting beaten up were usually both "skinny" and teenagers, making them extremely easy targets. Perhaps that's what's so striking about these attacks — in an oft-war-torn area, why are we focused on persecuting subjectively labeled "moral threats" with no actual power or agency with so many real, physical threats looming large?
Quotes from Baghdad teenagers in outlets like CNN and The New York Times include a boy who cut his hair to avoid being a target — "I'm not the only one. All my friends in the school decided to change their hair style and change their clothes, too, even though we're not emo or gay," and another young man saying "I just don't understand why they are targeting us. We didn't hurt anyone … We basically live our life they way we want to be. We simply like the western lifestyle; the dress, music bands, vampires."
A 19-year-old who works in a shoe store and recently saw two of his emo friends get killed, told Radio Free Europe: "Let them kill me. They killed my close friends. They want to kill me, let them kill me."
---