The traditional lesbian narrative goes something like this: in girlhood, the protagonist encounters a series of "signs" that suggest homosexuality is afoot. The protagonist feels nothing for boys, and so many things for girls, usually culminating in a crush on a straight best friend during adolescence. Often, intolerant parents and friends will encourage the protagonist to be straight, thus repressing the protagonist's desire. Usually by the time the protagonist graduates high school, the question isn't if they wanted to live the life of a lez, but when they'd have the chance to start living the life of a lez. Even the coming out stories I knew in popular culture — Ellen DeGeneres, Rosie O'Donnell, Melissa Etheridge — tended to be people who always knew, and often lived gay lives, but were careful about when they revealed that information to the public. My own journey just wasn't that clear-cut, and I'm certainly not alone in that.
At A-Camp, we end up with a lot of campers in their late 20s, 30s and 40s who have just recently come out, or just recently realized they were gay at all, sometimes after marriage and kids. At Camp 4.0, we decided to have a discussion group to address the "Later in Life" ladies, and we're doing something similar at this camp.
It's complicated to determine, with celebrities, who falls into this category, because they have an extra step that the rest of us don't — there's family, friends, work… and then the ENTIRE F*CKING WORLD. The list of celebrities who came out to the world as adults because they weren't ready when they were younger is a very long one, including recent debuts like Robin Roberts, Jodie Foster, Joanna Johnson and Krissy McNichol. This list isn't for those stories. This list is women who were past their twenties by the time they not only came out to the ENTIRE F*CKING WORLD, but also by the time they came out to themselves or their family or even knew they were queer at all.
---
1. Jenna Lyons, Executive Creative Director of J. Crew
J.Crew President and Creative Director Jenna Lyons was married to Vincent Mazeau for nine years, and after their divorce, Lyons fell in love with Courtney Crangi, the sister and business partner of jewler Philip Crangi, and the relationship became public knowledge in 2011. In 2013, when Lyons was 44, she publicly acknowledged her relationship with Crangi in her Glamour Magazine Woman of the Year acceptance speech. Jenna has revitalized the J.Crew brand and become one of our top fashion icons with a classy and professional tomboy femme style.
---

2. Meredith Baxter, Actress
"I am a lesbian, and it was a later-in-life recognition. I got involved with someone I never expected to get involved with, and it was that kind of awakening. I never fought it because it was like, oh, I understand why I had the issues I had early in life. I had a great deal of difficulty connecting with men in relationships."
Famous Family Ties actress Meredith Baxter came out to herself in 2002 (and to us in 2009), after three marriages and a brief lesbian affair in 1996 that she didn't take seriously at the time. She was married to Robert Lewis Bush, with whom she had two children, from 1966-1971, and then married David Birney in 1974, and had three children with him, including twins. They divorced in 1989. Her third marriage, to actor Michael Blodgett, spanned from 1995-2000. She began dating her now-partner, Nancy Locke, in 2005, and rumors began swirling about her sexuality after she appeared on a Sweet Cruise in November 2009. She told The Today Show that it was a same-sex relationship in 2002 that changed her everything: "It was that kind of awakening. I never fought it because it was like, oh, I understand why I had the issues I had early in life. I had a great deal of difficulty connecting with men in relationships." She married Nancy Locke in 2013.
---
3. Carlease Burke, Actress
"I knew what a lesbian was, but there were no role models. I was raised in the black Baptist church, and there were gay guys who were choir directors, but they weren't talked about. Deep down inside, I'd think that's who I am, but I didn't have the nerve to pursue that. All along I had lesbian and gay friends, but I couldn't see myself going down that route due to fear. I started meeting more women while working as a comic, met a young lady in 1994 who caught my eye. It didn't end up being a good relationship, but I grew up a lot … I started being more free and flirty in comedy clubs. From that moment on, it gave me a lot to talk about."
Carleease Burke has been out for over two decades, but as a young person, she didn't see herself pursuing a lesbian life. She got her first role, in a TV movie, in 1989, and has been working as an actress ever since. In 1994, she met a special lady, and thus at the age of 40, in her first relationship, she came out to her mother. She told AfterEllen in 2007 that she felt "25 in dyke years, because I came out so late." Burke recently played Ms. Rose on Switched at Birth, you may also recognize her from In Her Shoes, Get Shorty, Shameless and pretty much every TV show, ever. Seriously, she has been in every single TV show ever.
---
4. Kelly McGillis, Actress
"Life is a freaking journey, and it's about growing and changing, and coming to terms with who and what you are, and loving who and what you are."
Julliard graduate Kelly McGillis was an enormously successful actress in the '80s, memorably starring opposite Tom Cruise in Top Gun and playing leading roles in Witness and The Accused. She married a man named Boyd Black in 1979, but they were divorced by 1982. McGillis was also wrestling with her sexuality and haunted by her feeling that being gay was wrong. Things took an especially tragic turn in 1982, when two men broke into the home she shared with her then-secret girlfriend, attacked and sexually assaulted both women. McGillis thought the incident was G-d punishing her for being gay, and she struggled with drug and alcohol addiction in ensuing years. In 1989, she married millionaire Fred Tillman and had two daughters with him, they divorced in 2002. McGillis took a break from acting and the public eye after that, returning to television in 2006 in a TV movie a 2007 stint on The L Word. In 2009, she came out in an interview with SheWired — and when she married music company executive Melanie Leis in 2010, it was the first time she publicly acknowledged their relationship. She had met Melanie in 2000, when she bartended at the restaurant McGillis and her husband co-owned. McGillis now teaches acting in Asheville, North Carolina.
---
5. Cynthia Nixon, Actress
"I never felt like there was an unconscious part of me around that woke up or that came out of the closet; there wasn't a struggle, there wasn't an attempt to suppress. I met this woman, I fell in love with her, and I'm a public figure."
Cynthia Nixon and her long-time partner, Danny Mozes, with whom she'd had two children, split up in 2003, and then Nixon met Christine Marinoni, a public-school advocate. Nixon fell in love, and then, around the same time her landmark television series Sex and the City was wrapping up, rumors began flying. Emily Nussbaum said the following about Nixon's coming-out process:
The truth is, Cynthia Nixon has managed to do something perversely radical with her gossip emergency: She's made her own coming-out story boring. She mentions her girlfriend in conversation, but in a way that makes it at once not a big deal and nobody's business. She is both evasive and open, the way anyone sane would be with a stranger asking nosy questions. (And she's very skilled at making me feel like a jerk for asking the more prying ones, with another facial expression: No, no, no, no.)
---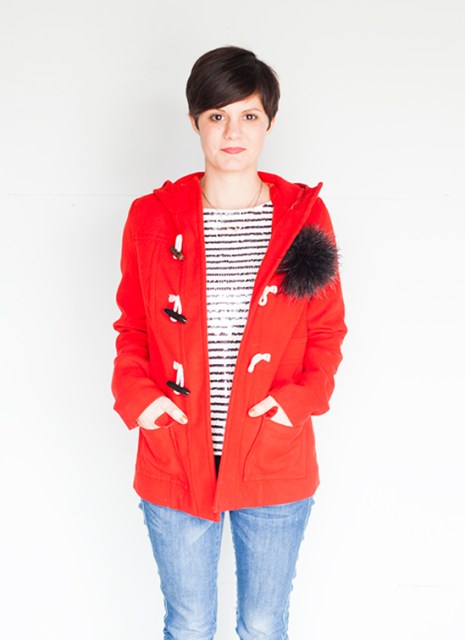 6. AB Chao, Design Blogger
"I've described coming to the realization that I'm gay as having a void in my life, not knowing what it was, and trying to fill it with everything I could find: writing, decorating, career paths, expensive jeans, all of the bourbon… And then, one sunny fall day, getting on a roller coaster, careening down to the stomach-dropping part of the ride, and finally, finally understanding, "Oh. THIS is what that was."
The youngest human on this list, design blogger AB Chao was in her 30s, had a daughter heading off to college and had recently separated from her husband of nearly 15 years when she came out in 2013 on her blog, noting "Y'all, I am real gay. For ladies. I know. I KNOW. It was a surprise to me, too." AB will be joining us at A-Camp and participating in the "Right In Time" workshop that inspired this list!
---
7. Carol Leifer, Comedian, Writer & Actress
I'm finding, especially with women, a couple of different kinds of gays. I've met people who say, "I knew I was gay my whole life, and I lived this lie, and then I finally came out." My kind of gay is like the late-breaking-lesbian kind of gay. I mean, I was attracted to boys. My first crush was on Davy Jones. My kind of gay, meeting a woman and falling in love, is a different experience because it wasn't anything about "Oh, I've always been gay and I'm breaking the chains." The whole experience spun me around. I really thought this was going to be a fun fling, and I had no idea that it would become this finding my soul mate, the love-of-my-life sort of deal. It does make you feel reticent about talking about it at the beginning because you're not sure if it's real, if it's going to stick.
Leifer only dated men until she met her now-partner, Lori Wolf, at the age of 40. In fact, Leifer quite famously dated Jerry Seinfeld before the show and was not only an inspiration for the character of Elaine, but eventually joined the show's writing team. Leifer has been doing stand-up for decades, writes for The Academy Awards, and was involved in shoes including The Ellen Show and The Larry Sanders Show. She's also written two books, When You Lie About Your Age, The Terrorists Win, in which she discusses her relationships, and How to Succeed In Business Without Really Crying.
---
8. Wanda Sykes, Comedian & Actress
"I'm proud to be a woman. I'm proud to be a black woman, and I'm proud to be gay. We are so together now and we all want the same thing and we shouldn't have to settle for less."
Wanda Sykes says she can trace back sneaking suspicions that she might be a total homo to childhood, but she repressed those emotions and didn't start confronting them after her 1998 divorce from record producer Dave Hall, who she'd been married to for seven years. She came out to her parents at age 40 — it didn't go well, but they've been coming around as of late — and four years later, in 2008, came out to the world at a same-sex marriage rally. She married her partner Alex, who she met in 2006, in 2008, before Prop 8 passed. They have two children.
---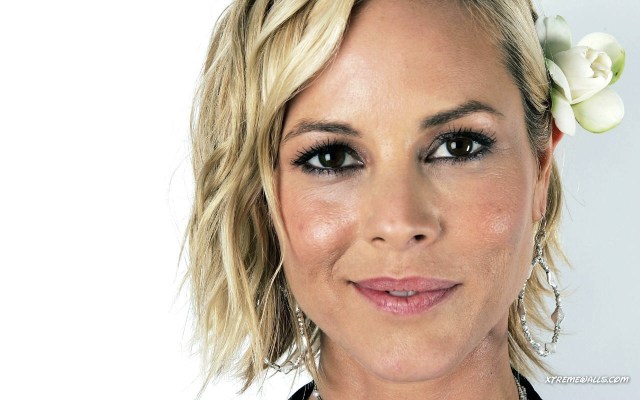 9. Maria Bello, Actress
46-year old actress and activist Maria Bello had a soul-searching moment reading old journals in her garden, which she described for a New York Times' Modern Love column in December 2013, when she realized that her long-time best friend, Claire Munn, was somebody she could love romantically. "What had I been waiting for all of these years?" Bello wondered. "She is the person I like being with the most, the one with whom I am most myself." Bello described her new "modern family" in "Modern Love" which includes a close friendship with her ex, TV Executive Dan McDermott, who is the father of her son.
---