Games Done Quick, a bi-annual charity gaming marathon, was held in Herndon, Virginia from January 7-14, 2018, and raised over two million dollars for charity! Volunteers played video games at incredible speed, called speedrunning, for entertainment. The event was streamed live online, non-stop, and all donations went directly to the Prevent Cancer Foundation.
If you've ever been interested in speedrunning, GDQ is a great first gateway into the activity (that's how I first got into it!). Speedrunning has taken off on Twitch.tv, but watching games streamed live can be difficult to get into. Watching someone else play video games isn't self-evidently entertaining for most people. But in the marathon setting, there's a couch of other runners providing incredibly insightful commentary about the game being played, a live audience getting into the action, and a host reading off donations, often accompanied by funny, heartfelt, or bizarre comments, as they come in.
What was so wonderful about AGDQ 2018 (A, for "Awesome," denotes the winter marathon, while SGDQ is the summer marathon), aside from the record-breaking amount of donations received, was that women speedrunners were more prominent than ever (about 3% of runners were women this year, which is actually an improvement). What was also cool for this trans woman speedrunning enthusiast was that a bunch of these runners are trans women! In fact, there were so many trans women that it caused controversy among gamers (I won't link to the Reddit threads, because they're gross, but they're there). In spite of the toxicity that sometimes accompanies being queer, trans, and/or a woman on the internet, speedrunning is a pretty open and accepting community and it was nice to see that reflected in who ran games this year.
Overall, AGDQ 2018 was a huge success, and I can't wait for SGDQ 2018, which will take place in June. Make sure to check out each of these runners' Twitch pages, and subscribe if you can. Women speedrunners are making inroads into an often-hostile community, and need all the support they can get!
---
SayviTV ran Dark Souls 3
One thing that's so cool about this run is that Dark Souls is widely understood to be one of the most difficult video game series ever. Watching SayviTV sprint her way past demons, and destroy bosses with ease, is a sight to see.
---
EmeraldAly ran inFAMOUS First Light
This run was super intense from the jump, because EmeraldAly got some bad luck (RNG in speedrunning terms) at the beginning, which threw her off her route, and she had to freestyle the first few minutes before she could get back on track.
---
LizStar ran Ristar
Ristar is a lesser-known Sega Genesis game. It has very unique movement and mechanics. I like runs like this that have a lot of RNG, because it requires on-the-spot decision making instead of just route memorization. This run also has another woman on the couch providing commentary!
---
Tinahacks ran Wonder Girl
What was so cool about this run is that one of the developers was on the couch, and was able to give incredible insight into the development of the game and how it came to be. Also, Tinahacks is a god gamer who was so focused on RNG manipulation, precise movement and frame-perfect inputs, she wasn't able to do too much commentary. But her incredible play and couch make up for it.
---
Claris ran Metroid Prime 3 and Sonic Mania

YouTube // 2nd YouTube // Twitch 
Claris had three other women on her couch for Metroid Prime 3! It's also really uncommon to see Wii games, so that was pretty cool. Sonic Mania is so fun to watch speed runs of, because speed is what Sonic is all about! The incredibly quick fingers Claris demonstrates, with the screen scrolling at such an incredible pace, is enthralling.
---
Headstrong1290 ran Superman 64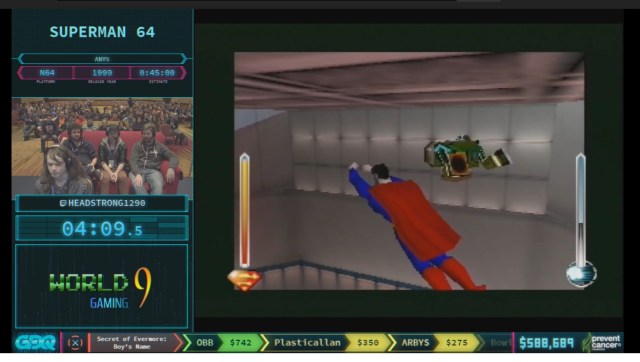 Superman 64 is widely considered the worst Nintendo 64 game ever, and at AGDQ 2018 it opened the "Awful Block," a bunch of runs on awful games. This run is amazing both because of how hilariously bad this game is and how deftly Headstrong1290 is able to maneuver her way through it.
---
SGDQ 2018 will stream live online from June 24th – July 1st at the GDQ Twitch page. Follow GDQ on Twitter for updates, and, if you think speedrunning might be for you, check out the GDQ website for info about how to submit and participate!