The coming out process always involves a little bit of historical re-contextualizing — your emotional attachments to your female best friends or your unexamined aversion to the way men smell in the morning suddenly take on new meaning when looking backwards through brand-new homo-tinted glasses. Your pop-cultural loves are no exception.
Today we look at some of the early-to-mid '90s films that defined the youths of young queers born in the '80s. These aren't gay films, because well, there really weren't many gay films back then (not like there really are now either though), but films with undertones or secret stories that queers heard loud & clear whether the mainstream knew it or not.
If you like this list, you'll also like our list of Badass Girl Team movies, which celebrates flicks about girl gangs, girl sports teams, and otherwise group-related girl activities.
Regardless of when you grew up, what were the films that define your queer retrospective? And why do so many of ours star Whoopi Goldberg?
---
+
Fried Green Tomatoes (1991)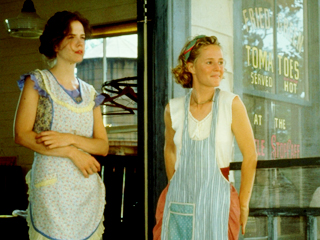 This story is multi-generational, jumping around from the past to present day. We love us some Jessica Tandy and Kathy Bates (her quip about car insurance in this one is classic), but let's be honest, Mary Louise Parker and Mary Stuart Masterson are the real meat of this movie. Their characters meet when they are super young and obvs fall in love. Idgie is a classic dyke, but Ruth tries out the straight thing for a while. Of course, her marriage fails miserably, and the two women end up reuniting. Collective awwwws all around, especially for Idgie's adorable over-protectiveness and devotion.
This is one of those "coded" movies that passes as hetero to all of those unenlightened viewers. But to those of us who were looking for a bit more under the surface, the relationship between Ruth and Idgie will give you everything you need. At least, for a fairly PG movie. And of course, if you've read the book by Fannie Flagg, it's abundantly clear that these two women were actually in love. Rumor has it that the actresses wanted to make things a lot more explicit, but Hollywood just wasn't ready. It also provides a handy straight/gay test: just ask a girl her thoughts on this movie for some extra clues on her orientation.
---
+
A League of Their Own (1992)
A League of Their Own is the gayest not-gay movie of all time. Rosie O'Donnell and Madonna play best friends, and the rest of them are farm girls who don't fit in and just want to play baseball. I mean, COME ON. I know they all go out to a bar and dance with dudes, and yeah Madonna is boy crazy. But remember, this was in the 1940s. What else is a girl to do?
Gay or not, we love the story of women stepping up to the plate (see what I did there?) and taking over such a traditionally masculine arena.
---
+
Little Women (1994)
Jo March, played by '90s heroine Winona Ryder, is The Tomboy Archetype. With an emphasis on the bonds between sisters and the women-without-men wartime household, this film warmed the cockles of many queer hearts.
---
+
Girls Town (1996)
Though largely ignored by mainstream audiences (who can only handle so much girl power), this indie cult film quietly caught on amongst teenage girls and indie film circuits for its stark and female-focused portrayal of urban American life. A tight group of female friends is torn up when their best friend commits suicide, which they later discover was prompted by a rape she never told them about. Basically it's about how girls bond with other girls to protect themselves from the slings & arrows of the men and the families that neglect them. Also, there is a lot of flannel, sports jerseys, and serious overall action.
The soundtrack gets bonus points for featuring queer faves like PJ Harvey, Salt-n-Pepa & Queen Latifah.
---
+
Now and Then (1995)

I remember this movie sold out when we went to see it in the theater, which was devastating, so we all had to buy tickets for some other crap and sneak in, where we sat in the back in the unoccupied wheelchair area in a girl-packed room.
The film centers on four grown women who've spent all their life trying to recapture the youthful energy they felt at the age of 12 in the summer of 1970 "when everything started to change," like right before there was puberty and dating and boys and all those other things, let alone marriage & babies & other hetero trappings. The four girls, played by iconic '90s girl actresses Christina Ricci, Thora Birch, and Gaby Hoffman, along with Ashleigh Aston Moore (Moore stopped acting in 1997, and tragically died at the age of 26 in 2007 from pneumonia and bronchitis), fought boys who talked shit, played boys' games and weren't afraid to get scrappy.
Extra gay points for Rosie O'Donnell as the grown-up Christina Ricci character, Roberta, who was originally supposed to be a lesbian although that storyline was edited out by producers wary of controversy. Demi Moore was dashing in her menswear and her daughter Rumer, who now plays gay on 90210, appeared as Demi's daughter in Now and Then. ALSO, our dear Haviland Stillwell was an extra/stand-in.
---
+
How to Make an American Quilt (1995)
Want the weird girls to see your normal-looking movie? Cast Winona Ryder. While How To Make An American Quilt is essentially about a young woman, Finn (Ryder), who's about to marry this dude (Dermot Mulroney), it's also about a how group of women learned to navigate the world while still maintaining a close, if sometimes rocky, friendship with one another. Lesbians love that stuff.
The character of Finn is kind of brooding, confused and agitated. She sulks around in over-sized t-shirts and messy hair. She has feelings. She writes! She's like us, but straighter. Anne Bancroft is quietly badassy, as per ushe, and Maya Angelou is calming and perfect, probably just like IRL.
---
+
NEXT:
Five more generation-defining flicks of the early-to-mid '90s!
---
Are you following us on Facebook?
Pages: 1 2 See entire article on one page