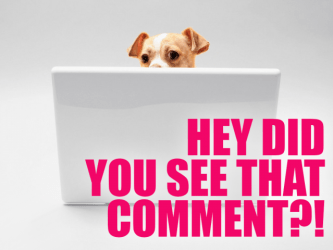 Happy Winter Solstice, chipmunks! How are you celebrating? By watching science trump apocalypse-fearing weirdos yet again? By rewarding yourself with a $7 Au Bon Pain cookie after braving holiday airport crowds? I'm mainlining egg nog lattes while furiously debating whether to attend my high school reunion tomorrow.
This last week of holiday-centric posts left no stone unturned. Kristen took some holigay profile pics for your pleasure, Laura taught us how to wrap presents like a boss and Brittani had us Cat Powering through Christmas.  

In other news, older conservatives like us now, Esther Zinn made a great app for queer girls and Lizz dispensed winter fashion tips for the frozen femme. Readers and team members talked about their experiences with guns and gun culture. Our college lesbian correspondents finished their first semester and are heading home for a holiday break. Are you too? Bundle up and travel safe, okay? I'll keep the hot cocoa warm for you.
---
On Brittani's Video Party: A Very Cat Power Christmas:
The Product Placement Award to Aya: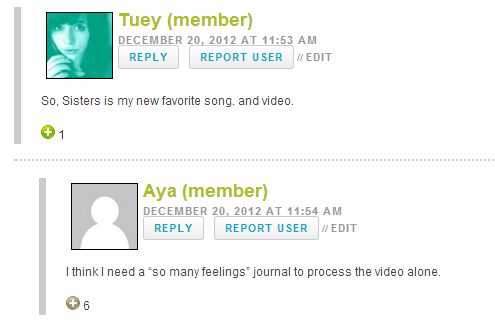 The I Missed You So So Bad Award to Erin: "I used to find the song 'Call Me Maybe' cloying and irritating. Apparently all it took to change my mind was Felicia Day in short shorts. Who knew?"
On Actor Emily Grosland on 'Emotional Creatures' and Being Genderqueer In Theater
The That's In My OkCupid Profile Too Award to lulumorashi: "i once described my 'type' to someone as "the kind of woman who plays pantomime peter pan" so this is extremely relevant to my feelings. also: SHE CAME OUT THROUGH DANCE!!"
On Things We Read About Newtown:
The Consider This Award to toomanybooks:
On Holigay Gift Guide 2012: Lights, Camera, Action:
The Let's Go Back In Time And Be Childhood Friends Award to Lora: "If that Green Screen kit had existed back in my "make music videos to B*Witched songs with my cousin" days, it would have been a few positions ahead of N64 and TalkBoy on my X-Mas list, and that's saying something."
The Nothing To See Here Award AnnaY:

On Ode to Burning, Searing, Delicious Hot Sauce 
The Worst Nightmare Award to kpee: