Yesterday, everyone saddled up their favorite mode of transportation and set off for A-Camp!  Taylor brought us along for her Amtrak trek and everyone else worried about packing things (eg. pocket knives) or tracking down a copy of Beyond Binary to read on the plane. Hopefully everyone remembered to put Grace's California-themed playlist on their iPod.  But before our intrepid A-Campers set sail for Cali, Veronana invited you to Aqua Girl and Jennifer showed you around Milwaukee.  Laneia made us some apple bread pudding and this pasta situation while Brittani went to the GLAAD Awards and Scribegrrrl recapped the first episode of the new season of Lip Service.  Then we all paused for a second to celebrate 4/20 with pizza and quesadillas and special wine.  Earth Day happened so Jamie and Laura encouraged o.b. applicator-less tampons and reusable bags! Crystal told you about new music and a new Newtown Girls, Riese read and loved more things and Gaby responded to Staceyann Chin's straight-girl-chasing Guardian essay.  Plus, Grace still watched Glee so you wouldn't have to!
---
On Why Chasing Straight Women is for Amateurs (or Not All Lesbians Creep on Straight Girls):
The I Think You Mean "Boobie" Award to Kim: "Chasing straight women is definitely for amateurs. Thats why I use booby traps."
On Applicator Shmaplicator: o.b.'s Selfish Shellfish:
The Meanwhile in Japan Award to Armando: "One time I was in Japan and I could only get applicator tampons and I'd never seen one before and I was like 'WHY IS IT IN A SPACESHIP???'"
On Weed and Wine: Together at Last:
The Seriously, Get a Room Award to Ranger and Digger: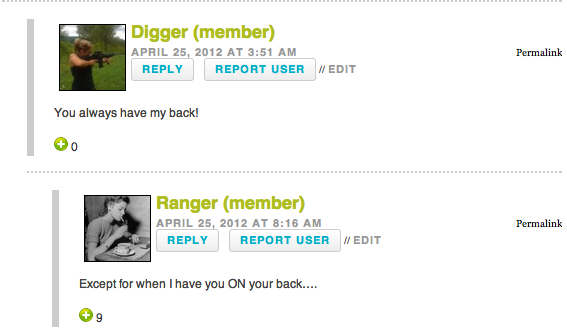 On A-Camp by Rail: An Ode to Amtrak:
The There's A Reason Amtrak Doesn't Have Blankets Award to Kayla: "I love spotting maybequeers! Especially ones that sleep in small stoned balls, I really hope you made contact. Maybe she could be your blanket..ah? ah?!"
On Tea, Nectar of the Gods, and Things to Drink It With:
The Thirst Games Award to apple juice: "if you put tea and coffee into an arena and made them fight to the death, tea would win."
On Weed and Wine: Together at Last:
The Wait... Today's Not 4/20? Award to Emily: "I would drink this so harhehehehe oh man WHAT hom nom nom zzzzzzzzzzz"
On Applicator Shmaplicator: o.b.'s Selfish Shellfish:
The Menstrual (Performance) Art Award to allie: "what?! ive been a member of the e-tampon community for years. i even helped organize the annual Tampon(Wo)man gathering where we throw tampons doused in kerosene at a large straw uterus and then get really high and lament about pms and eat ben and jerrys/watch the notebook."