Hello my little summer babies. I missed you! I hope you had fun with Lemon and Carrie; those girls are a special kinda something. The week, we had Grace's Tony recap, Rachel's you need help about surviving life after college, tips for dating a girl who is only sort of out and, my personal favorite, 50 sexy bois without shirts. In herstory, we had 16 hilarious vintage gay advertisement, pictures of topless women, Katrina's Riot Grrrl lessons, lesbian slang terms you've never heard, Read a F*cking Book with Odd Girls and Twilight Lovers and the history of lesbian pulp fiction. We learned all about Chicago and Chapel Hill, North Carolina, and got baked with Bren's dog treats and Carolyn's garlic with pasta and swiss chard. We talked to Charlotte Bunch and Heather Peace and heard what we said in Queer Ivy.
---
On Before The Real L Word The Was Lesbian Pulp Fiction:
The Somebody Who Knows About The Lord of the Rings Help Me With Naming This Award to giles: "Before The L Word there was…peace in Middle Earth"
The Guilty Pleasure Award to Megan: "I have a secret fantasy in which I'm browsing a thrift store and stumble upon a whole box of lesbian pulp fiction. They may make everyone look like assholes, but I still want them. A whole box full of them."
On 20 Lesbian Slang Terms You've Never Heard Before:
The In Salt Lake City or in Northampton? Award to apple juice: "BRB GOT MISSIONARY WORK TO DO"
On 50 Sexy Bois With Their Shirts Off:
The I Can Think Of At Least One Other Way Award to Lone Wolf: "This post should be called 50 imaginative ways to cover nipples"
On 5 Tips On Dating A Girl who Is Only Kinda Sorta Maybe Out To Her Family and Friends:
The He Loves Us, He Really Loves Us! Award to Harvey Milk: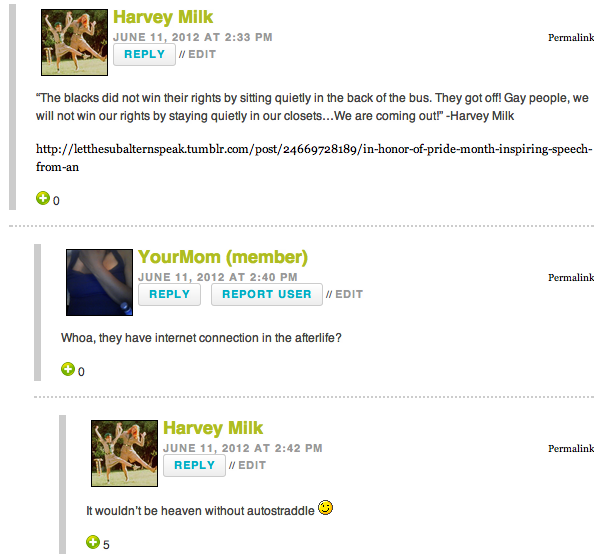 On 16 Vintage Gay Advertisements That Are Funny Now That Gay Means Gay:
The Freudian Slip Award to E: "This is one of the best things in all of human history. #8 is definitely my favorite.
I also read #3 as "Clitone"."
On Listling Without Commentary: Readers' Descriptions Of Long-Lost Books From Whatsthatbook.com:
The BUT THE HOUSE WAS ALIVE, I SWEAR Award to SC: "hmm I think at least half of these must have been dreams that people had. and then they misremembered them as books."
The Sounds Vaguely Familiar... Award to ims0awesome: "A boy has a lightning scar on his forehead, I think his parents are dead, a weird guy that doesn't have a nose is after him, also there's something about "horcruxes"?"