Oh hi! Let's hop to it, Sal!* So many people came out this week: Anderson Cooper, Megan Rapinoe, and Frank Ocean! We celebrated Canada with Canadians, and America with pies cream sandwiches. Plus, we talked about Richmond, VA and  Denver, CO, which are both cities in the USA where queer girls run rampant! Maybe in their rompers. Maybe not. Speaking of queer girls, Riese made a listling of how you all identified on our reader survey. Lizz caught up and on Pretty Little Liars and Riese prepped us for the torture that will be the new Real L Word. We had two editions of TIRTIL this week, Rachel let us know that reading fiction builds character so you should totally build some shelves for your character-building books. Whitney wrote a thing about her family and getting married, and Nicole wrote a thing about airline discrimination. Meanwhile, there was an update on the shooting in Texas, London's World Pride was "scaled down," and the supreme court thinks oppression is whack. Once again, Rachel is there for you when you don't know what to say, or when to say it. Isis King and Janet Mock talked about trans women in the media and The Advocate remembered Stonewall. Carmen filled us in on all the stuff we missed this week, including but not limited to Rachel Maddow. Jess interviewed Vicci Martinez and Elaine told us about Heathers. Lastly, Brittany is the new calendar girl, and we're looking for a lesbianagette to recount their adventures in college! And you know what's coming up?? BRUNCH! You should all go to brunch. Brunch. Brunch. Brunch! Any questions?
*Sal is the name I just made up for you. All of you. I feel weird today.
---
On NSFW Lesbosexy Sunday is Doing it in the Road:
Taking The 'Condom' Out Of 'Condiment' Award to tia and allie: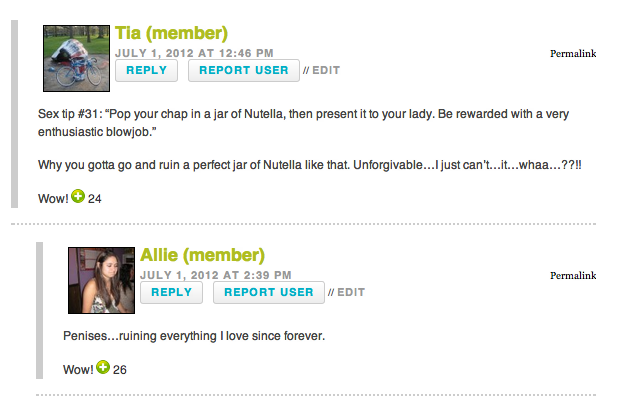 On Things I Read That I Love #31: Working One's Way Through A Crisis:
The A Five-Year-Old Could Do That Award to Haley: "I feel like the Action Park Wikipedia article would be the real-life review of every amusement park I ever built as a kid on Rollercoaster Tycoon."
On It's Canada Day! Here's 24 Kickass LBTQ Canadians:
The I've Been Here Before Award to Dee: "Anna Paquin identifies as a New Zealander, not Canadian."
On Frank Ocean Comes Out About His Sexuality, Feels "Like A Free Man":
The Now We Don't Have To Kill Jimmy Fallon Award to Alexis: "Rule of threes. Done."
On A Thing You Could Make: Pies Cream Sandwiches:
The Shut Your Pie Hole(s) Award to Kelly: "I want that in my mouth and places like my mouth."