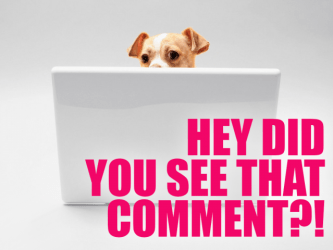 Greetings pumpkinheads! I don't know about you, but fall always gives me an insatiable appetite for butternut squash and queer debauchery. Luckily we have another weekend full of Autostraddle meetups and these recipes for Cinderella Stew and congee will be waiting for you when you get home. And Malaika's advice for surviving as a snow covered prairie queer might actually have you looking forward to winter.
Are you wearing purple? Did you know that it's Ally Week and today is GLAAD's Spirit Day? Have you appreciated Melissa Harris-Perry lately? Did you watch the second Presidential debate? Why doesn't anyone give ME binders full of women?
Also this week, the final re-camp came out and so did the registration date for May A-Camp! Then some of us talked about our curly hair and showed off our sneakers. And I don't know how else to say this but BOYSHORTS ARE HERE!
What more could you need? Awards for saying funny shit on the internet, you say? Okay, fine.
---
The Foot Fetish Award to Joy: "either the room is spinning, or that's just me trying to rub the computer screen too vigorously against my chest right now… I'm too excited, .. boots, kicks, kicks with wings, boots with pretty legs in them.. Sneakers with velcro straps showcasing YOU DO YOU … 
WHAT IF I WANT YOU TO DO ME."
The Daydreaming It Up With Marni Award to red she said: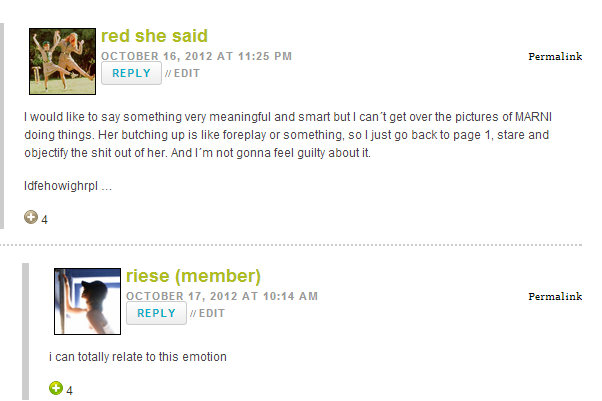 The Next Time Make Her Come Award Award to Sarah:
On An International Meetup Week Sexy Surprise:
The Only Excuse For Missing A Meetup Award to T: "My girlfriend and I were planning on going to the Seattle Autostraddle meet-up yesterday, but then we decided to go to Babeland first and do a little shopping. And then we hurried home excitedly and…didn't make it to the meet-up. I'm sad we missed it, but I still feel like maybe this was a win?"
On Straight Man Has A Queer Year:
The Simon & Douchester Award to just sayin':

On Daily Fix:
The Get This Girl Some Binders Full of Women Award to Mariah: "Does this mean that I have to change the wallpaper on my computer from Lindsay Lohan? Probably. Crying internally."
On Sunday Funday:
The Who Killed Jenny's DOG? Award to Courtney Scallops: