We have a ton of "affiliate accounts" at various online merchants. This means whenever you shop at these places, we get a kickback! Whenever possible, our posts and shopping guides are affiliate linked to facilitate easy kickbacking, but this is your one-stop shop for direct access to our affiliate box office. Of course we're big supporters of independently-owned small businesses (we are one, after all), and have included as many of those here as possible. But sometimes we shop the big guys too, so, bookmark this page! Why give money to corporations when you can give money to corporations who give money to us?
Quick Links:
General
Books & Writing
Clothing and Apparel
Media & Music & Entertainment
Sex
Beauty & Bath
Home & Food & Crafts
Travel
---
General
You already know what's going on at Amazon so we don't have to tell you that. But! The revenue we generate via Amazon Associates is a huge chunk of what keeps us going! If you plan on shopping there, we would love if you could do so via Autostraddle. You can also shop at Amazon UK using this link or Amazon CA using this link.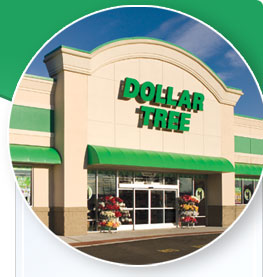 "We carry a broad, exciting mix of merchandise that includes many trusted national and regional brands. Some of the product departments you'll find at Dollar Tree include housewares, glassware, dinnerware, cleaning supplies, candy, snacks, food, health and beauty, toys, gifts, gift bags and wrap, party supplies, stationery, craft supplies, teaching supplies, books, seasonal décor, and more! Everything you need for every day, every holiday, every occasion… and every single item is only $1 (or less)!"
"Fab is the largest online design store, made up of over 15,000 everyday design products from over 6,000 individual designers across all categories and all price points. While there is something for everyone on Fab we resonate extremely well with urban women between 25-44."
"OpenSky brings together a community of celebrities, stylists, chefs and other trendsetters with distinctive perspectives & expertise – who provide to you the ultimate hook-up on the best of what they eat, buy, wear, use and love everyday."
Target sells pretty much everything.
---
Books & Writing

"Alibris (pronounced "uh-LEE-briss") is the premier online marketplace for independent sellers of new and used books, music, and movies, as well as rare and collectible titles. We connect people who love books, music, and movies to more than 100 million items from thousands of sellers worldwide."

"The Book Depository (Guernsey) is the UK's largest dedicated online bookseller, offering the largest range of titles in the world, available for dispatch within 48 hours. Founded in 2004 to make 'All Books available to All' we focus on selling 'less of more' rather than 'more of less', differentiating ourselves from other retailers who increasingly focus on bestsellers."

"IndieBound is a community-oriented movement begun by the independent bookseller members of the American Booksellers Association. It brings together booksellers, readers, indie retailers, local business alliances, and anyone else with a passionate belief that healthy local economies help communities thrive. Supporting local, indie businesses means that dollars, jobs, diversity, choice, and taxes stay local, creating strong, unique communities and happy citizens."

"Welcome to the world of Moleskine Store®, the official web store of the legendary notebook used by artists and thinkers over the past two centuries: among them Vincent van Gogh, Pablo Picasso, Ernest Hemingway, and Bruce Chatwin. Today, Moleskine is synonymous with a set of indispensable creative tools, such as notebooks, diaries, journals, bags, writing instruments and reading accessories, that help define who we are and dedicate to our mobile identity."
---
Clothing & Apparel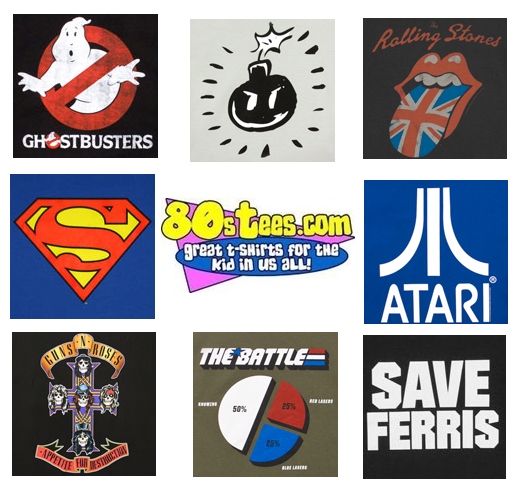 "80sTees.com is the leading online retailer of licensed t-shirts. We specialize in retro movie, music, tv show, video game, comic book, and cartoon t-shirts. We offer a wide variety of shirts available exclusively at 80sTees.com."

"As a lifestyle apparel brand at the forefront of the fashion industry, Alternative exists to inspire authenticity and comfort, both inside and out. Our mission is about more than just designing clothes that look and feel great: we want our unique community of wearers and supporters to feel comfortable in their own skin, laying the groundwork to inspire others and make a difference with how you live-and what you wear. Our clothing brand is seen on the hottest celebrities, many of whom sit down with us to speak about the social & environmental causes they are actively engaged in."

"Housing independent designers and favored labels, Big Drop builds its reputation through its clientele of style conscious shoppers. Big Drop provides personal touches with timeless pieces and accessories, merchandised under one roof."

"With humble beginnings as a family business, BGB was one of the first online lingerie etailers and the very first lingerie site devoted to full figured and plus sized intimate apparel. From those ground-breaking times, Big Girls Bras has grown to become the go-to store for niche size bras and swimwear, shape wear, sports bras and other intimates, offering more total intimate apparel style and size selections than almost any single retail store, paper catalog, or boutique."

"Busted Tees opened in March, 2004 and is entirely run by the guys from CollegeHumor.com. We decided to start making funny T-shirts because we want people to have fun, laugh, look good, and feel comfortable."
"Named after the delicious French dessert, Charlotte Russe began its sweet journey in 1975 with the first store opening in Carlsbad, California. Putting a spotlight on women in their teens and early twenties, our store offered access to major fashion trends at value-oriented prices. And over a few exciting decades, the mall‐based chain went from 35 stores in Southern California to 500+ stores across the United States and Puerto Rico."
+

"A leading fixture in the society of praised rebellion, Dolls Kill is an active subversion of the fashion industry's "norm". We want our kult members to experiment with their individual style and encourage them to let their freak flags fly."

"Celebrated by many style conscious and trend-savvy shoppers, Forever 21 has quickly become the source for the most current fashions at the greatest value."

"GoJane.com is an Internet retailer of fashion forward apparel for progressive young women. GoJane is a dedicated team of fashion fanatics, committed to the goal of connecting our customers with their own unique fashion sense. For over 14 years, we've been devoted to elevating style and self-perception while keeping it fun and inclusive of all trends. Our teams of buyers are constantly on the lookout worldwide and locally for the next must-haves! We add tons of new styles every day to keep you at the forefront of fashion. Why wait when you can find something new at GoJane.com."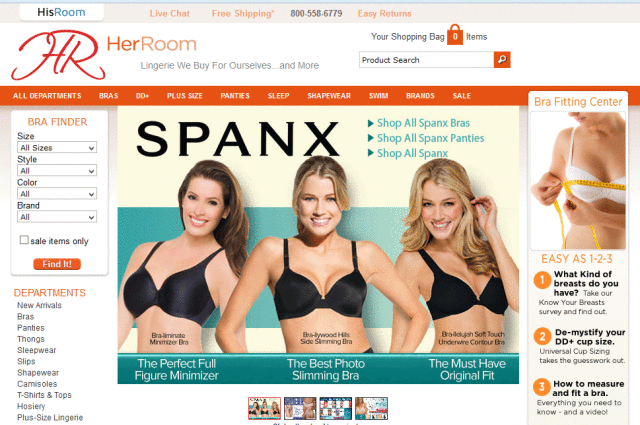 "HerRoom.com is the online destination for all things lingerie, offering dozens of name brands including Hanky Panky, Donna Karan, Calvin Klein, Spanx, Wonderbra and many more."

"HisRoom.com features the best in men's undergarments. Over 50 top brands – featuring Calvin Klein, Under Armour, Champion, 2(X)ist, Zimmerli, Hilfiger and more. Big & tall sizes, fit guides, laundering tips and product reviews make shopping effortless."

"Junk Food Clothing combines cutting-edge design with classic flavors to create captivating vintage NBA, NFL, comic and superhero t-shirts. Favored by fashion experts and celebrities alike, Junk Food's original styles and West Coast attitude set a new standard for original graphic tees."

"Karmaloop.com is a multi-platform web retailer specializing in global streetwear fashion. The site features well over 300 of the best brands from around the planet as well as some of the most unique up and coming product on the Karmaloop Kazbah. Karmaloop.com caters to both guys and girls. The site also features Karmaloop TV the first channel for verge culture with tons of videos including interviews with and content on designers, artists, musicians, as well as original shows, and funny shzzzz."

"Koshka was established in 2010 and is a fashion forward boutique housing young and emerging designers from around the globe. From Natalie Wood, Reality Studio, Samantha Pleet to Tsumori Chisato, we hope to serve as a platform for new artists to showcase their works and as a secret shopping spot for those in the know."
"Lane Bryant is the most recognized name in plus-size clothing, and our emphasis on fashion and fit – not merely size – makes us a style leader. Cacique plus size intimates are a Lane Bryant exclusive and are famous for the fit solutions and fashion styling they offer in bras, panties, sleepwear and more."

"We are a workshop custom making leather bracelets, belts, cuffs and wristbands for both men and women. Lucky Dog Leather accessories are meant to make you feel fantastic. Every item is created to be an outward expression of the super cool, sexy mother f*cker that lives inside you.  Hand made in Los Angeles, we use high quality leather and hardware and our pieces truly stand out with the level of design, workmanship and attention to detail. With the options we offer, you can customize your accessories to be perfect for you."

"At Lula Lu you will find lingerie for petite women ranging from bra sizes 32AAA – 36AAA, 30AA to 38AA, 30A – 38A and 32B – 36B. We carry beautiful and comfortable lingerie that not only fits the petite figure but is flattering as well. And, before selecting the styles, we test all of our products on small-busted women to ensure that the products have a great fit along with style and quality."
"ModCloth.com is a top online retailer of vintage-inspired and independently designed clothing, accessories, and apartment items. In just a few years, ModCloth has grown from humble beginnings in a college dorm room to "America's Fastest-Growing Retailer" securing a significant spot in the indie fashion industry. Much of ModCloth's success is due to our loyal and dedicated community. You're invited to join us on our mission to democratize the fashion industry by becoming an affiliate. Good affiliate partners include sites focused on fashion, beauty, lifestyle, shopping, thrifting, vintage, gifts, eco-friendly, diy, weddings, prom/formal wear, creativity, decor, and other related topics."
+

"Need Supply Co. is a clothing and lifestyle store based out of Richmond, VA. We started selling vintage Levi's in 1996 but have since expanded our offerings to include men's and women's clothing and accessories. In 2008 we launched our web store and have been shipping worldwide ever since. Our home office houses our retail store front and everything from design and branding to online sales. We truly believe in the products we carry, carefully curating a mix of well-known brands and up-and-coming independent designers from the US and abroad."

"PacSun is dedicated to embracing the amazing diversity and unique sense of adventure that California offers at every turn based on this vast, yet attainable state. For over 30 years we've called California our home, with our offices located in the sun-drenched heart of Orange County. With over 600 stores across the country, we strive to embrace and deliver all aspects of the California lifestyle to our customers, leaving the possibilities limitless."

"Since its launch in 2000 as a modestly sized online boutique specializing in hard-to-find denim lines, Shopbop has grown into one of the leading fashion retailers in the world. Curated with a chic, modern woman in mind, Shopbop offers a comprehensive collection of designer apparel and accessories to suit every style and occasion."

"Topman has earned its sartorial stripes with an unswerving, energetic approach to producing truly exciting high-street men's fashion. The brand's attitude to creating brilliant, affordable and authoritative menswear is second to none."

"Torrid's collection of trendy plus size clothing – including the latest apparel, lingerie, swimwear and accessories – is inspired by and designed to fit the young, stylish woman who wears size 12 to 28. Our plus size clothing collections stimulate self-confidence and encourage a woman to feel sultry and downright irresistible."
Also, pretty much any clothing you want can be found on Shopstyle:
---
Media/Music/Entertainment

"Best Buy is the world's largest multi-channel consumer electronics retailer. Since our early days as Sound of Music, Best Buy has provided customers with outstanding choice, knowledgeable advice and unmatched support for their technology needs."

"Pre-order and buy video games, consoles, and accessories at GameStop - largest video game retailer with over 6600 stores in 15 countries worldwide."

iTunes is the world's best way to play — and add to — your collection of music, movies, TV shows, apps, audiobooks, and more. Right on your Mac or PC.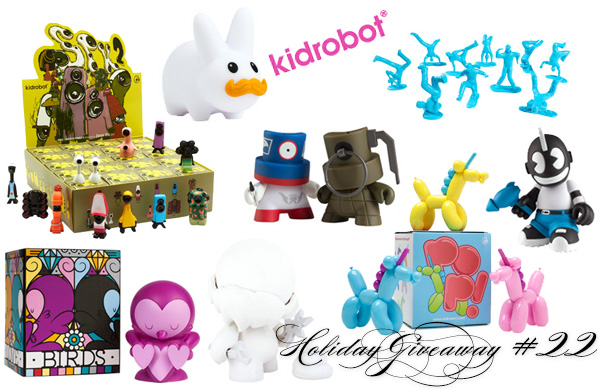 "Kidrobot is a producer and retailer of designer toys founded in 2002 by Paul Budnitz, specializing in artist-created toys and imports from Japan, Hong Kong, and Europe."

MovieGoods is the web's leading destination for many movie related consumer products. The website contains The Single Largest Online Movie Poster Art Product Inventory Anywhere! We currently have over 450,000 unique products in our inventory – all available for sale on this website in a secure and easy shopping environment.

Our mission, our goal, our passion is to provide people all over the world with a great selection of cool retro products at excellent prices, an easy-to-use secure and informative web site and outstanding customer service. From our retro decorated office and warehouse in Nashua, NH., the employees of Retroplanet.com work everyday to complete our mission.
Wolfe is known world-wide as the leader in mainstreaming films with gay content.  We handle each film with individual attention to its unique potential. Our experience is key. Since 1985 Wolfe has dominated this market, developing relationships with DVD retailers, VOD outlets, digital download providers, niche and traditional media, film festivals, broadcasters, International distributors, LGBT organizations, libraries, specialty vendors and consumers. Wolfe's direct-to-consumer assets also include significant opt-in mailing lists, which continue to be strong sales tools. Wolfe has the largest access to the gay niche including special event screenings, creative marketing and a wide variety of on-line and off-line social media strategies.
---
Sex
Claire Cavanah and Rachel Venning opened the first Babeland store in 1993 in response to the lack of women-friendly sex shops in Seattle. The store offered top quality products, a pleasant place to shop, and most of all information and encouragement to women who wanted to explore their sexuality. The store's popularity with both women and men has led to three more stores in New York, plus a thriving and educational website.
Based on the Award-Winning feminist queer porn The Crash Pad, Queer Filmaker Shine Louise Houston brings to the web authentic female and queer sexuality. Here you'll find real dyke porn, lesbians, femme on femme, boi, stud, genderqueer and trans-masculine performers, transwomen, transmen, queer men and women engaging in authentic queer sexuality, whether it is with safer sex, strap-on sex, cocksucking, kink and bdsm,, gender play and fluidity, and always authentic orgasms.
Good Vibrations is the premier retailer trusted for over three decades to provide high quality products, education, and information that promotes sexual health, pleasure, and empowerment. We invented the concept of the clean, well-lighted vibrator store and we're proud to provide a safe and welcoming environment where customers can shop for sex toys, books, movies, and attend workshops.
---
Beauty/Bath/Etc.

Afterglow Cosmetics bridges the gap between natural and high-fashion cosmetics to bring you a truly natural blend of organic infused pure mineral make-up with the fabulous, highly pigmented color palette you crave.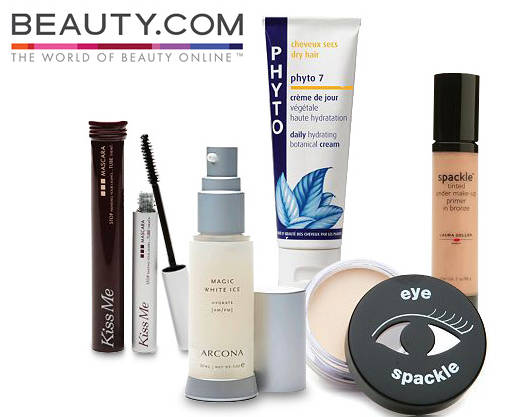 Beauty.com is a leading online destination for prestige beauty products. The web store provides a highly personalized shopping experience and offers more than 250 brands ranging from widely recognized to niche, hard-to-find products.

Bliss Spa is renowned for delivering the world's best facials, massages, waxing and nail services – highly effective treatments that are able to transform not only your appearance but also your overall state of mind. And we're the only spa that lets you bring that unique 'bliss'-perience home with products designed to make you look and feel healthy, beautiful and happy every day.

The Body Shop® offers a full assortment of naturally-inspired products, including bath & body, men's and women's skincare, and creative gift ideas for a variety of occasions. They also offer classic and unique fragrances, home fragrances, makeup, and accessories.
"Since 1974, Claire's has been the fashion authority in accessories and jewelry for tweens and teens between 7 and 18 years of age, while also being the ear piercing headquarters of the U.S. Claire's is the destination for tweens and teens around the world for a fun environment to shop for fashionable accessories and jewelry."

C.O. Bigelow Apothecaries is the oldest apothecary in America credited with making a difference in the way their customers look and feel since 1838. Not only is C.O. Bigelow a place to pick up your hand-made prescriptions but it's also a favorite neighborhood gathering place and provider of unique and unusual personal care remedies. Remaining true to it's traditions, C.O. Bigelow transports customers back to a time and place of personalized attention custom formulas and healing therapeutic preparations.
mark. is an expertly edited beauty & fashion boutique that is constantly launching fresh, on-trend products.
---
Home & Food & Crafts

The Cook's Garden is dedicated to cooks who love to garden and gardeners who love to cook. It's that simple! We travel around the world to seek out varieties with top-notch culinary qualities that will inspire great meals from seed to table.
"Each Cookies by Design location across the country offers unique cookie bouquets, gourmet cookies and other specialty gifts, all hand-crafted with care. We invite you to browse our website, call our cookie consultants, or visit our locations to get a taste of what we can do for you."

"The Craft Beer Club discovers exceptional craft brews from around the country and delivers them each month direct-to-you or your gift recipient. Every selection is produced by small-production, independent brewers who use only traditional brewing ingredients and time-honored brewing methods. In addition to traditional bottled beers, we also embrace the hundreds of small craft brewers around the country that offer their hand-crafted beers in cans. It's the newest way to enjoy craft beers."

We make bright, chic, modern design accents for dorm rooms and apartments across the country. Our bold interior design products are meant to inspire college students (and beyond), featuring bright colors, modern patterns, and, of course, tons of style. Our online store offers a mix of exclusive Dormify products, such as bedding, wall prints and decals, sorority licensed merchandise, care packages and more. We also offer additional products for dorms and apartments, sororities, and college gifts from carefully chosen brands as well.

Shop Epicurious is a website dedicated to cooks, cooking and all products related to the kitchen. It is one of the most prominent and notable websites of its kind.

"Tired of wasting time at the grocery store? On average, 90 minutes are spent on weekly grocery shopping! We want to give you more time for your children, family, friends, and time for that book you could never finish!  We do it all for you – from creating the recipes, to planning the meals, to grocery shopping, and even delivering all of the ingredients right to your door!"

Our products aspire to bring humor, function, organization, and aesthetics to everyday life. We believe that people are intelligent enough to appreciate wit, wordplay, and conceptual thought. Whether we're producing sticky notes or a volume of thoroughly researched nonfiction, we strive not to dumb down as we create. Our sensibility remains proudly distinct.

Stupid.com is all about crazy and insane gifts!
Since 1949, Utrecht Art Supplies has serviced artists, designers, crafters, engineers, architects and hobbyists with national brands and our own high quality brand. We seek partners that will help us grow our customer base in a mutually profitable way.
---
Travel

CheapOstay offers customers over 100,000 negotiated hotel rates to choose from, the lowest hotel rate guarantee, exclusive direct hotel deals, bargain hotel rates on luxury suites, the lowest rates on hotels, motels, resorts and Inns, last minute hotel room deals, 5-star hotels at 2 star rates, free hotel upgrades and thousands of unsold hotels at incredibly low prices. In addition to all of that, CheapOstay offers up to 50% off on notable chains worldwide and the ability to search for hotels by landmark, city, or neighborhood. Our vision has always been to develop and enhance the latest technologies into scalable travel solutions for today's savvy traveler.

CarRentals.com is the premier car rental booking company on the web, offering advanced technologies to both consumers and select vendor partners. We connect directly to our suppliers' inventories without any middlemen. We strive to make our prices more competitive, bookings more accurate, and our site easy to use. We also have the ability to offer our customers one-way car rentals, off-airport, and on-airport Locations.
We aim to provide customers with unrivalled service quality and value for money, which is why more than five million travellers visit our site each year.

Hotels.com gives travelers one of the widest selections of accommodation on the net, including both independent and major chain hotels as well as self-catering in over 220,000 properties worldwide. The company offers a one-stop shopping source for hotel pricing, amenities and availability and also specialises in providing travelers with accommodation during sold-out periods.

The premier online website for providing last minute prices on a variety of travel products…all in advance. The biggest bargain available on the site is its portfolio of 16,000 plus Undercover hotels in 2,500 major cities worldwide.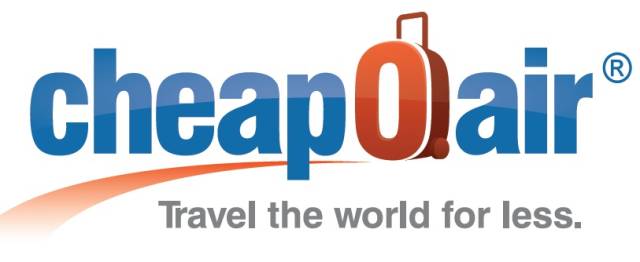 CheapOair is one of the most popular travel websites where smart travelers find high value, low cost travel solutions. Consistently ranked among the top five online travel agencies by Experian Hitwise, our innovative technology and strong supplier relationships allow us to scan over 450 airlines in seconds, returning our guaranteed best price on flights, hotel reservations, car rentals and vacation packages worldwide.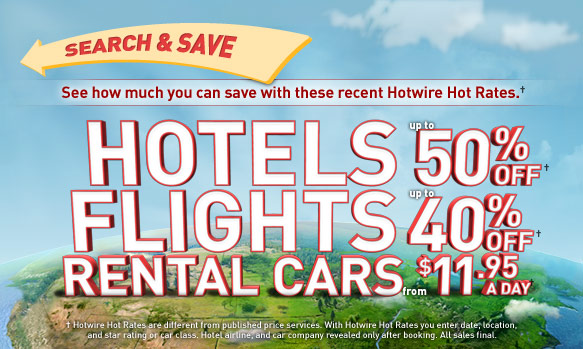 Hotwire is a leading discount travel site that offers ridiculously low prices. How do we do it? We have special relationships with major travel providers to help them fill airline seats, hotel rooms, and rental cars that would otherwise go unsold, so our customers get them at prices lower than many other travel sites. And unlike other discount travel sites, our posted price model makes it easy for our customers to find a great deal without bidding or guessing.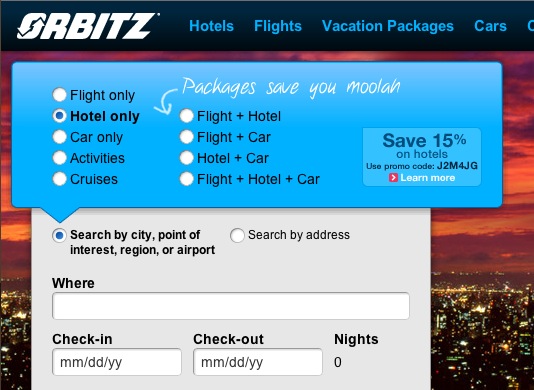 "Orbitz Worldwide is a leading global online travel company that uses innovative technology to enable leisure and business travelers to search for, plan and book a broad range of travel products and services including airline tickets, hotels, car rentals, cruises, and vacation packages."