DIVA Magazine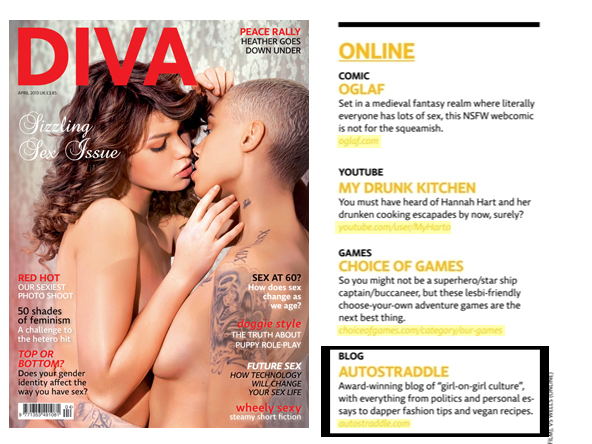 Autostraddle is featured in DIVA Magazine's May 2013 issue!
++ ++
24th Annual Glaad Media Awards

Autostraddle.com has been nominated for "Outstanding Blog" in the 2013 GLAAD Media Awards!
++ ++
Indiegogo's Top 12 Creative Campaigns
"As this popular queer lady website became so popular that the site was breaking all the time, its founders decided to run an Indiegogo campaign to improve Autostraddle. By mobilizing their large fan base and offering them exclusive perks, they raised over $116,000 — almost triple their goal."
++ ++
2012 Weblog Awards
Autostraddle.com nabbed the 2012 Bloggies for the year's highest honor -- Weblog of the Year as well as Group/Community Blog AND Best Entertainment Blog!
++ ++
The Examiner - "Autostraddle.com: A Great Lesbian Resource
"Talented lesbian writers tackle topics across the spectrum, making Autostraddle a compilation of lesbian/bisexual/female information, a one-stop wealth of refreshing, clever, well-researched, on-target information. The website is powered by passion and a love for the website, and has become "the world's most popular independently-owned lesbian website."
++ ++
Curve Magazine - December 2011 Holiday Issue
Curve Magazine features The Autostraddle 2012 Calendar in its annual holiday gift guide:
"Back for a second pulse-raising year, Autostraddlers Robin Roemer (photographer) and Sara Medd (stylist) are bringing their special brand of SoCal sexy for your daily pleasure. By selecting calendar girls with an emphasis on diversity, intelligence and hotness, Roemer and Medd wanted to strip away gender and sexual identity stereotypes (as well as clothing). Plus, the 2012 Autostraddle Calendar features several familiar faces, including uber-sexy butch comic Julie Goldman, and Real L Word lovely, Francine Beppu."
+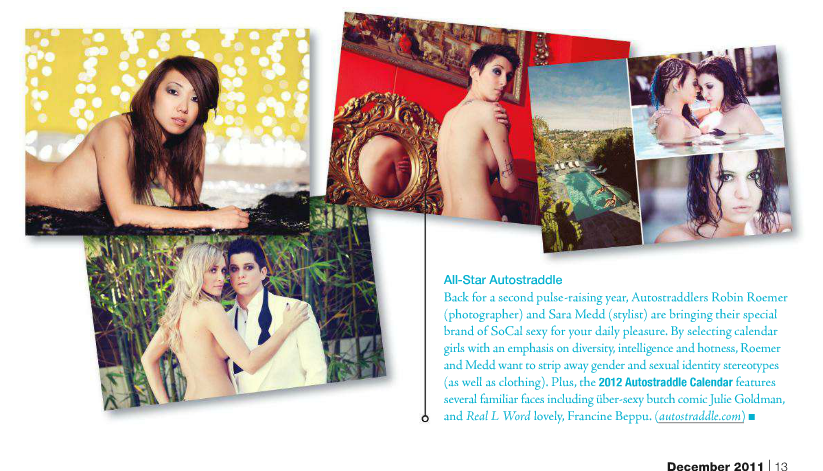 Curve also featured an interview with photographer Robin Roemer on their website and it's super-perfect and you should go read the whole thing.
What drove you to create the Autostraddle calendar?
Riese and I were talking at some point. I think it was after the site had been up for a year. And we were kind of like, it's not really fair that Maxim and GQ and all these magazines have this monopoly on these sexy features on women, and these interesting things about them, their pictures, just fun highlights. So we decided we wanted to do something like that where we could feature a woman each month and talk about them and do a fun photo shoot, but we wanted to do it a little differently. So the first year it was kind of this idea that we would feature one woman a month and we would really listen to them, and we wanted to stay true to their style and who they were. I worked with Sara Medd, who's an amazing stylist, who used to be here in New York and now she's in LA. It was really fun and it was successful, but then this year, thinking about how we want to change and go forward, we really started to think about how we want it to be more of a series, more of an art piece. We wanted to do these images of women and it was going to be less about wardrobe and even less about body and more about body language and what we represent with our naked selves, what sort of vulnerabilities and what about our personality we get across while stripping away these layers of superficial stuff, like wardrobe.
++ ++
gaeLick.com
Irish website gaeLick featured the Autostraddle Calendar and conducted an Autostraddle Calendar Giveaway.
"A is for Austostraddle – specifically their fabulous 2012 calendar featuring oodles of gorgeous North American leslies. If you thought the All-Ireland Champions' calendar was a good 'un, well hold on to your hats: This one is produced, photographed, make-upped, hair-did and modelled by and for lady-lovin' ladies."
++ ++
Rookie Magazine Recommends
+
New York University Pride 2011: "Queer My Blog" Panel
Autostraddle's Editor-in-Chief Riese Bernard was invited to speak on a panel called "Queer my Blog" at NYU for their 2011 Pride Week, along with Mo & Ryann from Brooklyn Boihood and Dannielle & Kristin from Everyone Is Gay. Everyone had the best time ever.
++
+
GO Magazine - 18 Red Hot Entrepreneurs 2011
  18 Red Hot Entrepreneurs 2011 featured the dream team behind Autostraddle.com's first original narrative webseries, Unicorn Plan-It!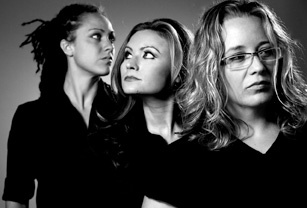 "This innovative trio's collective experience ranges from behind-the-scenes production to the largest of stages, venues and screens... the brains behind the sidesplitting new Web series Unicorn Plan-It (distributed on Autostraddle.com) about a lesbian event planning company in L.A. They refer to everyone as unicorns because, as everybody knows, unicorns are really just lesbian horses. "It's amazing to be able to work with who we want to work with, make what we want to make, and be our own bosses," Croce says. "We can depend on [this project] to always be collaborative and rewarding." + ++
++
Jezebel.com
Autostraddle is frequently republished on Jezebel.com (and vice versa), the most popular feminist website on the internet featuring "gossip, culture, fashion, and sex for the contemporary chick" for 2 million monthly readers.
++
Wolfe Video Q Movie Blog
Riese featured on Q Movie Blog's VIP Fave Q Movie Pick: "We ask today's hottest queer and queer-friendly filmmakers, stars and community leaders to answer the question: "One of my Favorite LGBT Movies Is..." 
++
Doll Mag - Interview with Lena Chen
  Interview with Lena Chen of the chicktionary: "I'm a big fan of Autostraddle, which is one of the most feminist, sex-positive, body-positive, and gender-transgressive websites out there — and all without ever being explicitly political about it. There are tons of blogs that label themselves as feminist, and Autostraddle does identify itself that way as well, but the site's focus is on pop culture and lifestyle, not gender deconstruction 24/7. I appreciate that because I think there needs to be a healthy dose of "fun" alongside the often serious topics in social justice. Autostraddle has built this incredibly amazing and engaged community, and readers feel like they know the writers, which is how the site has become a truly safe space." ++
BlogHer '11 Conference
+ Autostraddle's Editor-in-Chief Riese Bernard was invited to speak on a panel called "Change Yourself: How Do You Sustain an Online Community and Keep Your Own Sanity?" at the 2011 BlogHer Conference taking place in San Diego August 4-6. You can read the transcript of that panel here. ++
GO Magazine - 100 Women We Love 2011

+
Women We Love 2011 once again featured Autostraddle.com's editor-in-chief, Riese Bernard:
"Autostraddle.com, Riese Bernard's phenomenally popular Web site, has enjoyed explosive growth in the past year. The site doubled its readership with lady-friendly advice columns, snarky cultural commentary and political news; launched a redesign and added social networking tools; coordinated a worldwide meetup for fans; and opened its online store. What's the secret to Autostraddle's success? "We employ a funny, conversational tone to make all that complicated DOMA and DADT stuff make sense and be fun to read, so everyone is informed and can fight properly with their parents at the dinner table," Bernard laughs. "When readers tell us they've met other queers, come out to their friends and family, stopped hating themselves and decided life is worth living because of Autostraddle, that's not just the most rewarding part of my work—that's the most rewarding part of my life."
++
Netroots '11
  Netroots Nation 2011 invited Autostraddle writer Katrina Casino to be on a panel called "Queer Media and the Alternative Revolution" with Zach Rosen of The New Gay. Also called the YearlyKos Convention, this year the progressive political event took place in Minneapolis from June 16-19.
++
Huffington Post
  Autostraddle named as a leading progressive blog in present-day feminism, along with Bitch Magazine, Clutch and Feministing, in Rachel Kramer Bussel's Post-Feminist': Why Ubiquitous Use of the Term Is an Insult to Feminism.
+
Curve Magazine - First Annual Curve Lesbian Awards
Best Blogger Finalist: Riese Bernard
Best Web Series Finalist: Autonatic, Julie & Brandy in Your Box Office
Best Lesbian Website Finalist: Autostraddle.com
+ ++
We Have To Stop Now - Affiliate Spotlight
The talented ladies at We Have to Stop Now have sent out their August 2010 email newsletter and guess who the 'affiliate spotlight' is on this month?! It's us! We're happy to be partnering with the critically-acclaimed lesbian web series. Support them and get yourself a subscription to Season 2. WE'RE NOT KIDDING. [See the newsletter here]
+
GO Magazine - 100 Women We Love 2010

+ Every year, GO Magazine celebrates "100 out lesbians who have made the past year one of inspiring change and amazing progress" in its 100 Women We Love issue. The class of 2010 included a few Autostraddlers: Julie Goldman – Comedianne/Actress, 'In Your Box Office with Julie & Brandy' Sarah Croce – Actress/Model/Host/Miss April! Dani Campbell – TV Personality, Autostraddle Correspondant and Riese – Editor-in-chief of Autostraddle.com:
[Read the GO! Article]
+
Velvet Park - Interview with Kelsey & Taylor June 2010

+ So four lesbian mediaites walk into a coffee shop and an impromptu interview occurs! Grace Moon and Katrina of Velvet Park run into Technostraddle Editor Taylor and video-editor/elf-scot Kelsey. [Read the Interview here]
+
OurScene TV -- Autostraddle's Top 5 Dinah Shore Moments April 2010
+
"Kelsey Lisette and Marie 'Riese' Lyn Bernard, two of Autostraddle's finest ladies, sat down with OURsceneTV to talk about the top 5 moments of the 'wonderful, illustrious, well-populated, naked Dinah Shore Weekend.' From losing your mind to watching the ground shake underfoot...the girls dish on how the Dinah lived up to their expectations!" [Watch Autostraddle's Top 5 Dinah Moments video here]
+
BlogHer '10 Conference
+ Autostraddle's Design Director Alex Vega has been invited to speak on a panel during the BlogHer 2010 Conference called "Good Blog Design: The Role of Layout in an Online Medium" for the 2010 BlogHer Conference taking place in NYC August 6 & 7. [Read/see more!]
+
curve magazine - may 2010 issue

+
+ A reprint of our Top 10 Lesbian Fashion & Style Icons article: "Who better than the hip chicks at super cool Autostraddle.com to tell us which lesbians are the top fashion and style icons? Writers Alex Vega and Riese explain who makes the grade and why we should thank them for bringings lesbians to the forefront of fashion."
+ + + + + + + + + + ++
++
++
++
++
++
grace the spot - February 23, 2010
+
"Autostraddle has grown from a seedling into a hot sprawling mess of technicolor ivy blanketing the lesbian blogosphere. Every tenth lesbian you see on the street is an Autostraddle intern, and the site gets more traffic than the Jersey Turnpike during rush hour and the hot tub in Jersey Shore combined." [Read more]
Vue Weekly - January 28, 2010
+ Interview with Riese "The world of media geared towards queer women has been so small for so long, that I have to admit I stopped longing for any better.... then came Autostraddle.com... debuting last March, the site is the firey brainchild of New York based journalist & writer Marie "Riese" Lyn Bernard... she cites inspiration from sources as diverse as Sassy Magazine to Pump Up the Volume to Andy Warhol and the Factory. One of the things that makes Autostraddle so interesting is it's focus on community building... Autostraddle stories run the gamut from pop culture to social issues to politics. Articles about Lady Gaga sit alongside ones about queer families and gay marriage votes." [Read more]
Interview Part II "Autostraddle.com [is] the coolest thing to hit queer-girl media since, well, ever. With features ranging from Prop 8 daily coverage to a feminist take on Taylor Swift's career, Sister Spit and the Lesbian Avengers to two original webseries about to launch this site really ought to be a frequent read." [Read the rest here]
Sisters Talk Radio - January 4, 2010
Tila Tequila - December 23, 2009
+ "This is a great fucking interview!" [Read her post here]
Time Out Chicago - December 3, 2009
+ "Its stiffest competition might be newcomer autostraddle.com (check out that retro font and color palette!), which launched in March as an online community for young, cutting-edge queer women. We dig Autofocus, its photo blog, the L Word vaults (will this show ever die?) and its sly advice for gay men (like a recent open letter to Adam Lambert)." [Read the article here]
+
2009 Lezzy Award Winner for Best New Blog
+ The Lezzy Awards showcase the best of the best in lesbian blogging and we are honored to have been voted the Best New Lesbian Blog by the people! The Lesbian Lifestyle writes: "The new and wonderfully improved Autostraddle has made it's name on the lesbian blogging scene. The site is packed full of everything a lesbian could want." [See all the winners here]
+
Lesbian Lounge (MyLesbianRadio.com) - September 2, 2009
+ "I can't get enough of this site. I don't usually go bezerk over a website — I usually check them out and then I report the best stuff... but every single thing on [Autostraddle] is the best. There's something for everyone on this site. The graphics are great and we love them." [Listen here]
Talk with Tim - August 6, 2009
+ Interview with Riese: "What really caught my eye is that AutoStraddle looked like an great site, it was launched in early 2009 and the quality of the work there is apparent at first glance. With their engaging and often humorous writing style, I deduced that any question I posed would get an equally fun-to-read response. (As you'll soon see, my deduction was correct.)" [Read the interview here]
Lemondrop.com - July 10, 2009
+ "Autostraddle is a sassy new lesbian site we love. We're crushin' on their honest and witty take on everything from style to politics, with, of course, some sex thrown in there for good measure. Plus, their mainstream coverage appeals to all women: gay or straight. It's kind of, so to speak, everything a girl could ask for." [Read more]
Craftster.org - June 29, 2009
+ Cool Stuff Happening at Autostraddle.com
Jonny McGovern Gay Pimp Podcast - June 9, 2009
+ Interview with Riese & Carly "LEZtastic! The supercool lez ladies of Autostraddle.com visit the studio to give us the lowdown on the latest in lady on lady lovin' and their hot new website in the latest edition of Martin's Awkward Interview series!" [Listen to the episode here!]
EurOut.org - May 9, 2009

+ "Autostraddle: These guys are simply awesome. They have the best and the most fun stuff on their site, and the Autostraddle team comes across as very enthusiastic and fun. Not to mention very cool. I secretly wish I was half as cool as those girls." [Read the article here]