Postcards are important.
Last summer I scoured the Earth for the perfect postcard, or at least all of Providence, Rhode Island. I bought three at the Brown student store, and practiced writing "wish you were here" in different heights and places on the front of one in order to figure out what I would finally write on the right one. I sent two of them to the same person. I was very much head over heels. I wanted to keep her with me, so I figured I'd tell her where I was. And so I sent her two postcards.
I started collecting postcards in vintage and thrift stores, sliding stacks of them along my fingers until I found someone else's something special. Then I started to ask my friends and acquaintances - anyone who was traveling - to send them to me. I collected them while my friends were abroad because I couldn't be with them, because I hadn't been anywhere. Because I yearn for small pieces of other people that are special and belong to me. Because I'm too broke to travel but not too proud to ask for a small piece of paper from someone who can.
When I was 19 it was 2009 and I lived on my own for the first time in my life. I lived in a big white house on Porter Street, where six bikes sat in the living room at all times and Libby and I would pick flowers before brunch every weekend. I lived with her on the back porch and she would always want to craft and smoke and so we did. I made postcards with her one afternoon.
That summer my best friend Kelly was abroad in Spain and I would cry on the bus because I needed her there, just a little closer. I dreamt of keeping a notebook of letters to her but never said anything new, just "please come back" and "I miss you." I was often drunk. She sent me my first unrequested postcard. It made me cry on the spot, happy tears of love and friendship and wishing I could be sharing that with her. A little piece of her. A little 5x7 piece.
2009 was also the year they sent me to California, months earlier when I was still going crazy and I remember it was my first time ever on the West Coast and I cried when I landed in Dulles. "I don't want to go back," I told my mom. "I should never have left." I was there to present a bid at a conference, but spent my trip watching boats on the bay and listening to Cat Power.
When I got back I frequented vintage stores in an effort to find some old postcards. I found one depicting Los Angeles. I began to keep it on my bedside table to remind me to go back.
When I came out in 2010 I was enrolled in a class called "PR Writing," which I often bullshitted so that I could focus more on my feelings. At the end of the semester my professor thanked us, her inaugural class in her career, by writing us notes on her own stationary.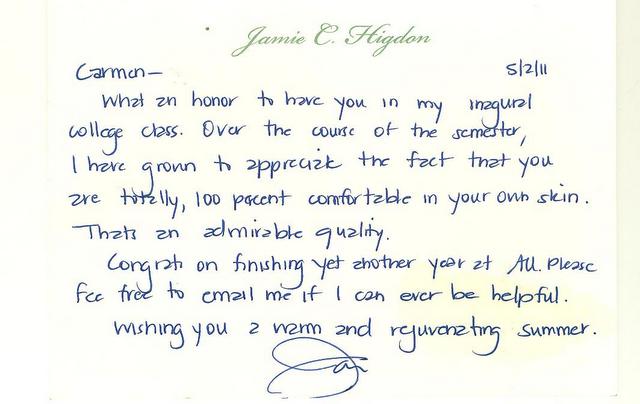 In 2011 Josh went abroad and so did his friend Emma. He went to Paris and she went to India, and I asked her to send me a postcard because The Darjeeling Limited. She did, and it fit perfectly with the lasting theme of our home: "too fucked up."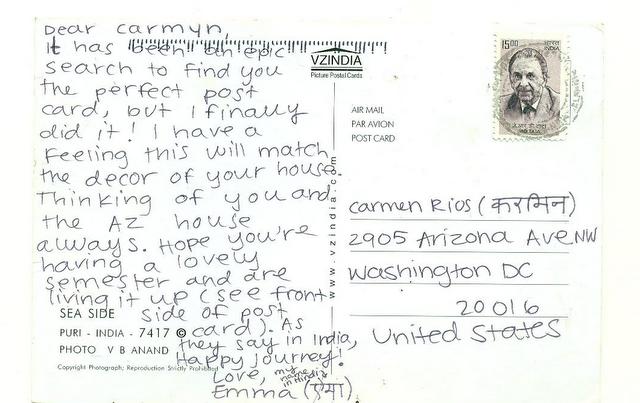 And that summer, Charlotte went to Pakistan and bought me a little change purse that said "WOMEN CAN DO EVERYTHING," and when she got back to LA she wrote me.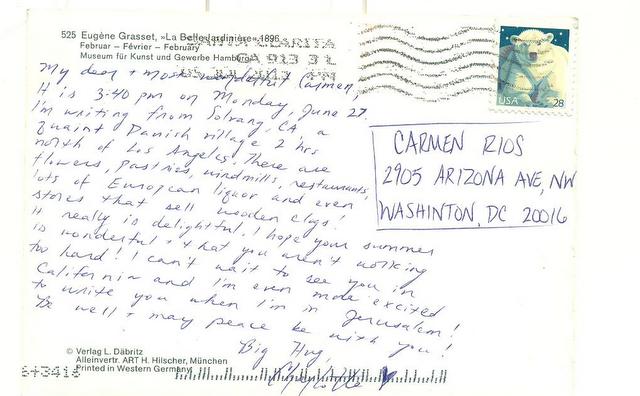 Her friend Anna, who I knew vaguely because I had become her boss as Director of AU's Women's Initiative, also went to India. She sent me two postcards because I had asked for one, and she is tremendously good.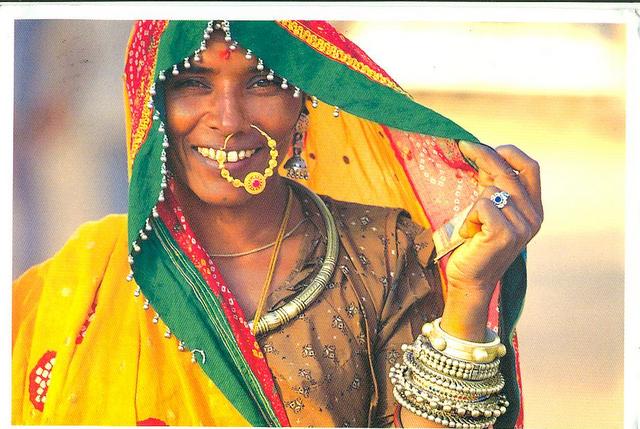 I have often saved things to remind me of other places: shipping envelopes with my various addresses on them, big cards and old envelopes and journals and photographs. Postcards are important because they remind me of the hearts I've lived inside of. They're a simple mechanism for measuring love. 5x7 inches of someone else's place just for you. That's big enough for "wish you were here."