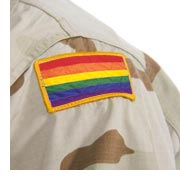 Culled from responses cited in the Department of Defense's "Report of the Comprehensive Review of the Issues Associated with a Repeal of "Don't Ask, Don't Tell" from soldiers both against and for a repeal of DADT. (The soldiers were acutely in favor of repeal, the over-representation of the pro-DADT responses on the list below indicate nothing more than the increased ridiculosity of the anti-gay statements versus the pro-repeal statements which sort of make me cry irrationally onto my keyboard out of love) (Okay, this is now a Listling with Commentary)
1. "Tell him if he hits on me I will kick his ass!"
2. "You just can't show them around. Can't take them out to a bar."
3. "All I care about is can you carry a gun?"
4. "Like adultery, and drug use, I can not tolerate homosexuality. I will not work side by side with someone that is an adulterer, a drug addict, or a homosexual."
5. "Given a task, a homosexual and a heterosexual can probably accomplish it the same way, so it should not have too much of an effect on getting the task done."
6. "I think homosexual sex leads to diseases."
7. "Am I supposed to celebrate gayness—do they get to wear a rainbow flag on their uniform? If that is the case, this uniform isn't worth wearing."
8. "Some will be flamboyant; they might get a beating."
9. "I'm raising my family and was brought up a devout Catholic. Now all of a sudden Adam and Steve move in next door."
10. "It is hard to explain to a child why their parents can't hold hands or attend school or unit functions together the way other families do."
11. "What would they [the DoD] do? Come out with a memo saying that the Bible, Koran, etc are wrong and that it is ok to be gay?"
12. "About separate facilities: we all went to college and stayed in dorms, we are all adults now and we have accepted it."
13. "Those who are openly gay will be excluded from social functions, such as barbeques."
14. "If you are in an infantry company in a fire fight, and you have an open homosexual who gets wounded, who is going to want to treat him for the fear of HIV and other stuff?"
15. "People get drunk and it's a whole other thing."
16. "I believe that the impact would be devastating to me, my family, my unit, the military, our country and the world!"
17. "This is an equality issue, and who doesn't deserve equal rights? We've done it before with African Americans, and we have done it before with females. We can do it again. As brothers and sisters in arms, we stand and fight not only for our country, but for one another."
Listicle Without Commentary concept stolen from The Awl, consequently made into our own.