USA WOMEN'S GYMNASTICS: ALL AROUND QUALIFIER
Gabby Douglas & Aly Raisman (Aly beat out favorite Jordyn Wieber in a stunning upset)
Individual Apparatus USA Qualifers:
Vault- McKayla Maroney: 1st
Uneven Bars- Gabby Douglas: 6th
Balance Beam-Gabby Douglas 3rd & Aly Raisman 5th
Floor- Aly Raisman 1st & Jordyn Wieber 6th
Brandy: Gymnastics!!!!!!!!!!!!!!!  That girl Aly did great! Great fucking landing.

Julie: God damn they get so high. I can't get past the leotard. I always think it must be so uncomfortable.

Brandy: Camel Toe central. I think Aly is my favorite. That girl Jordyn Wieber is the captain of the team.

Julie: Yeah don't they always need to pull that shit out of their butts and stuff. I can't tell who's the best yet.

Brandy: I just go by who I think is the prettiest. But give it time -- you'll form your favorite through your own system.
+
+
Brandy: Their little butts are so cute! Cupcake butts. I wanna squeeze em.

Julie: I wish you were the TV broadcaster and said that to the world.
Brandy: McKayla is cute. I like how she wears her pony tail.
Julie: Jesus Christ she's powerful. Too much power in the powerhouse.

Brandy: She vaults two feet higher than anyone else in the world and that's why she almost flew off the goddamn mat!

Julie: I wish she flew into the audience. And like took out a row of people. And they got smothered with her cupcake buttocks.
+
+
Julie: Holy shit! She stuck that shit.
Brandy: Yes! McKayla is cute. She might be my new favorite. She's the best vaulter in the world.
Julie: She is cute and the best vaulter.  So far she's my fave. I like how powerful she is.
Brandy: The Olympics are ALL about gymnastics. Period.

Julie: Yeah. Yeah, I agree.

Brandy: She killed that shit!

Julie: She literally has a cupcake butt.

Brandy: And I've never seen anyone wear their ponytail like that in the Olympics. She's an original.

Julie: Sprinkles should make a cupcake called the McKayla.

Brandy: Yes! Hostess should. We can take that idea to Shark Tank.

Julie: Yeah hostess! Oh gawd yes. "Barbara. Hello, Sharks. Our company is called 'Olymp-cakes.' Our best seller is a white cake and white frosting buttock size little lady called the McKayla. Yes Barbara, you can taste it."
Brandy: Balance Beam is stressful.
Julie: So stressful. This girl looks like she's 10. I love the bars. I like when they go around and around and I like the pommel horse and rings. Why don't the girls do those?

Brandy: I don't know. Sexism probs.

Julie: You're right! God dammit!
Brandy: I knew you'd agree with me!
Julie: I always agree with sexism. Its true.

Brandy: Here comes Team USA on uneven bars.

Julie: Yes! I love the bars. AND the gerls don't do the one bar. They do the two I think. Sexism! And racism. Why not just throw that in too?

Brandy: This is USA's weakest event. The uneven bars.

Julie: If you could do one apparatus what would it be?

Brandy: Floor.

Julie: Ahh yes. Very classy. Elegante. Dahhncer.

Brandy: You?

Julie: Hmmm. Either the pommel horse or the bar they fling around on.

Brandy: Those are guy events!

Julie: Yes, they are. I know. But I wanna wear the pants and the tank top and do that thing they do with their legs on the horse...What's that called? Scissoring.
Brandy: It's cute that there's a girl named Jordyn and a girl named Gabby. Kinda like Nicest Thing <3

Julie: Ohhh yeah..  Can you imagine if one of those guys said the gerls have cupcake butts? I can't stop thinking about it and how I wish someone would say it and start a controversy.
Brandy: The fucking Euro judges are robbing us! I'm pissed!
Julie: They hate America. Here comes the Brit. The greatest gymnast great Britain has ever produced? I wonder if they're allowed to wear the men's costume if they want. Probably not. Sexist.

Brandy: She was just so/so. For the best gymnast the UK has ever produced- she was just average.
+
+
Brandy: One of these girls is obsessed with Justin Bieber and her whole thing is meeting him. I can't remember which one.
Julie: Ha. That's hilar. If she goes to the finals, I'm sure she'll go on Ellen and then Ellen will have Justin Bieber meet her. And we can all throw up.
Brandy: I think it's Jordyn Wieber.
Julie: Of course it is.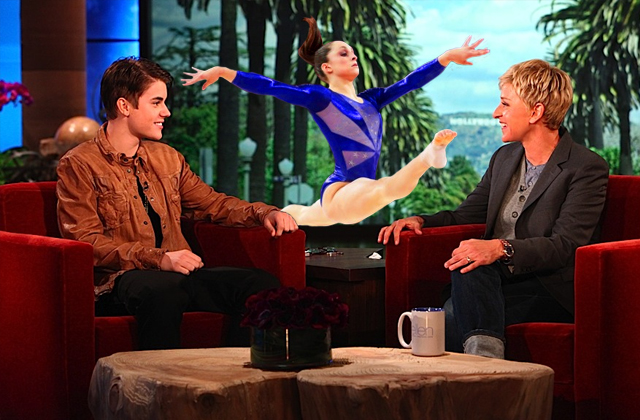 Brandy: And if she marries him her last name will stay almost the same.
Julie: She would crush Justin with her thighs. Jordien Weiber Bieber. Jordan Weiber Boog Bieber.
Brandy: Jordyn Bieber has a cute butt too.
Julie: I love sports support talk. "You got it. Come on. You got this. You love their butts. Etc. etc. et. al. such as." That kind of reminds me of one time we took a family picture and my grandmother kept squeezing my butt and I was LIVID. Oh here's Aly. 
Brandy: Aly is so fucking good! I love her. She did great on beam. That's her best event.
Julie: Yeah that was fierce gerl.
Brandy: Aly and McKayla are my faves. Who are your faves?
Julie: I love the super vaulter.

Brandy: McKayla.

Julie: I haven't seen Aly enough

Brandy: And you like Gabby.

Julie: But so far Gabby and McKayla. Maybe we'll do Hope Springs for our next In Your Box Office. I've always wanted to play Tommy Lee Jones.
Brandy: Gross.
Julie: Isn't Tommy Lee Jones sexy. Hmmm Tommy Lee Jones. So is there any more gymnastics?

Brandy: There's one more event. Floor. And then we'll find out which two will compete for the All-Around medals.

Julie: Oh yeah! You are fave McKay. Ok. Great. Ok here's the floor. Bringing it to the floor.
Brandy: See- Aly is about to beat Jordyn out of the All-Arounds. And that'll be an upset. And it's within their own team.

Julie: Oh! I see. I see. Those gerls are bffs. She's doin' some Phantom of the Opera shit? Oh boy, she's put Out.
Brandy: Kyla and McKayla are like Nadia and her friend from the movie. Cute. We are watching that shit. Tomorrow.

Julie: Oh, I'll check Netflix. McDonald's has an under 400 calorie menu.

Brandy: Awww HELL NAW! We gotta get the fuck over to McDonald's! ASAP!

Julie: I know!!! Awww Gabby 's done.

Brandy: Gabby is screwed. Bitch flew out of bounds. Damn.

Julie: Bitch FLEW out of bounds.

Brandy: She's dying inside. Gabby was a favorite for the all-around.

Julie: Oh well she can do another Olympics. I don't even feel bad for her.
Brandy: I feel more bad that I can't eat a Fillet of Fish right this second.
Julie: I feel more bad I can't afford one. Mmm I could eat that sandwich in less than a second. 
Julie: Ok Jordyn Bieber. Get in there and do this thing.

Brandy: Come on Jordyn Bieber!

Julie: I can't wait for my abs to come in. I'm gonna be like a fit and cut homeless person. Where you're like awww that person is homeless but damn they're cut! Come on Jordyn now is your chance to get on Ellen.
Brandy: She went out of bounds. That will be a big deduction.

Julie: Everyone went out of bounds. Like the 80's movie. Out of Bounds. Ok here comes Aly. Ohh Gabby beat Jordyn?
Brandy: Gabby beat Jordyn Bieber even though she FLEW out of bounds.
Julie: That's cray.

Brandy: Now I'm bummed cuz if I pull for my girl, then she'll beat out Bieberlover.

Julie: Whoa Aly is killlling it. She's doin' some Jew music. Hava Nagila.
Brandy: She's gonna steal that All-Around place from Bieber! Aww.
Julie: Haha. They just said "hava nagila!" And who knew? This Jew. Awww pooor Bieber.

Brandy: Don't try and take her as your favorite now.

Julie: I won't. I'll root for the underdog.

Brandy: I feel sorry for Jordyn Bieber. She was the front runner and the favorite and the Jew came in and jacked it. Per Usz.

Julie: Per USZ . Aww poor Jordyn.
Brandy: Wow, that's intense.

Julie: Oh well, she can come back too.

Brandy: Seeing her cry is too much. Just not gusto.

Julie: No BUT that's the Olympics! Come back in four years Jordyn and beat everyone.

Brandy: It's her last Olympics! I know that's hard for you to accept.

Julie: Oooof that's brutes. Oh it is? Why is she old? Like 18.

Brandy: She's the reigning world champ and she's not in the All-Around. It's unheard of.

Julie: That's sad. Oh she's standing there behind Aly Jew. Oh gawd.
Brandy: It's really sad.

Julie: Oh FUCK.

Brandy: But we are old and broke and no one wants to make our movie. So FUCK THESE LITTLE BITCHES!!!

Julie: Yeah, they were born in 1994.

Brandy: And goodbye.