You guys, I was so looking forward to TV being back on in the fall, but now all I want to do is watch TV. It's so bad! Luckily, we've got you covered from head to toe in tv recaps and shorts. First up, a Glee fashioncap. We've got about a petrillion other shows that we're talking about too so don't forget to check those out. Riese wrote you a soundtrack for being in love and everyone picked their favorite musical soundtracks. Katrina covered the situation in Chile, Lizz made Lokshen Kugel for Rosh Hashanah, and Laneia taught you how to do chores with your children. We threw a lot of help at you this week in the form of a Riese/Haviland vlog, Laneia's extended potato soup metaphor, and Riese's advice to seek professional help. Finally, you should probably stop by your favorite library or book store and pick up Fun Home so you can participate in the fourth Autostraddle book club. And now the ASS Group of the Week:
Straddlers Who Work in Theatre
Chances are you don't actually have gainful employment in theatre because of, you know, the economy or whatever. But maybe you do tech crew in high school or study Theatre in college? Join the group! I mean I (Brianna) don't really "work" in "theatre" so much as I "sit behind the sound board looking frightened and confused, for free" and no one has kicked me out yet.
---
On NSFW Sunday: A Lesbosexy History Lesson:
The What Generation Gap? Award to Lissi: "Half way through the vintage photos, i wondered if these women are now the old ladies who high five me on the street for kissing girls and smacking asses.
or maybe they're the old ladies who smack my ass."
On You Need This: The RodeOH Harness Will Start a Revolution in Your Bed:
The You Need a Cat Award to Lana: "The fact that when I read the word harness the first thing that came to my mind was new collars and harnesses for my dog, shows just how long it's been since I last had sex. -__-"
On Glee Fashioncap 301: Gay Characters Dress Gay! Straight Characters Also Gay!:
The Her Voice Would Make Subway Rides So Much More Pleasant Award to Lora: "Oh no, it was lower and raspier. Which is why I'm starting a foundation called, "The 'Get Dianna Agron to Record Every Audiobook Ever From Here on Out' Foundation.""
On Southwest Kicks Leisha Hailey Off Plane For Kissing Her Girlfriend, Starts Internet Sh*tstorm:
The Where's Marina? Award to terracottatoes: "this airline tastes like poopy shit"
On You Need Help: Fake Orgasms and Potato Soup, Sorta:
The ALL CAPS Award to pyrrhic: "COOK 1 LB OF BACON IN A BIG ASS DUTCH OVEN UNTIL IT'S DONE. RESERVING 1/4 C OF GREASE, REMOVE BACON AND GIVE A PIECE OF IT TO YOUR GIRLFRIEND. IF YOU NEED A FIFTEEN TO TWENTY MINUTE BREAK IN THE RECIPE THIS IS THE TIME TO TAKE IT. PLEASE NOTE: YOU PREPARE FOOD ON THOSE COUNTERS.
SAUTEE TWO CHOPPED STALKS OF CELERY AND A FINELY DICED ONION IN THE BACON GREASE UNTIL THE ONION IS CLEAR. STIR IN 8-10 CUBED POTATOES, TELL YOUR GIRLFRIEND TO STOP DISTRACTING YOU WHILE YOU SAUTEE THOSE SUCKERS FOR FOUR MINUTES, THEN ADD ENOUGH CHICKEN STOCK TO COVER,
TURN DOWN THE HEAT ON YOUR STOVE AND "TURN UP THE HEAT ON YOUR STOVE."
WHEN YOU'VE OVERCOOKED THE POTATOES, SWEAR BRIEFLY AND THEN MAKE A ROUX WITH 2 TBSP BUTTER AND 1/4C FLOUR IN A SEPARATE PAN. WAIT FOR YOUR GIRLFRIEND TO APPRECIATE THE FACT THAT YOU KNOW HOW TO MAKE A ROUX.
ADD A CUP OF HEAVY CREAM. RESERVE REMAINING CREAM FOR OTHER THINGS. COMBINE CREAM MIXTURE WITH SOUP; PUREE HALF OF SOUP MIXTURE, RETURN TO PAN, GARNISH WITH TARRAGON, FRESH CILANTRO, CHOPPED BACON, AND SUMAC IF YOU HAVE IT.
CONSUME – NIPPLE CLAMPS OPTIONAL BUT ENCOURAGED IF YOU'RE INTO IT."
The CliffsNotes Award to Kestrel: 
On Southwest Refugees Leisha Hailey and Camila Grey are Making a Statement:
The Worst Punishment Ever Award to TSwizzle: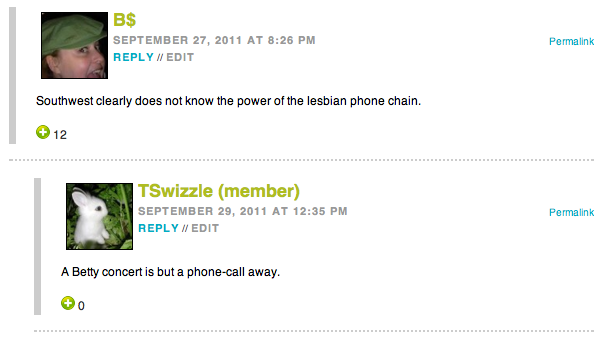 On Hannah Hart Shows Us Her Noms, Rap Skills, Cute V-Necks:
The Pun Police Award to idotry and bookbound: