Lightweight Scarf
by Intern Jess


My fave accessory for fall is a nice, lightweight scarf. I really feel like wearing a scarf can autoimprove any outfit – the key is to go for thin and lightweight material so you can wear it throughout the day. Play around with plaids, solids, and color coordination. Plus, you can tie them round your bod in many different ways, however you feel comfortable. It's like wearing a hug around your neck all day! (tm carlytron)
Another quick fix to any outfit is a cute hat, which can be found at virtually every sidewalk stand in New York City.

Green Sweater from American Apparel
by Intern Emily
Fall is fun because you get to wear sweaters, which as Carlytron said, is like wearing a big hug! Depending on my mood, I like to wear two different kind of sweaters: hoodies or zip-ups. When I have 8 am classes and I can hardly open my eyes, I love to put on a pair of sweatpants and a big hoodie (which also covers my probs dirty hair). When I'm not feeling like a lazy bum I prefer zip ups. My favorite is a green sweater from American Apparel whose only downside is the lack of a hood. BUT it goes with every single pair of pants I own which is handy since I forgot my second favorite sweater at Riese's apartment and have to wear it a lot.
Here I have chosen Tegan Quin to model my Favorite Sweater Ever because she is nicer to look at and also to get you excited for their new album!
Let's Wear a Dress
by Intern Lily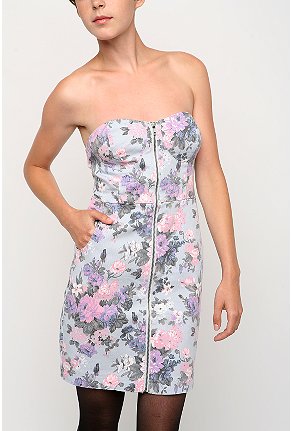 I don't understand this term "fall". Being from South Florida, I am inherently unaware of the strange phenomenon that northerners call seasons. Then I moved to New York. WHY IS IT COLD IN SEPTEMBER? WHY??? I come from a place where shorts and tank tops are always appropriate and the idea of a coat is entirely unheard of.
So when faced with the below 80 degree weather of Manhattan I decided to take a trip to the always handy Urban Outfitters (sales rack only) to find myself some nice clothes for the formerly enigmatic "fall" season. So I bought this Kimchi Blue Floral Denim Dress (and the denim skirt that goes with it.)
Looks like old habits die hard!
BUT as I have learned from the ridiculously attractive trendy girls at Barnard College—anything can be turned fall appropriate if you just slap on some tights and an awesome blazer. Layers, as I have learned, are key. (Also both items were only $20 each at the actual Urban Outfitters store. I had to buy them!)
I am a small statured lady so another one of my favorite "fall" items are boots that have at least a two inch heel. A) They look classy, B) they teach you discipline, balance, and posture, and C) they help you pretend you are a six foot tall Ukrainian super model (just me…? Ok). The right boots add a whole new layer to your otherwise perfect outfit and keep your feet warm—who would have thought that sandals are not considered fall appropriate?

American Apparel Doggie Outfit
By Tinkerbell
Hello Autostraddle this is Tinkerbell and I will talk to you today about loving the skin you are in. Or in my case "fur" I am in. I have three outfits. Sometimes I eat more, sometimes I play more. Mostly I lie prone on Riese's bed, bearing witness. Now my head stands on straight because I went to Build-a-Bear to 'play more.' Still in the fall I wear my American Apparel Doggie Outfit, just as I have all year except for my Uh Huh Her outfit and my Really Papi outfit. There are no links for those they are one of a kind just like me, a unique dog.
Riese says that Mr. American Apparel masturbated his penis onto a writer from Jane magazine, which I have never heard of, which Riese says is because all good magazines are slammed, and that he also did the same masturbation to other ladies, dated them and makes ads like 'child porn' and therefore I should not promote them. Well I am just a dog, so I don't know what that is. Also she is wearing a hoodie and a t-shirt from there right now.
This is my outfit from the American Apparel catalog which fits in all seasons:
I would like to make a deep point here FTW, but I just want you to think I am sexy and tell you to buy things. Thank you love Tinkerbell.