Hello Autostraddle! Last week, my girlfriend Carlytron and I left for a super short but fabulous 5 day vacation in upstate New York before going to The Berkshires in Western Massachusetts to attend a wedding. And because Carlytron & Robin have been crowned Cutest Couple ever by our friend (and Autostraddle's COO) Brooke (she made us mugs to prove it) …
… I've designated us qualified to offer some travel tips for lesbians in love! I offer these tips not because I myself have figured it all out or somehow think i'm one half of the Gay Lady's version of Brangelina, but because I went on vacation last week with my girlfriend and this is all I got to photoblog about!
Also, I took some pretty pictures. So, here goes …
Background on our little road trip upstate: For those of you unaware, Ithaca is a small town in upstate NY packed with amazing eateries, hippies, gorgeous waterfalls, more hippies, and scenic hikes. It sits with below the middle finger of the fingerlakes!  Lovely!  "Ithaca is Gorges" is the catch phrase in Ithaca and it is indeed the truth.
Carbin (see exhibit A, mug, for explanation) traveled to Ithaca because:
A. Ithaca is really gorgeous, obvs.
B. Robin went to school there for 2.5 years, and
C. in Robin's head, Ithaca was somehow on the way to The Berkshires from NYC.  (Fact: it is not.)
Tip #1 – Have a plan.

Open a google doc and write down your ideas about what you want to do and where you want to go.  Share this document with your traveling companion.  This will prevent one person from having too much control over what is done on the vacation and allowing everyone to share ideas and priorities. Compromise is key!
An example of this would be our list of "To Dos" while in Ithaca.  I had included kayaking as a possible activity option, not aware of Carly's fear of drowning via overturned kayak. Crisis averted!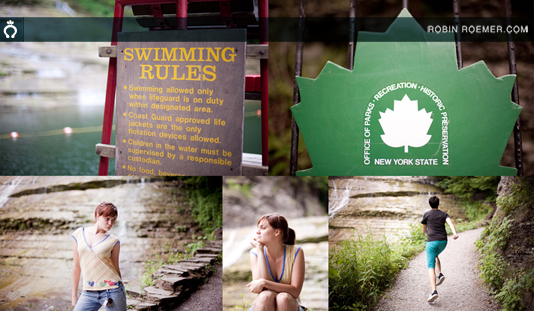 As per our plan, we spent our first day at the waterfalls which gave me some time to teach Carly a requested photography lesson and Carly some time to work on her physical fitness.
We had a great time "hiking" around and being outdoorsy. After being bitten by several bugs, we decided we had had enough nature and were in desperate need of sangria!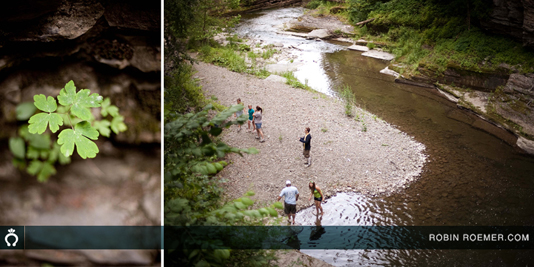 Tip #2 – Laugh off traveling mishaps.

Sometimes shit happens on vacation.  You just can't plan for things like rain or a failed meal or a really crappy pedicure.  So you have to suck it up and chalk it up to a lesson learned.  The stress of travel and spending money can sometimes cause two loving ladies to turn on each other. Don't let your troubles keep you from enjoying the good experiences and even better company!  This goes for missed flights and lost luggage too!
---
Are you following us on Facebook?
Pages: 1 2 See entire article on one page